Serve this delicious Cucumber Salsa with chips for a party perfect appetizer, enjoy it as a salad, or as an easy topping for grilled chicken or fish!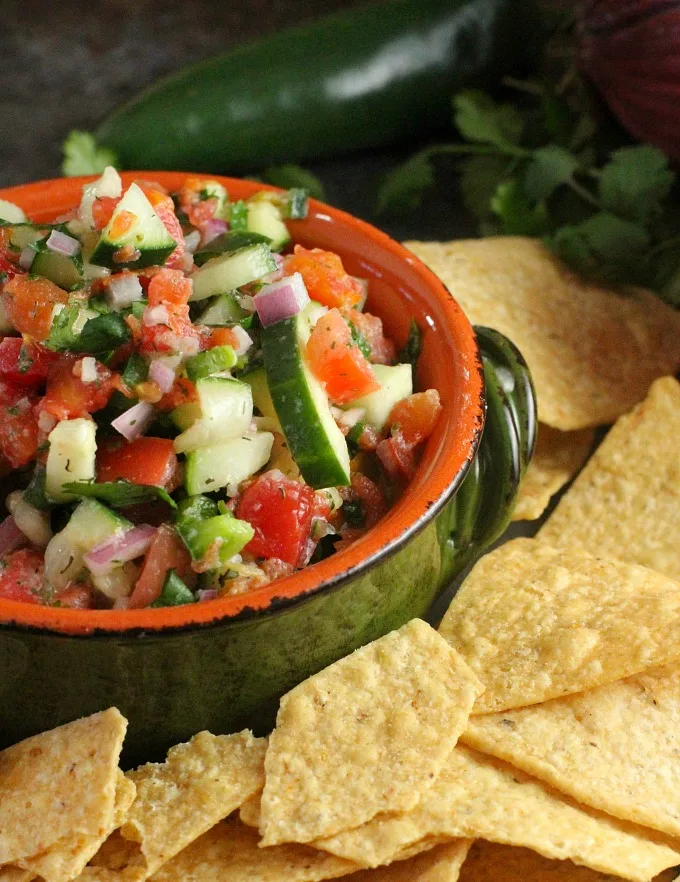 Disclosure: I am a participant in the Amazon Services LLC Associates Program, an affiliate advertising program designed to provide a means for sites to earn advertising fees by advertising and linking to Amazon.com.
There's nothing better than homemade salsa. It tastes so much better than the jarred version! In the summer, we make it non stop, with all the fresh local tomatoes we have available to us.
This time of year, the tomatoes aren't as good, but who says every salsa has to have tomatoes as the focal point? We're changing things up with this Cucumber Salsa. I really love how versatile this salsa is. It's delicious with chips, easily doubles as a salad, and is great over grilled chicken or fish as well!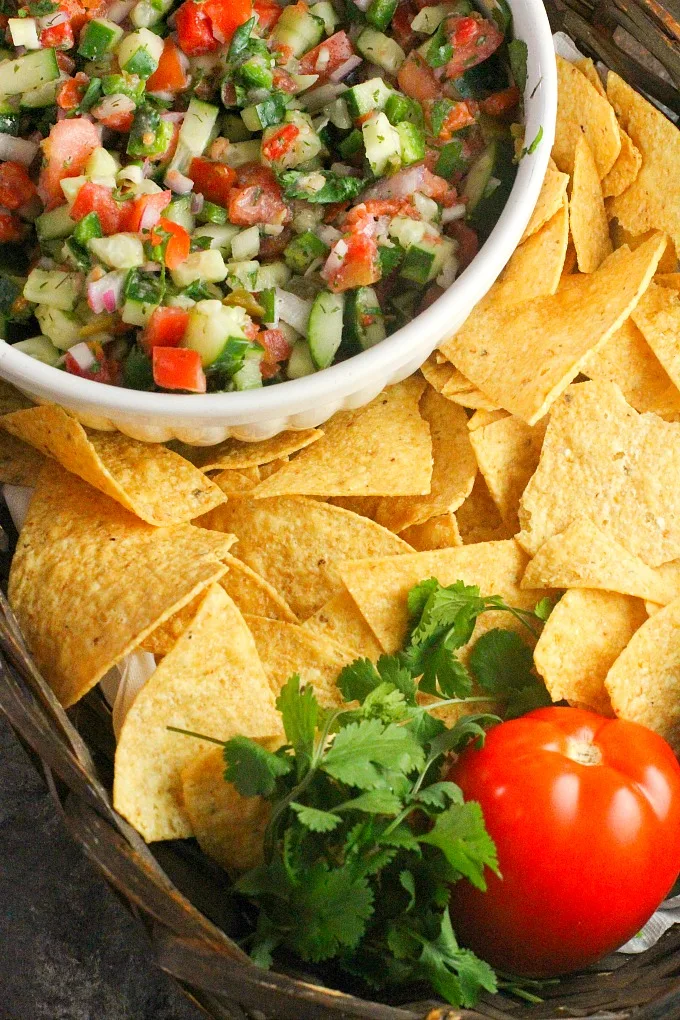 The recipe itself comes from my good friend Michaela at An Affair from the Heart. Once a quarter, a group of us engage in a Freaky Friday blog swap, where each blogger makes a recipe from the blog assigned to them and then we keep it a secret until our blog posts go live. In this case, it's not much of a secret, since Michaela started the group and draws the names for us. This is the first time I've ever had her blog. Michaela has so many wonderful recipes on her blog, but I was drawn to this particular one for a few reasons.
The fact that it was an easy recipe was of course a plus. As most of you know, my husband and I bought a gym last summer and my life has been upside down since then. I had hoped things would have calmed down by now, but they haven't. So anything that simplifies my life right now is welcome!
I'm also very conscious of what I'm feeding my family, and this is definitely on the healthier side, especially if you make your own ranch seasoning, as I did.
It's a great game day recipe too. I often bring salsa when we go to friends' parties, and I thought this one might be a nice change of pace.
Speaking of game day recipes, Michaela has a couple others I was tempted to try for this swap. I almost decided on her Dill Pickle Dip because I have somewhat of a pickle obsession. To be honest, it MIGHT be a little more than somewhat. Maybe you've noticed the Spicy Carrot Refrigerator Pickles or the Pickled Shallots or the Spicy Pickled Red Onions recipes I have on my blog. I'm so addicted to pickles!! Beans are another favorite here, so her Texas Trash (Warm Bean Dip) also looked really good! But in the end I went with her Cucumber Salsa because it looked like I could use it in a variety of ways.
CUCUMBER SALSA
When I told you this recipe was easy, I was not kidding. You'll do a little chopping and then you literally mix everything in a bowl together and let it sit overnight to give the flavors a chance to combine. If you can't give it that long, at least try to make it a few hours in advance.
The one thing I chose to adapt was the ranch seasoning packet. I really don't love buying pre-made spice packets because of the extra additives. Don't get me wrong, I have used them on occasion…I just prefer not to. I decided since I had a little time, I would simply work on making my own homemade ranch seasoning. It's actually quite easy to make. But if you don't have time or the inclination, you can definitely use the store bought packet.
To make the ranch seasoning, you're going to mix together dried buttermilk powder, dried parsley, garlic powder, dried onion, dried dill, onion powder, salt and pepper. If you can't find the dried buttermilk powder at your local grocery store, you can get it at Amazon.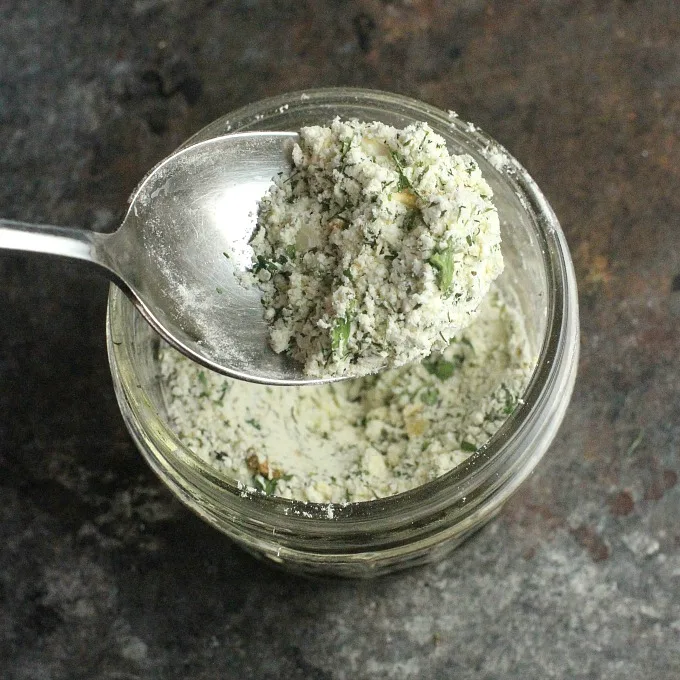 Mix together the cucumbers, tomatoes, red onion, jalapeno, cilantro, Rotel tomatoes, ranch seasoning, white vinegar, and salt and pepper to taste. You certainly could eat it right away, but for the best results, let the Cucumber Salsa sit overnight (or at least a few hours) to allow the flavors to truly combine.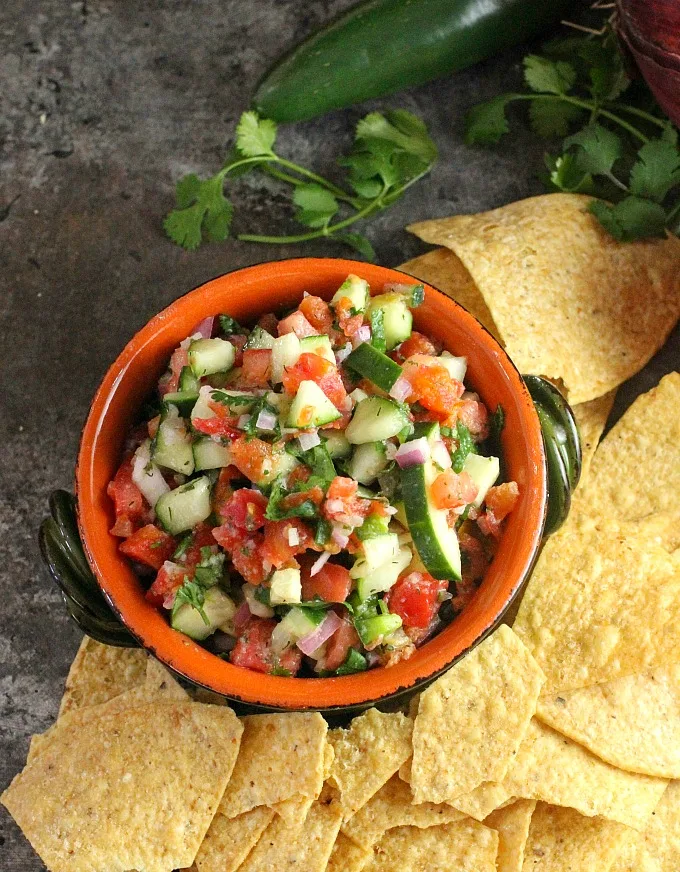 [clickToTweet tweet="Cucumber Salsa-party #appetizer, salad, topping for grilled chicken or fish! Versatile & DELISH!" quote="Cucumber Salsa-party #appetizer, salad, topping for grilled chicken or fish! Versatile & DELISH!"]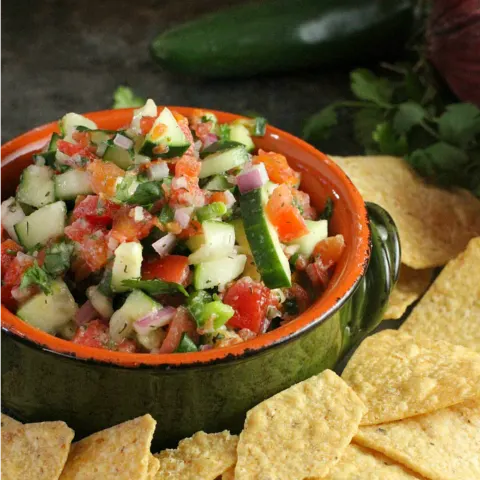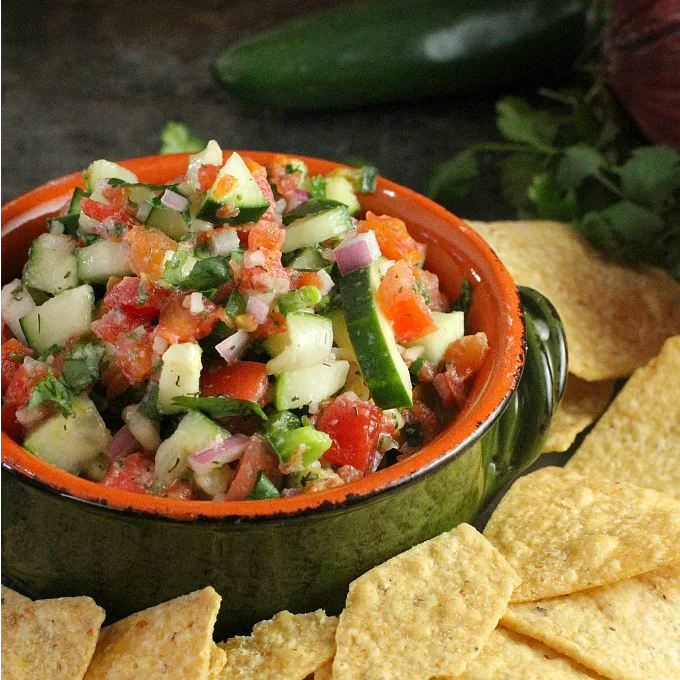 Cucumber Salsa
Ingredients
Cucumber Salsa
2 cucumbers, chopped, skins on, about 4 cups
1 tomato, chopped
1/2 medium size red onion, chopped
1 jalapeno, chopped
1/2 cup cilantro, chopped
1 can Rotel tomatoes, undrained
Homemade Ranch Seasoning
1/4 cup white wine vinegar
salt and pepper, to taste
Homemade Ranch Seasoning
2 tablespoons dried buttermilk powder
2 teaspoons dried parsley
1 teaspoon garlic powder
1 teaspoon dried onion
1/2 teaspoon dried dill
1/2 teaspoon onion powder
1/4 teaspoon salt
1/4 teaspoon black pepper
Instructions
Combine all ingredients in the homemade ranch seasoning. Set aside.
Combine all ingredients together, mix well, and allow to sit overnight, if possible, to allow flavors to blend.
Notes
Great served as a salsa with chips, over chicken or fish, or even as a salad!
Nutrition Information:
Amount Per Serving:
Calories:

56
Total Fat:

1g
Saturated Fat:

0g
Cholesterol:

0mg
Sodium:

637mg
Fiber:

3g
Sugar:

6g
Protein:

2g
Don't forget to check out the other Freaky Friday recipes!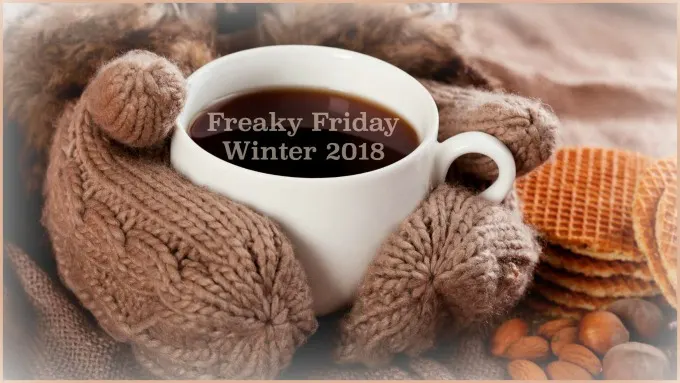 A Dish of Daily Life – Cucumber Salsa
An Affair from the Heart – Arancini (Three Cheese Fried Risotto Balls)
A Kitchen Hoor's Adventures – Healthier Buffalo Chicken Dip
Bacon Fatte – Spiced Bakery Style Ginger Pear Muffins
Bowl Me Over – Beef Tips and Gravy
The Devilish Dish – Chocolate Covered Snickers Strawberries
Full Belly Sisters – Easy Crockpot Cesar Chicken
LeMoine Family Kitchen – Frittata Ranchera Black Bean Salad
Life Currents – Garlic Sesame Noodles
Lisa's Dinnertime Dish – Low Carb Cheeseburger Meatloaf
Mildly Meandering – Slow Cooker Zuppa Toscana Soup
Plattertalk – Whole Wheat Irish Soda Bread
Seduction in the Kitchen – Reuben Meatball Casserole
Take Two Tapas – BLT Bacon Cups with Avocado
The Foodie Affair – Pineapple Bread Pudding
West Via Midwest – Spicy Smoke Sauced Shrimp
Who Needs a Cape? – Cheez-It Fiesta Baked Chicken