It's that time of year….yes, it's time to replace your calendar! Of course you can walk into any store and see displays full of 2013 calendars this time of year. But why buy a "generic" calendar, when you can have a custom photo calendar with months of meaningful memories?
This year I made 3 different photo calendars. For the past few years, I've been creating large 12 x 18 wall calendars with photos of our town. We live in a picturesque New England town, with a downtown Green, and I enjoy taking pictures throughout the year of various scenes. I really like this particular picture because the leaves are just starting to change, and the fall colors is one of my favorite things about living in the Northeast. We'll use this as a wall calendar in the kitchen. I've also been selling my New Milford calendars word of mouth. Over the last couple years a friend of mine has been sharing them at her workplace. I was in about a month ago, and one of her co-workers asked me if I would be making the calendar again this year. It's nice to know others are enjoying them too!
I also made a wall calendar for my daughter's soccer team. It's a surprise present for most of the girls. I've been making sports team calendars for years, and the kids all really enjoy seeing the photos of themselves playing!
This page is one of my favorites because of the team picture with the girls goofing off. My daughter will keep this calendar in her own room.
This past year I didn't have a date book, and I found I missed it. While I do keep my calendar on my computer, I like having a "trusty handwritten backup." And being able to add photos to it is a personal touch! A couple of weeks ago I sat down and created this one for myself. It came last week, and it is beautiful! I wish I had added more photos to it! After I made the first one, I decided to make one for my mom. After all, what grandma wouldn't want a date book with her grandkids photos in it! As far as photo gifts go, a calendar is a pretty useful one.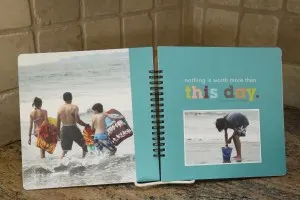 Doesn't this look like a fun date book, compared to those "generic" versions?!
My calendar making seems to have turned into a tradition around here. I love having the option to pair up my photos with calendars…it's so much more personal. And it's wonderful to be able to relive the memories throughout the year! Do you make photo calendars for your family?