Is guacamole on your appetizer menu for Cinco de Mayo? Cinco de Mayo, along with the Superbowl and the 4th of July, are the holidays that boast the largest avocado consumption here in the US.
In our house, guacamole is a year round favorite though…we eat it several times a week. The kids love it for an after-practice snack so I pretty much always have avocados in the house.
Did you know that avocados are one of the healthiest foods you can eat? They protect against cancer, promote heart health, have anti-inflammatory and anti-aging properties, as well as many other health benefits!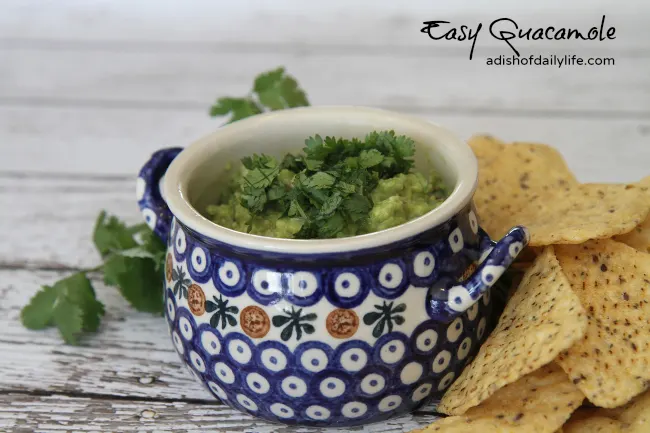 Guacamole is also really easy to make. I rarely measure anything when I'm making guacamole…it's one of those recipes that is hard to mess up.
The real secret to making a good guacamole? Let your red onion and jalapeno soak in the lime juice and apple cider vinegar before adding your avocados. It only takes a few minutes, and it takes the "bite" out of the red onion and jalapeño.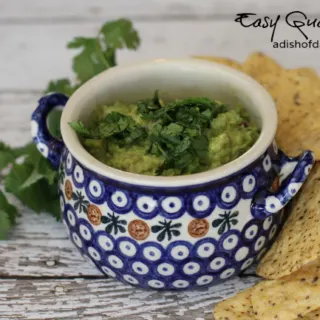 Easy Guacamole
[img src="https://www.adishofdailylife.com/wp-content/uploads/2014/04/Easy-Guacamole2.png" width="650" height="433" class="aligncenter size-full" title="Easy Guacamole" alt="Easy Guacamole"]
Ingredients
2 tablespoons of red onion, chopped finely
1 jalapeño, seeded and chopped finely
1 teaspoon apple cider vinegar
Juice from one lime
2 ripe avocados
1-2 tablespoons of cilantro, chopped (I tend to use 2)
Salt, as needed
Instructions
Place your chopped red onion and jalapeño in a bowl.
Add apple cider vinegar and lime juice.
Stir the onion and jalapeño mixture a little to mix and let them "soak" for a few minutes.
Peel your avocados, remove the pit, and mash together with a fork with the onion and jalapeño mixture.
Mix in your chopped cilantro.
Add salt to taste.
I have also been known to add a little salsa to my guacamole too for a little twist. And it's a great topper for my
Roasted Tomato, Corn, and Shrimp Quesadilla
!
If you enjoyed this recipe, you might also enjoy: