This easy pork tenderloin is rubbed with a coarse coriander and garlic paste and roasted in one skillet with fennel, red onions, plums and fresh mint. Equal parts do-able and delicious.

Hi, Dish of Daily Life readers! Christine from Mid-Life Croissant here with an easy weeknight dinner for you. If you like pork tenderloin you're in for a treat.
We eat pork tenderloin about once every other week in my house. So, yeah. We like it. What's not to like? It's healthy, easy and readily takes on the flavors of whatever you add to it. Pork tenderloin is like that one friend who is up for pretty much anything. Want spicy? You got it. Want sweet? You got it.
Everyone needs a friend like this in their life, don't you think?
But we're talking about meat. Not people. Right? OK…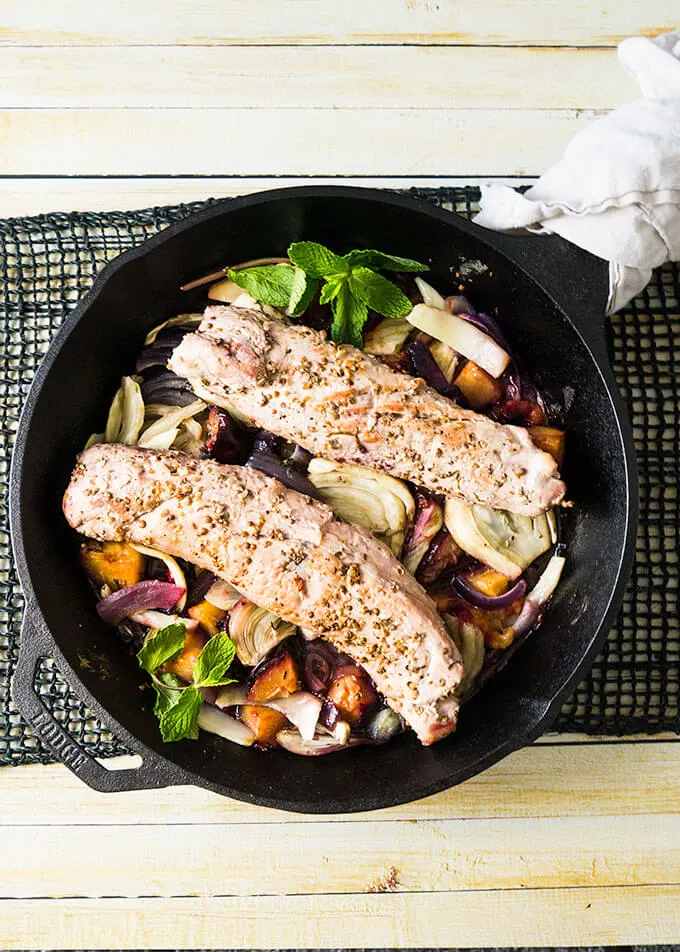 Over the winter, I was brushing my pork with a mixture of soy sauce and dijon mustard and roasting it with fennel and potatoes. REALLY good. But lately, since we are in April (whether or not it feels like it) I wanted to Spring this dish up a bit so I took out the potatoes and added some plums and fresh mint.
It's so cool how a simple switch like that changes the entire character of a meal. The plums get nice and soft and caramelized and their juices create a little sauce which is really nice to spoon over the pork.
I marinated the pork in a coarse paste of fresh coriander and garlic which really brightens up the dish and pairs fantastically the tangy, sweetness of the vegetables and burst of mint.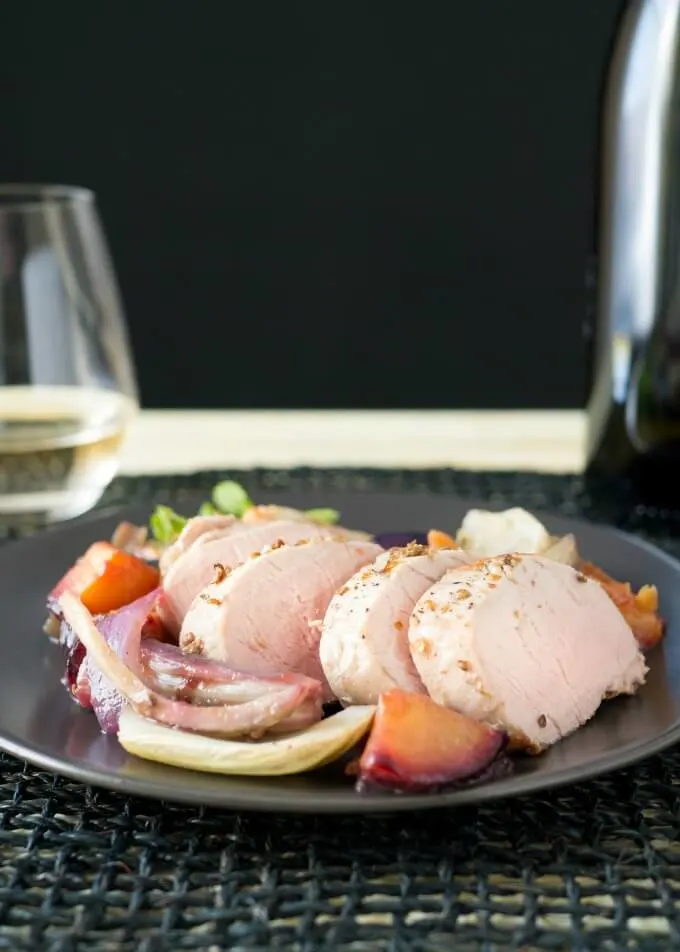 This is one of those meals that sounds a little bit fancy but is, in fact, embarrassingly easy. And clean up rocks, too, because it's all made in the same skillet. Speaking of which… special shout out to the newest workhorse to join the ranks in my kitchen…a 13 1/4 inch Lodge cast iron skillet. I'm so in love. It sears and caramelizes better than any other skillet I've used so far. This isn't a paid endorsement I just get very enthusiastic about good cookware.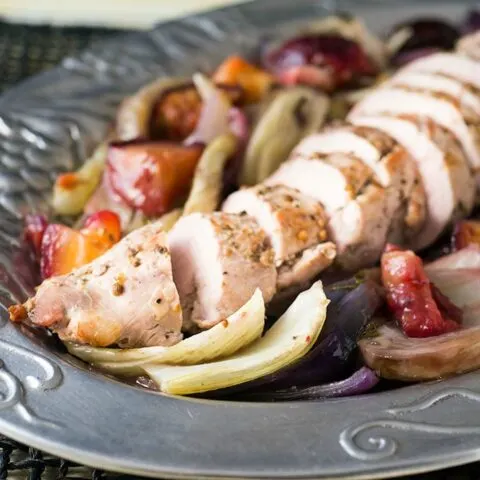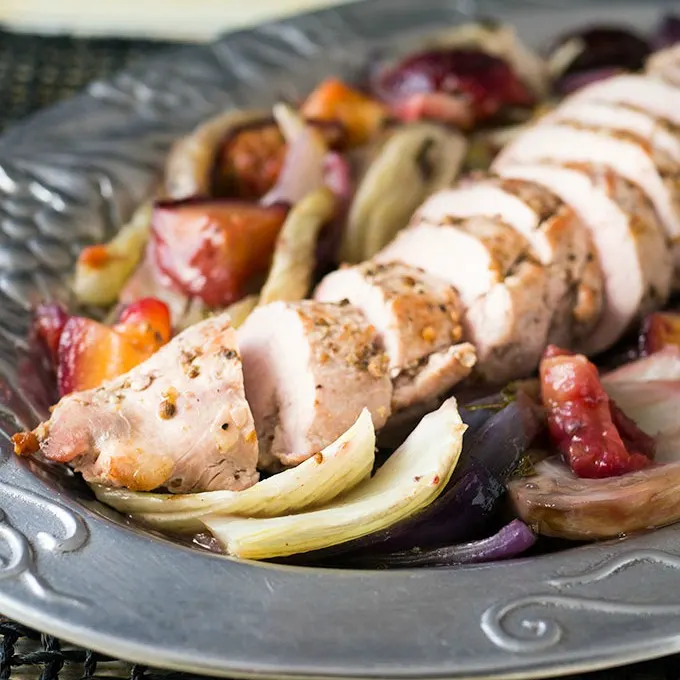 Easy Pork Tenderloin with Fennel and Plums
Ingredients
2 to 21/2 lbs pork tenderloin (this is usually two separate loins about 1 lb each.)
3 cloves garlic, peeled and minced
1 tbs whole coriander seeds
5 small plums, halved, pitted then cut each half lengthwise and crosswise
1/2 of a large red onion, cut in 1/2 inch thick slices
1 large fennel bulb, washed, cored and thickly sliced
3 tbs chopped fresh mint
olive oil
salt
pepper
Instructions
Toast coriander seeds for 1 to 2 minutes in a dry skillet (optional, but really boosts flavor.)
Remove to mortar and pestle and let cool.
Add garlic and a touch of olive oil to the mortar and pestle and grind into a coarse paste.
Rub tenderloins on all sides with coriander/garlic mixture and marinate in fridge for about an hour.
Remove pork from fridge and allow to come to room temperature while you preheat your oven AND skillet to 450 degrees Fahrenheit.
In a large bowl, toss fennel, plums, red onions and mint with olive oil.
Carefully, using oven mitts, remove skillet to stovetop. Add olive oil to skillet and swirl to coat the bottom.
On stovetop, over medium high heat, brown tenderloins on both sides (about 3 minutes each side)
Remove tenderloins to a plate and add fennel, plums and red onion to bottom of skillet.
Place tenderloins on top.
Roast at 450 for ten minutes.
Flip tenderloins.
Roast for 5 to 10 more minutes until it reaches an internal temperature of 140 degrees in the thickest part of the meat.
Remove tenderloins from the skillet, tent with foil and rest for 10 minutes.
Carve and serve.