There is something about spring that makes me want to bake.
I love making bar cookies because they are so simple to put together. It's hard to mess them up. But it's also nice to add a special touch to them and make them your own. I decided to add cranberries, coconut and almonds as a topping. I made them for our ski weekend coming up, but I have to tell you, I snuck a couple bites, and they are SO good!
And putting together this quick and easy Toll House cookie dough recipe was as easy as can be! These chocolate chip fruit and nut bars took less than 10 minutes to assemble and 30 minutes to bake!
I am so ready for spring at this point. We've had a very cold winter with lots of snow in the Northeast. My workout of choice is running, and since the snow started, my running has been spotty at best, because there has been too much ice on the roads and the snow drifts are so high you can't see around the corner well.
I have gotten in a lot of snowshoeing though. I've actually recruited quite a few friends to join me, which has been a lot of fun.
Last week we decided to cross the lake nearby, although one friend and I admittedly were kind of chicken. But we got talked into it. The other "chicken" friend said when we started across that she had a nightmare about falling in the night before.
We got almost all the way across and her snowshoe went through the ice! On the edge, there are streams that run into the lake, and the ice isn't as thick there. It wasn't deep, and it was just her foot, but I don't think we'll be crossing again this winter as it is starting to warm up now!
My family loves the start of spring because it means spring skiing. They'll be doing a lot of that on weekends this month.
This picture is from a few years back, but it gives you the idea of what it's like on the weekends at our ski condo, especially once winter sports are over. We usually have kids sleeping all over the living room.
Since we have skiing plans for the weekend, I was baking earlier this week. I actually made two types of bar cookies. I hid them so I could bring them with us, but of course my teenagers found them, and now one batch is gone entirely, and the other has quite a few missing as well. I guess I need to find a better hiding spot!
Both of my treats were made with Nestlé Toll House Refrigerated Cookie Dough. When you're looking for convenience and great taste, Nestlé Toll House delivers!
I'm only going to share one of those recipes with you now. You'll have to stay tuned for the other one later this month!
Nestlé Toll House Cookie Dough Recipe
To make these easy Toll House cookie dough recipe, first line your baking dish with tin foil…you'll be able to just lift your bar cookies out and you won't have to scrub your baking dish! Save a row of individual cookie dough pieces (6) for the topping. Then press the rest of your cookie dough into your baking dish. Flatten it with the palm of your hand so it is fairly even.
Add the cranberries, coconut, and almonds. I mixed the 6 individual cookie dough pieces that I saved with 1 1/2 tablespoons of oatmeal to make it a little more crumbly, and then added chunks of it across the baking dish. Then bake!
The results were delicious!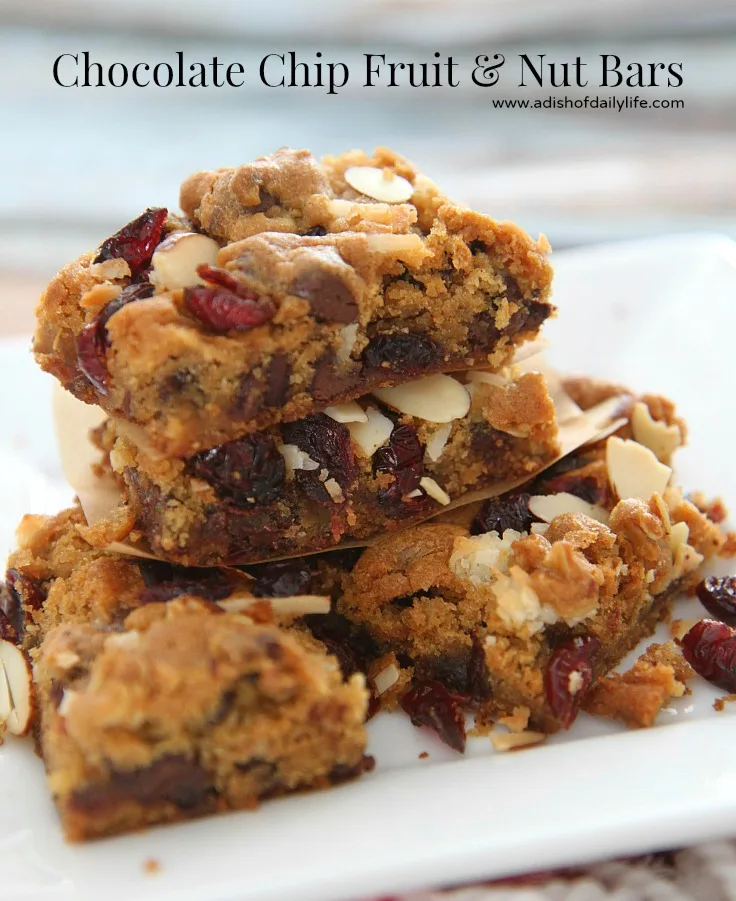 Now for the recipe!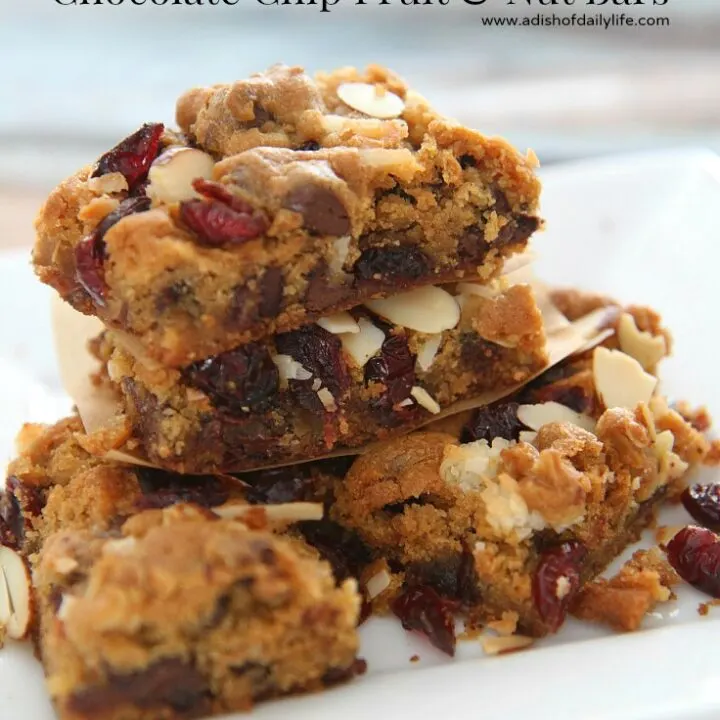 Easy Toll House Cookie Dough Recipe: Chocolate Chip Fruit and Nut Bars
This easy Toll House cookie dough recipe takes 10 minutes to assemble and 30 minutes to bake...the perfect quick dessert that your whole family will enjoy!
Ingredients
2 packages of Nestlé Toll House cookie dough (individual cookie dough pieces)
3/4 cup dried cranberries
1/4 cup flaked coconut
1/4 cup sliced almonds
1 1/2 tablespoons oatmeal
Instructions
Preheat oven to 350 degrees.
Line a 13" x 9" baking dish with foil.
Set aside 6 individual cookie dough pieces.
Press the remainder of the cookie dough into the bottom of the baking dish. Flatten with the palm of your hand so it's even.
Add cranberries, flaked coconut, and almonds on top.
Mix remaining 6 pieces of cookie dough and mix with oatmeal, to get a more crumbly texture.
Sprinkle crumbles of cookie dough / oatmeal mixture on top.
Bake for 30 minutes (rotate half way through cooking) or until toothpick inserts cleanly.
What's your favorite easy Toll House cookie dough recipe?