Disclosure: I participated in an Ambassador Program on behalf of Influence Central for Hood Cream. I received product samples as well as a promotional item to thank me for my participation.
You may remember a while back I raved about the Hood Immersion dinner I attended in Boston at Deuxave. Every dish on the menu that night was absolutely amazing.
Now I am so excited to be able to share each and every one of those recipes with you, as well as many more in Hood's first ever eCookbook, Chef Creations Inspired by Hood Cream! HP Hood has teamed up with Boston Chef Chris Coombs, the chef/owner of the renowned Deuxave and Boston Chops, and official chef and spokesperson for Hood® Cream, to create this FREE eCookbook for the everyday cook. It includes two seasonal menus, summer and holiday, and more than 25 recipes, all created by Chef Coombs.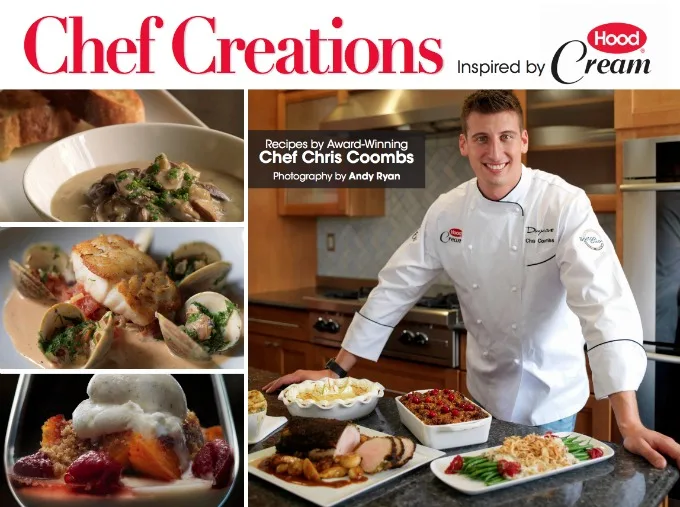 Chef Coombs has a long time affiliation with HP Hood…his grandfather and great grandfather worked for them! As he explained during our dinner at Deuxave, he and other top chefs use Hood® Cream in their recipes, because the quality and great taste allows them to feel confident that their dishes will come out delicious every time.
But you don't need to be a top chef to use Hood® Cream. We have access to this same quality cream in our local grocery stores! In Chef Creations Inspired by Hood Cream, Chef Coombs shows home cooks like you and I how we can easily create restaurant quality dishes, even in our everyday cooking.
One of the nice things about this eCookbook is that it's interactive. You can download it on to your desktop, laptop, tablet, or even your smartphone! Take it anywhere you plan to do some cooking. It is available for free download now at Hood.com/ecookbook, and soon you will be able to download it on iTunes, Barnes and Noble, and Kobo.com as well!
Each recipe includes insider notes from Chef Chris Coombs with tips on cooking with cream, as well as what inspired him to create the dish. There is also a button that you can click on to see step-by-step directions.
Want to save a recipe to your Pinterest account for quick reference later? Share with friends and family on your Facebook timeline? Love it so much you want to shout it out to your Twitter followers? With social media buttons on each recipe, you can do just that!
If you are hosting for the holidays this year or even perhaps sharing the cooking duties at a relative's house, I can promise you that HP Hood's eCookbook is going to come in handy. All of the recipes included would be wonderful for entertaining. I can't wait to try the Pork Loin with Apples and Caramelized Onion Gratin. And this Pumpkin Bisque looks like it would be a lovely addition to any holiday menu…I know I will be making it soon!
One of the recipes we were served at the Immersion dinner was an Asparagus Gratin. Asparagus is one of my favorite vegetables, but I tend to make it the same way every time. I decided to try Chef Coombs' more elegant presentation with a Béchamel sauce and gruyere cheese. Normally I would have looked at this and said "too much work"…you all know how much I love fast and easy recipes. But it wasn't much work at all. In fact, this is a really easy recipe, and a beautiful dish too! Enjoy!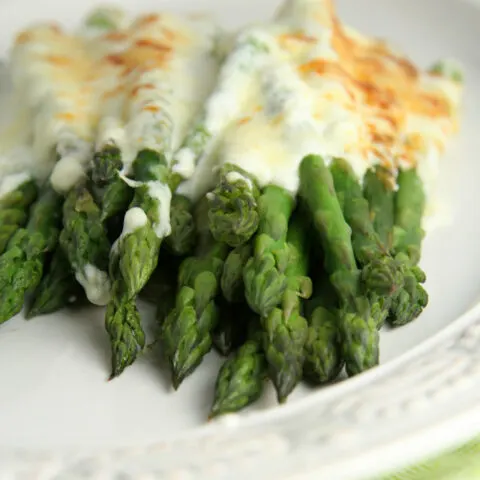 Asparagus Gratin
Ingredients
1 bunch medium green asparagus, blanched and shocked
1/2 cup gruyere cheese, grated
Béchamel ingredients:
3 Tbsp. butter
3 Tbsp. flour
1 Tbsp. shallot, diced
1 tsp. garlic, diced
1 tsp. thyme, chopped
2 Tbsp. white wine
2 cups Hood® Light Cream
1 tsp. salt
1 tsp. lemon zest
1/4 tsp. ground black pepper
Pinch cayenne
Instructions
In a small pot, melt butter over medium heat.
Add flour and cook until flour smells nutty, constantly stirring with a wooden spoon.
Add shallots, garlic and thyme to the pot and cook until shallots are translucent.
Add white wine to deglaze, stirring vigorously.
Using a whisk, add cold Hood® Light Cream to pan over high heat in several small additions.
Stir constantly as mixture comes to a full boil, then turn flame down to medium and cook until the raw flour taste is gone, about 10-15 minutes.
Add salt, lemon zest, pepper and cayenne.
Stir to combine, creating the béchamel.
In large mixing bowl, combine hot béchamel with asparagus and toss to coat.
Transfer asparagus to small casserole dish.
Sprinkle evenly with grated gruyere.
Cook under the broiler until golden brown and bubbling, 4-10 minutes.
I hope you will stop by the HP Hood website and download the FREE
Chef Creations Inspired by Hood Cream
eCookbook today. I can promise you won't be disappointed! There are lots more great recipes like the Asparagus Gratin one I shared with you today.
You can also visit HP Hood on Facebook, Twitter and Instagram for even more recipes and promotions!