Lately I'm feeling a lot of blog love.
Nicole from Work in Sweats Mama and Kristen at 31 Million Seconds gave me a Sunshine Award. Just so you both know, you both brighten my day!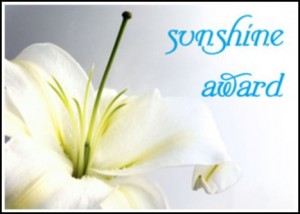 Then Jessi from The Budget Mama nominated me for a Liebster Award.
And Missy from Missy Homemaker presented me with a Versatile Blogger Award.
Thank you Jessi and Missy — you both made my day! It's always nice to be recognized by your fellow bloggers, and know there is someone out there reading and enjoying your blog!
There's rules of course, but I'm going to break them. And questions…so many questions! I've been participating in Ask Away Friday, so I've already been answering a lot of questions. Those of you who are regulars here might be thinking enough with the questions, already!
So I'm skipping the questions and I am just going to share with you 10 things that brighten my day (besides my family, since that's a given). Here goes:
1-7. Our animals. There is nothing like a purring cat or a dog that is always happy to see you. If you're a regular here, you probably knew I was going to say this. I need to take some new pictures though!
8. Watching my kids doing something that they love always brightens my day!
9. Good Friends. I've got some amazing friends that I am thankful for every day. Birthday Club Ladies, and Deck Party Girls, you are the best!
10. Photography. I love having the ability to tell our family stories through photography. I'd be lost without my camera!
And now for the drum roll…
I nominate everyone who is visiting this post…IF you want to participate. I won't hold you to participating if you don't want to, I promise! But here's the thing, many of you visit me day after day. I can't tell you how much I appreciate that support! That's why you deserve the Sunshine Award — you brighten my day by being there for me…whether you're here every time I post, or you visit when you can, or this is your first time!
And, if it's your first time, I hope you'll be back! I love making new blog friends, and I'll be happy to stop by your corner of the internet too!