Busy night? This one pot Fiesta Chicken Enchilada Soup can be ready in 30 minutes. Perfect for families on the go!
We had another snow day today.
The kids are thrilled, but I'm not sure how thrilled they'll be when they're still in school well into June.
I don't mind the snow, but personally I'd rather get a couple huge storms where we get a lot of snow that just stays put for the season. All these smaller storms with the snow days and school delays wreak havoc on our summer schedule.
I do like the snowshoeing though. I've been doing a lot of it. I've even got a group friends who like to go too!
On cold days like this, I want to curl up inside with a hot bowl of soup. In the winter, we eat soup at least a few times a week.
Mexican food is one of my favorites. This Fiesta Chicken Enchilada soup came about one day because I had some extra homemade enchilada sauce left over from chicken enchiladas that I had made. The enchilada sauce recipe came from my friend Debi over at Life Currents. I actually made it with chipotle chili pepper, so it had a pretty big kick. It was good, but I think next time, I'll either do half and half, or make it with a less spicy chili powder. I can take the heat, but my family doesn't like spicy as much as I do. You could definitely use pre-made enchilada sauce, but Debi's version is so easy, and you'll be able to get a couple meals out of one batch. I definitely recommend giving it a try.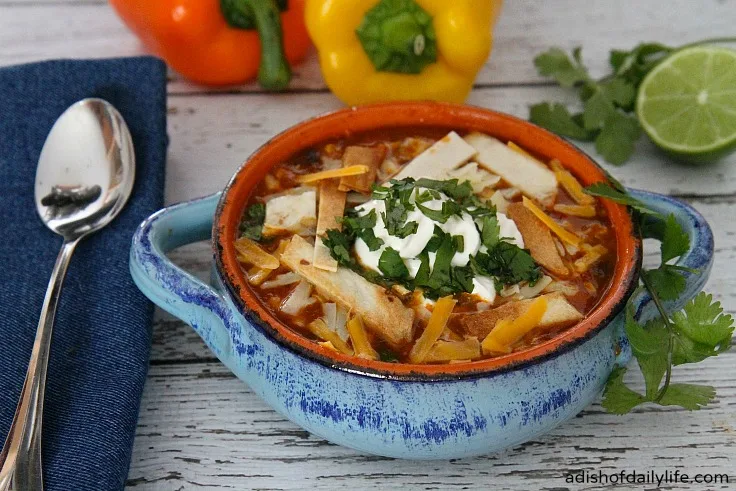 Stir in your sour cream and cheese for this mouthwatering goodness!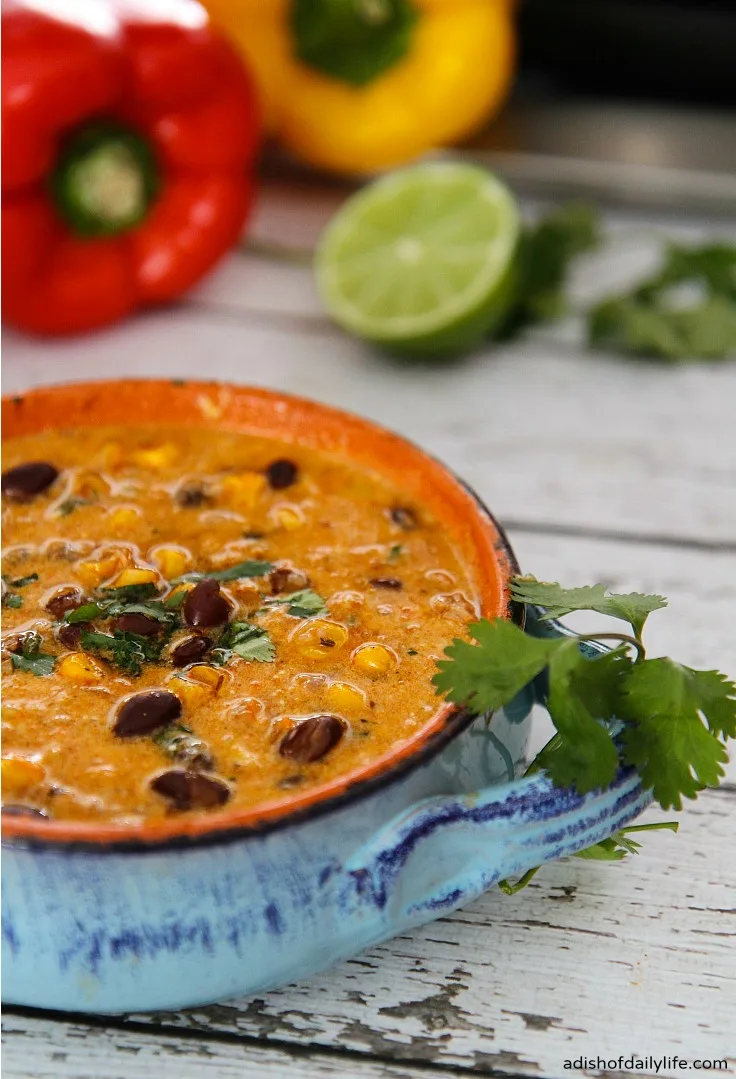 I love that this soup is packed with vegetables, and also that I can throw it together in 30 minutes. Our schedule can get quite hectic during the week with three teenagers, and if I haven't prepared dinner ahead, it's nice to have something I can throw together fast.
The soup itself is made in one pot, but you do have to crisp the tortillas for the topping in the oven. Those are optional, of course, but I like them.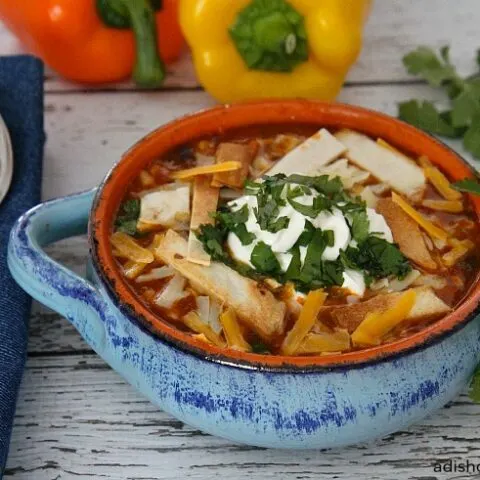 Fiesta Chicken Enchilada Soup
If you're in a hurry, this easy to make one pot fiesta chicken enchilada soup can be ready in 30 minutes!
Ingredients
1 cup onion, chopped
1 cup carrots, chopped
2 cups mixed bell peppers, chopped
oil for sautéing
6 cups chicken broth
1 cup enchilada sauce
1 15.5 oz black beans, drained and rinsed
1 15.25 ox can of corn, drained
2 cups chopped or shredded chicken
2 tablespoons of lime juice
2 flour tortillas (optional)
sour cream for topping
cheddar cheese for topping
cilantro for garnish
Instructions
Sauté onions, carrots and peppers in a couple tablespoons of olive or vegetable oil until translucent.
Add 6 cups of chicken broth; bring to a boil.
Lower heat to a simmer, and add 1 cup of enchilada sauce, the black beans and corn, and shredded chicken.
While soup is cooking, cut your flour tortillas into strips and line them up on a baking sheet. Bake in the oven until they start to crisp.
Continue cooking soup for another 10 minutes (it can continue warming for longer if you need to).
Remove from heat. Add juice from the lime.
Top with shredded cheddar, tortilla pieces, sour cream and cilantro.
What's your go-to soup when it's cold outside?