Pair juicy Florida grapefruit and beets with arugula, goat cheese and a tart, sweet grapefruit vinaigrette for a delicious winter salad guaranteed to tickle your taste buds!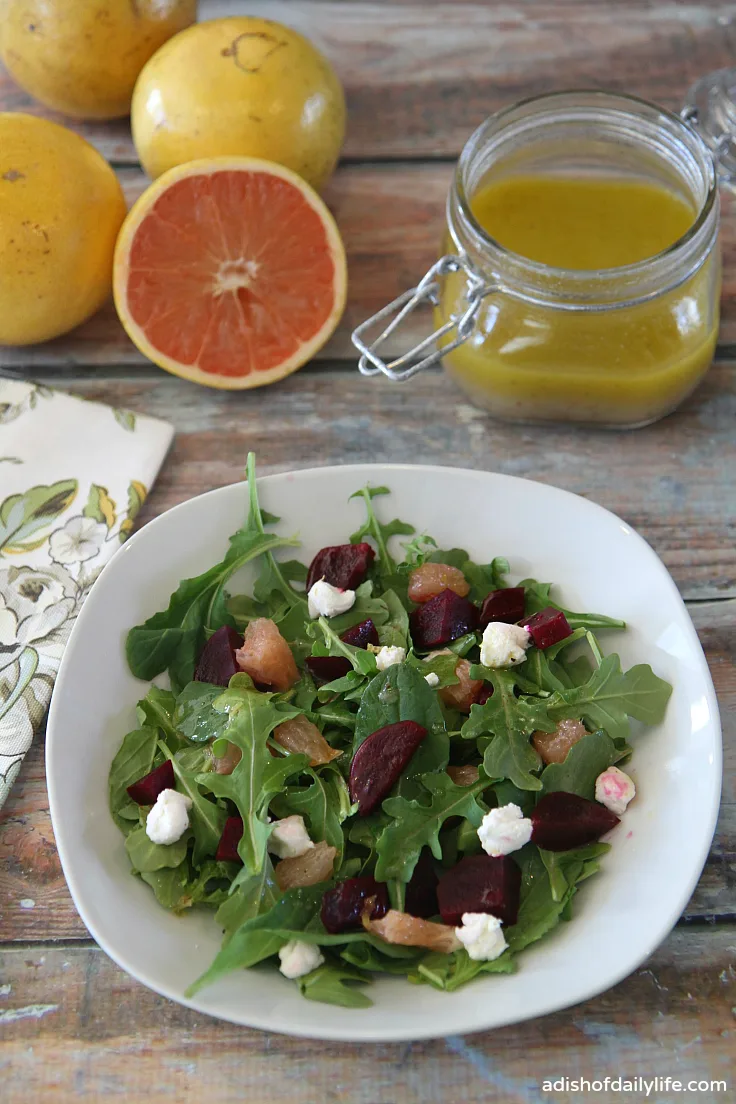 In general, I try to cook healthy. One of the ways to do that is to cook using fruits and vegetables that are in season. I live in the Northeast, so our growing season is over, and quite honestly a lot of the fruits and vegetables I'm buying at the grocery store right now taste kind of "blah".
Not Florida grapefruit though! Thanks to Florida's unique fertile soil and lush subtropical climate, Florida grapefruit are the sweetest and juiciest grapefruit in the world. The sun, humidity and rains during the growing season are important for a juicy and flavorful grapefruit, but that type of climate takes a toll on the outer appearance of the fruit. But don't be fooled! Florida grapefruit might not look as flawless as grapefruit grown elsewhere, but they make up for it in taste!
In fact, right now, at the peak of winter (January through March), Florida grapefruit is at its best, which means it's a great source of delicious ripe fruit at a time when many others aren't available.
In addition to that delicious flavor, Florida grapefruit also pack a punch in terms of health benefits. Just one half of a Florida grapefruit has at least 100 percent of the recommended daily amount of Vitamin C, which is important to a healthy immune system; and it also contains significant amounts of other essential nutrients like Vitamin A, potassium and fiber, which are vital to your energy level.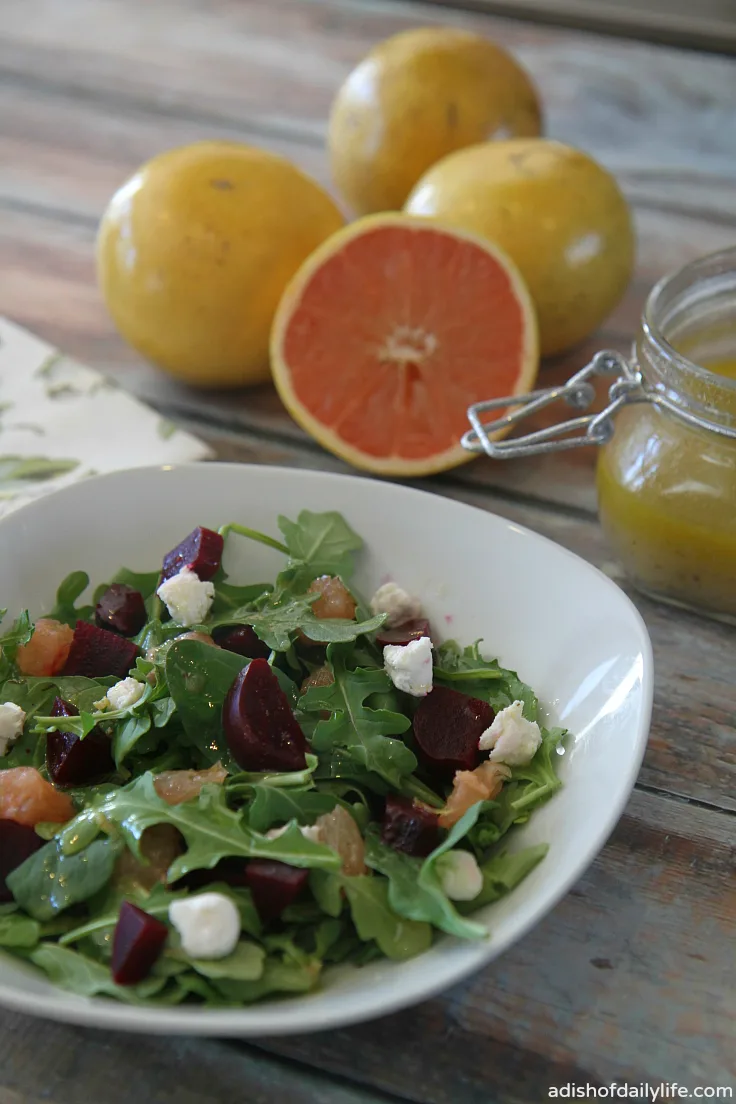 Since Florida grapefruit is at its peak right now, I really wanted to incorporate it into a winter salad. And beets are a wonderful complement…a grapefruit and beet salad seemed perfect for this time of year!
I tried the combination of grapefruit, beets, and goat cheese over spinach as well as arugula. You could definitely substitute spinach, but in the end I chose arugula for my recipe, as my family preferred it over the spinach.
The salad itself will take you minutes to put together, but you will have to boil or roast your beets first. Generally I boil mine because it's so easy. Simply clean your beets, place them in a pot, cover them with water, and bring the pot to a boil. You'll want to cook them until you can easily insert a fork into the beet. Depending on the size of the beets, it could take anywhere from 30 minutes to over an hour. The beets I had were on the small-medium size…they took about 40 minutes, give or take. When the beets are done, you need to peel the skin off before cutting them into chunks. I find the easiest way to do this is to peel them under cold running water…the skin just slips off.
While you're cooking your beets, you'll have plenty of time to make your salad dressing and cut your grapefruit segments. To get small grapefruit segments like I used, turn your grapefruit on the side so the ends with the circles on them are across from each other. I sliced the grapefruit into slices, then sliced the slices into fourths. From there I cut the peel away from the sections, and segmented into small pie-shaped pieces.
The juicy burst of flavor from the grapefruit segments is the star of this salad, but the grapefruit vinaigrette is a close second. This is my new favorite salad dressing. Light, tart and yet a little bit sweet, it's the perfect fit for this salad, but you will also find that it goes well with avocados, blueberries (another salad recipe coming up!), and pretty much every green.
Plus it's easy to make. Whisk together the honey, dijon mustard, grapefruit zest and juice, then add your olive oil and whisk again. Season to taste with sea salt and pepper. The last time I made this grapefruit vinaigrette, I made a triple batch. We eat salads several times a week, so I usually make extra to have on hand.
Are you hungry yet?!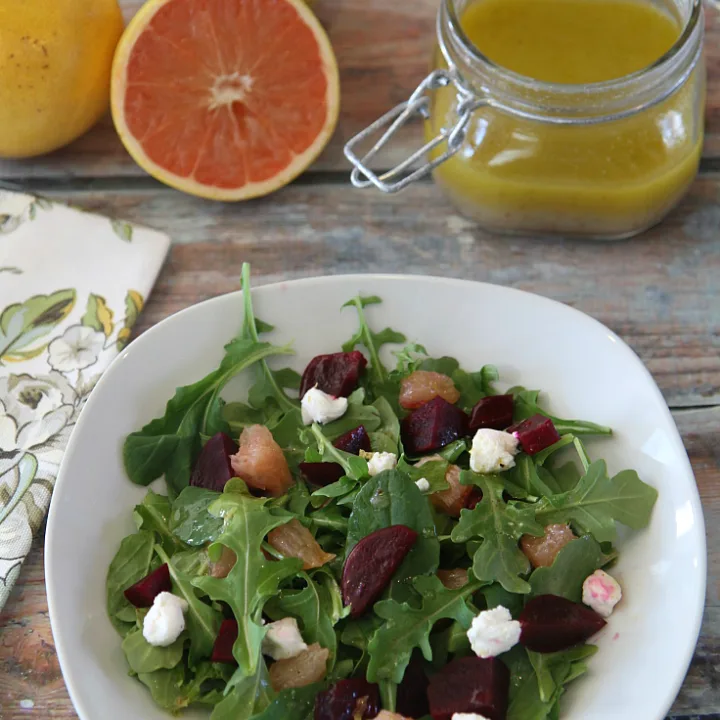 Florida Grapefruit and Beet Salad
Pair Florida grapefruit and beets with arugula, goat cheese and a tart, sweet grapefruit vinaigrette for a winter salad guaranteed to tickle your tastebuds!
Ingredients
Salad
6 cups arugula
1 Florida grapefruit, cut into sections, with peel and skin removed
2 cups chopped cooked beets (about 4 beets)
2 oz, of goat cheese, crumbled
Dressing
1 teaspoon honey
1/2 teaspoon dijon mustard
1/2 teaspoon grapefruit zest, minced
5 tablespoons of Florida grapefruit juice
3 tablespoons of extra virgin olive oil
liberal grinding of sea salt and pepper
Instructions
Dressing
Whisk together honey, dijon, grapefruit juice, and grapefruit zest. Add olive oil. Season to taste with sea salt and pepper.
Salad
Divide greens among 4 plates.
Top with beets and grapefruit sections.
Sprinkle with crumbled goat cheese.
Drizzle dressing over the top.
Notes
You can do all of your prep work preparing the salad while your beets are cooking, so there is no additional time for prep included in this recipe with the exception of a few minutes to clean the beets and remove their skins afterward.

If your beets were cooked ahead of time, it would take you about 15 minutes to assemble this salad and make the dressing.