Disclosure: I have an affiliate relationship with WeMontage, and I have in the past received product for review from WeMontage, Plak That and Epiphanie Bags. I was not compensated in any way for including them in this post. I happen to love their products! I have never received any product for review from Photojojo or Lensbaby.
It's no secret that I love anything to do with photos. My DSLR travels with me just about everywhere. For years, I worked as a photo management specialist, helping people organize their photos and creating keepsakes with their most precious memories. I like having my photos where I can enjoy them on a regular basis. If they're tucked away on a computer, you don't see them! In my home, you'll find photos all over the walls and photo books galore. Photo gifts are my favorite "gift from the heart" choice, and if you're shopping for me (for my husband if he's reading this), I always like new gear for my camera!
When I say gift guide for photographers, I don't mean professional photographers. I'm talking about the memory keeper in your life…the "mamarazzi" that always has her camera with her, the soccer dad on the sidelines…anyone toting a camera. In the end, it's all about the memories. You don't need to be a professional photographer to capture your memories or have fun with your camera. So today, I've compiled a list of some of my favorite photo gift ideas to share with you!
WeMontage
Where are your memories? In my house, a lot of them are on the walls. I love trying out new ways to showcase my photos. So when I met James Oliver, the owner of WeMontage, on Twitter, I was intrigued. WeMontage makes removable photo wallpaper! With WeMontage, you can decorate an entire wall with photos. The fact that it is removable is a huge bonus! If you rent, move, or just want to redecorate, you can move your WeMontage (just save your backing sheet)! How cool is that?!
I have created two WeMontages so far and am thrilled with both of them. One is a 6′ x 4′ piece showcasing our trip to Hawaii. The other is a 2′ x 3′ of my oldest son's soccer photos, which we put up in his room.
It's very easy to use the program. Decide on your subject, upload your pictures, and shuffle them until you find an arrangement you like. It really IS that easy! I recommend naming and saving the ones that you like the best as you go along so when you are ready to order, you have the option of choosing from your favorites. You can choose the margin size, the background color, and you can create a custom size to fill an entire wall if you'd like. Their customer service is also top notch…if you get stuck at any point during the process, you can message them, and get an answer right away. They are so sure you will love your WeMontage that they also offer a 100% guarantee!
Want to order a WeMontage for the holidays? Here are the holiday deadlines and discounts!
December 25: As an affiliate, I am excited to be able to offer my readers a 20% discount through December 25th on WeMontage photo montages AND e-GIFTS! Use the code HOLIDAYS. This is the first time WeMontage has offered a discount on e-GIFTS, so if you want to make one later or give one as a gift, now is the time to take advantage of this fantastic offer! Your e-GIFTS can be ordered through the 25th, as they are delivered via email. Don't forget about your teens…they take tons of pictures and love to decorate and redecorate their rooms!
December 10th: If you want your WeMontage in time for Christmas, you need to order by then!
*Please note, I am an affiliate of WeMontage. I was not compensated for including them in this post, but if you found this helpful and click on any of the WeMontage links in my post to make your own, I will receive a small commission for sharing WeMontage with you. Your price will not change! Affiliate relationships help me offset the costs of running a blog.
PlakThat
Another fun way to display your photos is with Plak That. If you're looking for something unique and different, you're going to want to check out this company! With Plak That, you can create beautiful prints on wood in minutes! The wood grain gives your photo a unique look — lighter photos and black and whites really look great with this effect! All you have to do is pick your size, upload your photo, add text if you'd like, save and order! You can share your designs with friends and family on Facebook and other social media sites as well if you want a second opinion before you order!
You might remember I made a few of Plak Thats in a couple of sizes with beach photos earlier this year. I get lots of compliments on them. I also just made one as a gift for the holidays, but I'm not going to share it on here because the family member I am giving it to reads my blog!
Here's a Plak That that I made: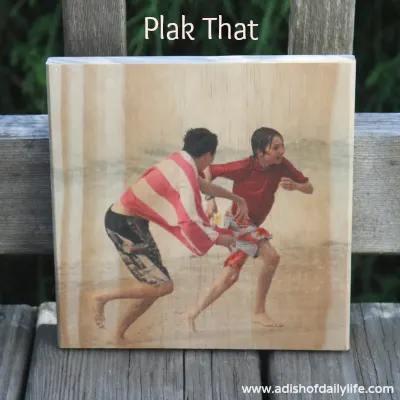 And here is one from Plak That:
Plak That is offering my readers a 10% discount through December 15th using the code DODL112013. The code can only be used once per customer. If you're looking for a unusual (and easy) photo gift, you might want to check out Plak That!
Epiphanie Camera Bags
Any photography lover will appreciate the style and function of an Epiphanie camera bag! Epiphanie carries a variety of camera and laptop bags and backpacks in a beautiful array of colors. But don't just take my word for it…go take a look at their website! What I love about both of my Epiphanie bags (yes, I have two…a girl can never have too many bags!) is the fact that your camera bag can double as a purse…there's no need to carry multiple bags! You can fit your DSLR and multiple lenses in all of their bags, as well as other gear, and anything you'd keep in your purse as well! There are multiple padded dividers in each bag, each moveable to fit your individual needs. Plus you will also find additional storage available in zippered pockets. You'll be surprised at how much you can fit!
The other really nice thing about Epiphanie bags is their attention to detail. From the fabrics they use to the stitching to the attached camera charm, which is a really nice touch, it is clear that quality is important to Epiphanie Bags. Here is a recent review I wrote on their Charlotte bag. I do have a giveaway going on for a few more days that you can enter, but even if you don't win, I can pretty much guarantee that you will be the hero among gift givers if you give your favorite photographer one of these bags!
a Rafflecopter giveaway

Photojojo
Another one of my favorite shopping spots is Photojojo. If you haven't been on their site, you need to check it out! They have all sorts of cool photo gear, including gear for your phone camera, like the iPhone and Android lens series or the Olloclip 4-in-1 iPhone Lens Clip. I am eyeing that Olloclip! Check out the Pocket Spotlight for more control over your phone camera lighting. And the Deluxe Pop Up Flash Bounce allows you to bounce the flash on your DSLR off of the ceiling or a wall, so your indoor lighting looks more natural. Want to learn how to improve your phone photography skills? The Phoneography Starter Kit includes gear and a four week email lesson plan from the pros at Photojojo! There are so many fun products in their online store that I could go on forever!
Lensbaby
Another product line I have been eyeing for what seems like forever is Lensbaby. These lenses take creative photography to a new level! They've got so many cool lenses that I don't even know what I would choose! They do have a sweet holiday deal though on the Composer Pro with Double Glass Optic! If you have one of these, or are getting/giving one for the holidays, don't forget to check out their blog for all sorts of tips and tricks.
What would you add to my list?
Linking up with Doing YOU WELL Wednesday, Thursday Favorite Things Blog Hop,