This Greek Yogurt Tahini Sauce is a fast, easy, and healthy dipping sauce…a perfect addition to a Crudité platter for your next get-together.
I created this recipe for the dairy farm families of New England as part of an ongoing partnership. All opinions are my own. Thank you for supporting the organizations and brands that make A Dish of Daily Life possible!
I've been home for the past few months with a lot more time on my hands than I'm used to having. Even though we do eat pretty healthy here, with the pandemic, I felt a need to up my game. A healthy immune system is really important in fighting off any kind of virus. So I've been trying to eat even healthier, be more consistent with my exercise routine, get more sleep, and try to keep my stress level down. Stress is one thing I have a hard time controlling, given the fact that the gym that we own was closed for several months, with no income coming in. Now we're faced with quite a few cancellations and freezes, plus new additional expenses to meet state requirements. In a sense, we're starting over building our business.
However, trying to eat healthier is something well within my control. With the farmer's market now open, we have lots of great veggies for dipping.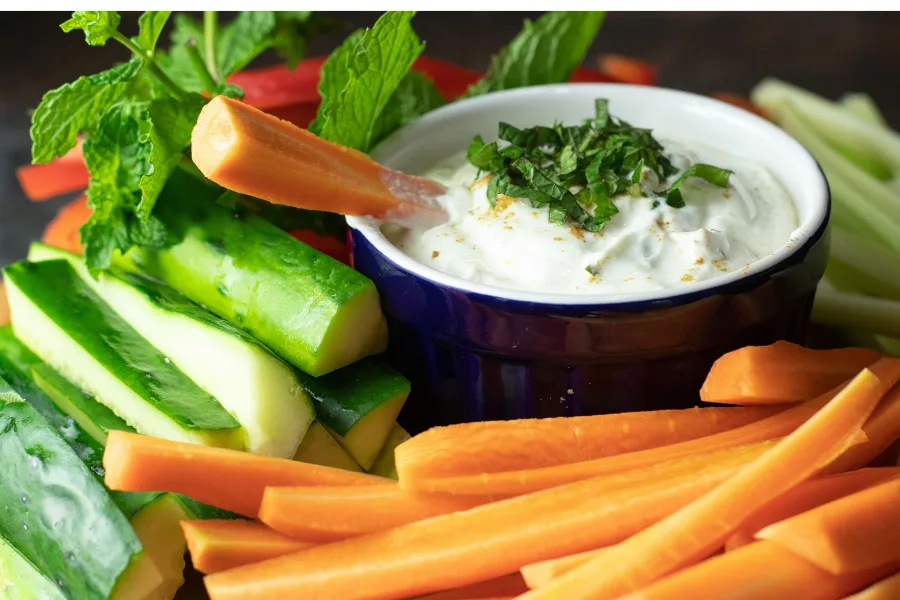 I've also found this is delicious over grilled chicken atop a green salad with lemon dressing. I've now made this Greek Yogurt Tahini Sauce several times, and we've served it a number of different ways. It's quite versatile!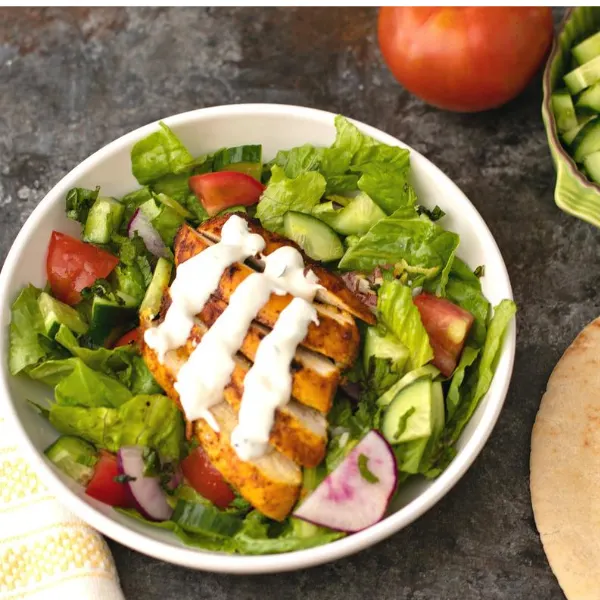 COOKING WITH DAIRY
I tend to cook a fair amount with dairy. I've been working with New England Dairy. for the past few years, and I've created a number of recipes for them. These are a few of my summer favorites!
You're definitely going to want to take the time to check out New England Dairy's website and Facebook page! You'll find lots of great recipes to try, as well as helpful nutritional information. But what I like best about their website is the fact that you can learn more about the dairy farmers in New England, sustainable practices and even the different kind of dairy breeds. You can even take a virtual farm tour…how cool is that?!
Personally I prefer to know where my food comes from, which is one of the reasons I shop at the farmer's market as much as I can. Buying local supports our local economies, allows for a fresher product, and reduces the environmental impact since there isn't long haul trucking involved.
HEALTH BENEFITS FOR INCLUDING GREEK YOGURT IN YOUR DIET
I really like cooking with Greek Yogurt…the tangy flavor is appealing to me. But even more importantly, Greek Yogurt has lots of great health benefits. It's an excellent source of calcium and protein, which your body needs for strong bones and to build muscle. Calcium can help the risk of osteoporosis as we age. Protein helps with the repair of muscle fibers that are broken down when we work out. It also helps with maintenance of muscle mass, which is another issue that is important as we age. I'm a runner, as well as a middle-aged woman, so the calcium and protein boost is a welcome addition to my diet.
Another great thing about Greek Yogurt is that it is packed with healthy bacteria, also known as probiotics. Probiotics may be helpful to a healthy immune system because they can help us maintain a healthy gut. Having too much bad bacteria in our gut may lead to immune system problems, so maintaining a healthy gut is really important. I always try to keep my immune system as strong as possible.
HOW TO MAKE GREEK YOGURT TAHINI SAUCE
This recipe is about as easy as it gets. If you're looking for a healthy recipe for your next get-together, it's the perfect addition to a Crudité platter. I also like it drizzled over grilled chicken atop a salad with a lemon dressing.
To make it, combine your Greek Yogurt, Tahini, lemon juice, lemon zest and olive oil. Mix well. Then added the chopped mint and season to taste with salt and pepper. Before serving, garnish with additional chopped mint and a dash of cumin as well, if you would like.
It'll take you about 5 minutes to make. I told you it was easy! Enjoy!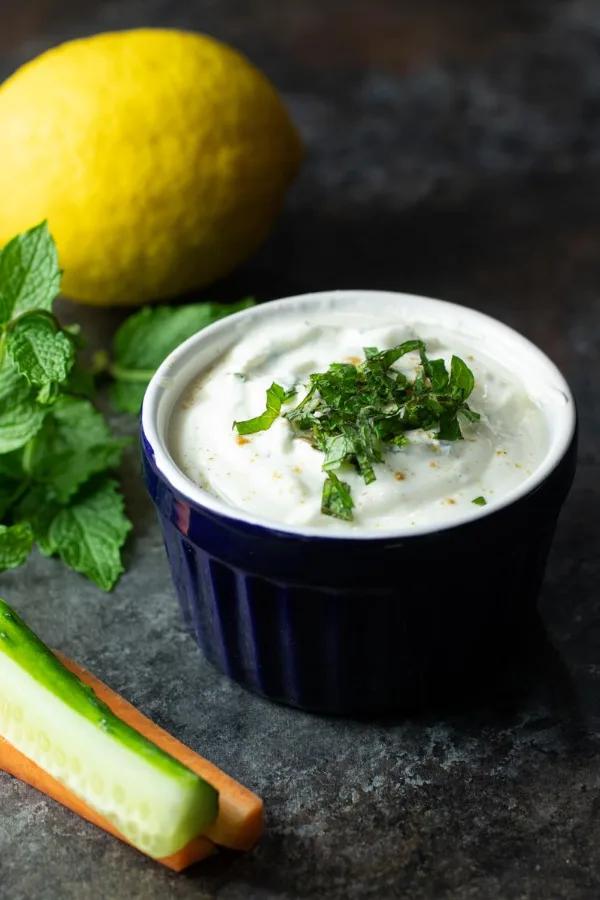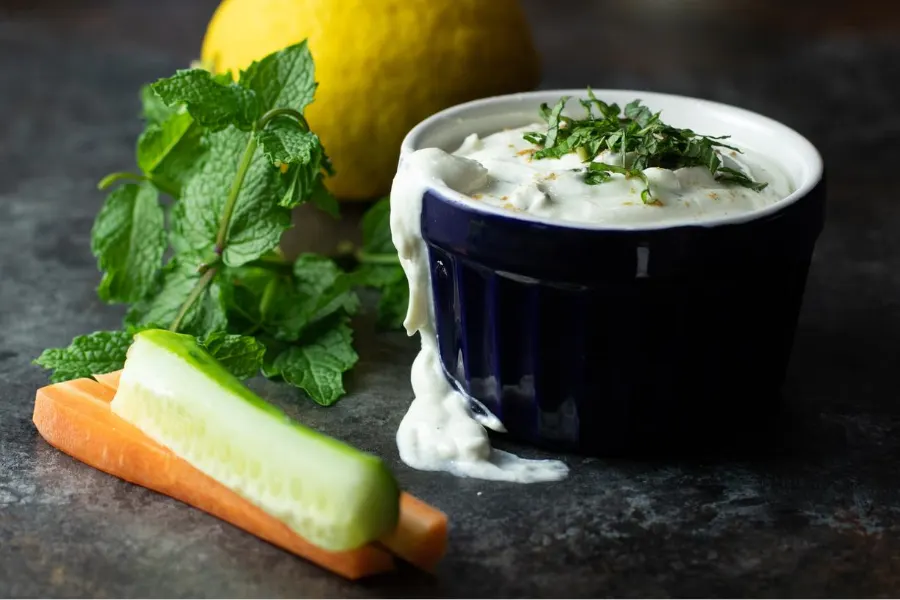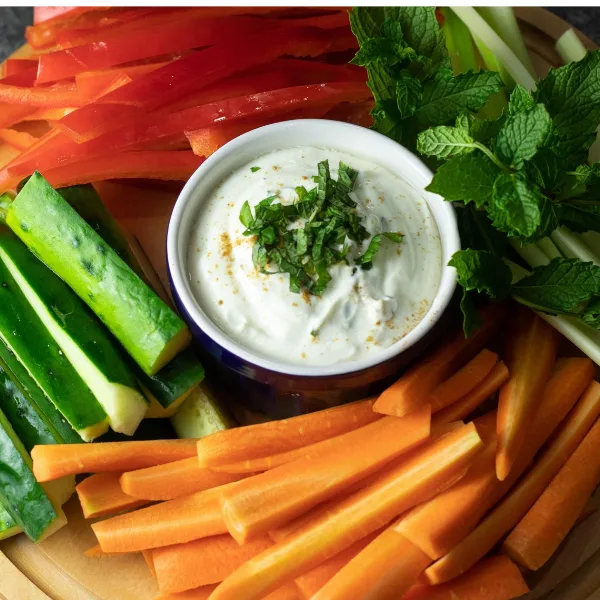 Greek Yogurt Tahini Sauce
Ingredients
1 cup Greek Yogurt
2 Tbsp Tahini
4 Tbsp Lemon Juice
1 Tbsp Extra Virgin Olive Oil
1 tsp lemon zest
1 heaping Tbsp chopped mint, plus more for garnish
dash of cumin, optional as garnish
salt and pepper, to taste
Instructions
Combine Greek Yogurt, Tahini, lemon juice, lemon zest and olive oil. Mix well.
Add chopped mint and season to taste with salt and pepper.
Before serving, garnish with additional chopped mint and a dash of cumin if you would like.
Nutrition Information:
Amount Per Serving:
Calories:

95
Total Fat:

8g
Saturated Fat:

2g
Cholesterol:

6mg
Sodium:

156mg
Fiber:

1g
Sugar:

2g
Protein:

4g