What could be better for Cinco De Mayo than Tequila, Limes, Chicken and Avocado?! Turn all of this into a salad and place it in a crunchy quesadilla, and you have my Grilled Tequila Lime Chicken Salad Quesadilla with Avocado Dressing. It's fresh grilled and goes perfect with a margarita!

Grilled Tequila Lime Chicken Salad Quesadilla
Hello again all you wonderful A Dish of Daily Life readers. It's Quinn from DadWhats4Dinner.com invading the pages of Michelle's wonderful blog space. I am a rarity in the world of Food Blogging. A man!!! I am thrilled this month to bring my recipe for Grilled Tequila Lime Chicken Salad Quesadilla with Avocado Dressing as part of A Dish of Daily Life's creative team. I hope you are enjoying all the great recipes Michelle and the other team members have been dishing up.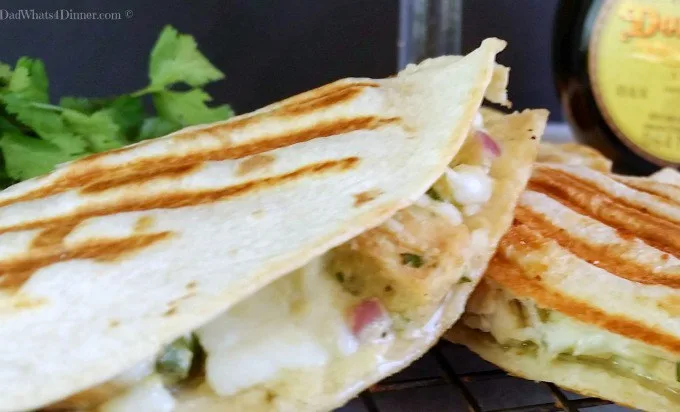 I can't believe it's almost May. This year is flying by. May and Cinco de Mayo hold a special place in my heart. My oldest son, and heir to my cooking thrown (or at least my cookbooks) was born May 5th, 1999. My dad and I were also born in the great month of May. May is full of great foodie holidays: Cinco de Mayo, Kentucky Derby, Mother's Day, Memorial Day and of course my birthday. Just kidding!!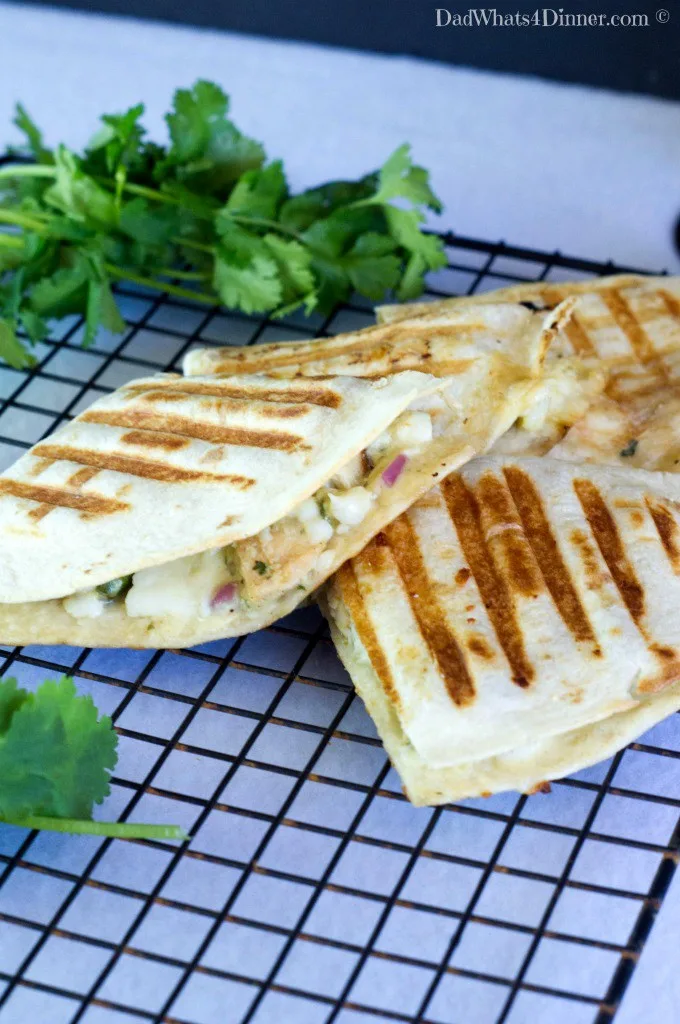 Today's recipe for Grilled Tequila Lime Chicken Salad Quesadilla would be perfect for any of the above holidays. For Cinco de Mayo, you can serve it actually as written. For Mother's Day, I'd serve it as a chicken salad on flat bread and for Memorial Day, I'd add some chopped lettuce, tomato and sliced avocado along with the grilled chicken, and you'll have a wonderful Grilled Tequila Lime Chicken CHOPPED Salad with Avocado Dressing on the side.
And don't forget about the Kentucky Derby! I guess you could serve my Grilled Tequila Lime Chicken Salad as canapés but I've got something more appropriate. Check out my Derby Day Truffles with Candied Bourbon Pecans: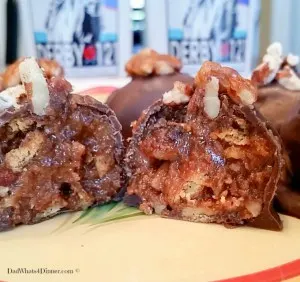 My Grilled Tequila Lime Chicken Salad Quesadilla is super easy to make. Whisk up your marinade and let the chicken get nice and drunk. Light your grill, make sure it is clean, and grill the chicken until good and done. Chop your veggies and make your dressing. Then chop the chicken and mix it all together.

Let it set in the fridge awhile to let the flavors come together. When you're ready to serve, heat up your griddle and grease it, so the quesadillas don't stick. Add the Grilled Tequila Lime Chicken Salad and some of the queso fresco cheese to the tortilla. Sear on the griddle until crispy and melty.

Serve with some extra avocado dressing and of course a big margarita. Happy May!!!!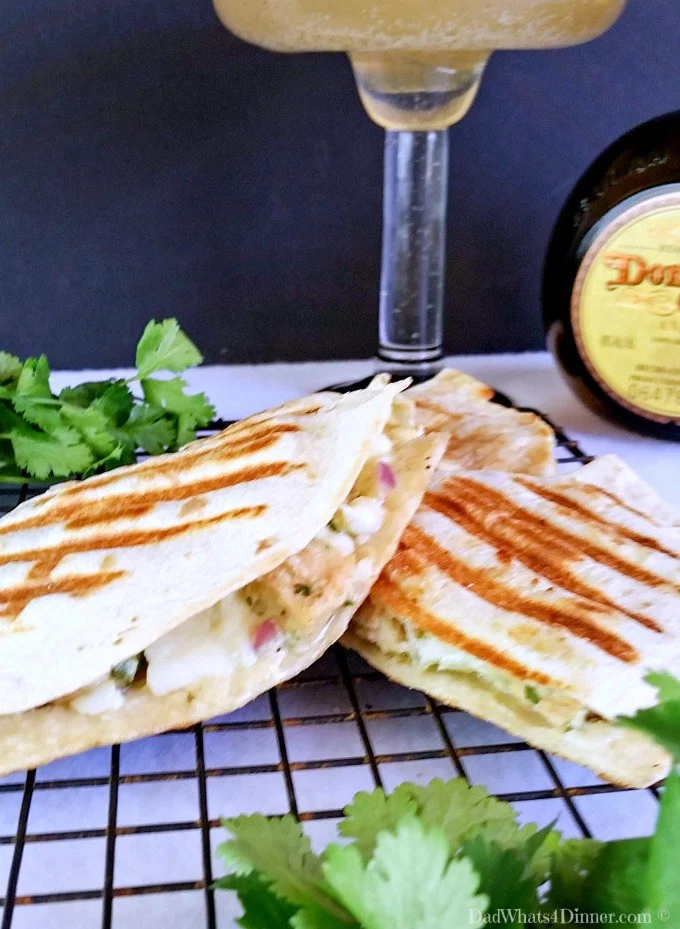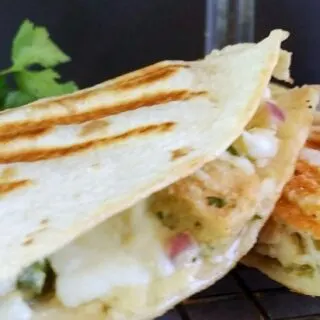 Grilled Tequila Lime Chicken Salad Quesadilla
Grilled Tequila Lime Chicken Salad Quesadilla is a fresh south of the border twist on same old chicken salad. Perfect for Cinco de Mayo!
Ingredients
6 skinless boneless thin chicken breast halves
3/4 cup fresh lime juice, about 2
1/3 cup tequila
1/2 cup orange juice
1 tbsp. olive oil
1 tbsp. dried cilantro flakes or 1/4 cup chopped fresh cilantro
1 tbsp. minced seeded jalapeño chilies, (optional)
1 tbsp. cumin
1 tsp. ancho chili powder
1 tsp. salt
3/4 tsp. ground black pepper
[b]Dressing:[/b]
1 avocado, peel and seed removed
3 tbsp. red wine vinegar
1 tbsp. Dijon mustard
2/3 cup low-fat mayo
1/2 tsp. paprika
1/2 tsp. ground black pepper
1/4 tsp. kosher salt
2 tbsp. olive oil
1 cucumber, peeled, seeded and diced
4 green onions, sliced thin, green parts only
1 cup red onion, chopped
1/4 cup fresh cilantro, chopped
1 cup [url undefined]Queso Fresco[/url] cheese, crumbled
8 flour tortillas
Instructions
Tequila Lime Chicken:
If not using thin cut chicken breast, place breasts, one at a time, between two pieces of wax paper.
Flatten with a mallet to 1/2 inch thickness.
Whisk together all of the tequila lime marinade ingredients (lime juice through black pepper) in a large bowl.
Pour into a large zip top food storage bag along with chicken breast.
Let the chicken marinade for a few hours, or overnight.
Light you grill on heat to 600°F.
Remove chicken from marinade and drain in a colander. Discard marinade.
Place the chicken on the hot grill, over direct heat. Grill 5-7 minutes per side.
Set aside to cool, then chop into bite size pieces.
Dressing:
Place avocado through salt in food processor.
Puree until smooth.
With processor running slowly, pour in olive oil.
Continue to process until creamy and smooth. Set aside.
(Optional: reserve 1/2 cup dressing to serve on top of quesadillas.)
Place chicken, chopped vegetable and dressing in a large bowl.
Mix until all ingredients are coated evenly.
Chill in refrigerator until ready to use.
Make Quesadillas:
Heat griddle to 400°F. Grease with butter or cooking spray.
Assemble quesadillas by placing 1 cup of chicken salad on flour tortillas.
Top with 2 tablespoons quest fresco cheese.
Fold over and sear on the griddle until nice and crisp and melty. About 5 minutes per side if using a regular griddle not a panini maker.
Notes
By Quinn Caudill for DadWhats4Dinner.com © 2016
First published on ADishofDailyLife.com 04/26/2016
If you like my Grilled Tequila Lime Chicken Salad Quesadilla you will love my Creamy Deviled Egg Layered Pasta Salad for Mothers Day and my Green Chile Bacon Cornbread Salad for Memorial Day,