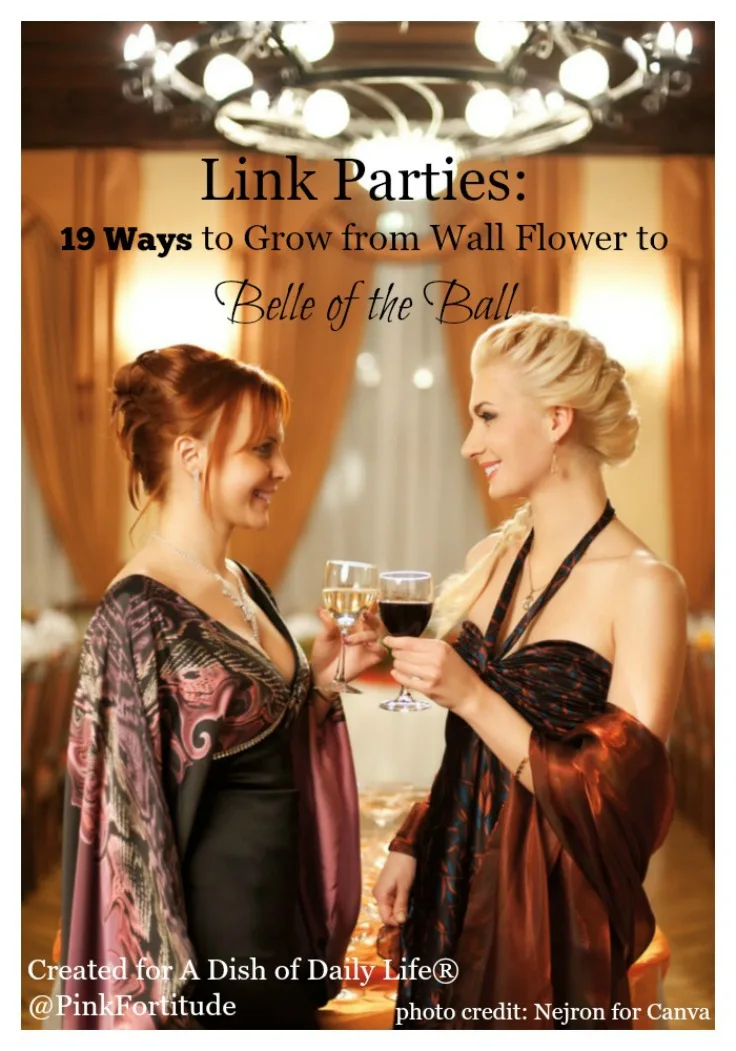 Hi, it's Holly from
The Coconut Head's Survival Guide
, back again, this time to talk about link parties and how you can grow your blog using link parties to your advantage!
[contextly_sidebar id="WEos40bKB46J1sy4PFCTOqpYeehXMNz9″]When I started blogging, I wasn't on social media at the time. I started using social media at the beginning of 2014, and at that point didn't even know what a hashtag was. I ended the year with over 13,000 followers though, and I detail how I did that in my book, How to Grow Your Social Media Following.
Since then, link parties were (and still are) a huge source of traffic for me, and a way to get my name and blog noticed. If you are new to blogging, link parties, or want some inside scoop, keep reading for 15 tips to achieve your best results at link parties.
Grow Your Blog Using Link Parties
What is a Link Party?
A link party is way for bloggers to showcase their top posts of the week to a large audience. The host of the party will provide a party link up, and all you have to do is copy over the URL to your post.
How Do I Find Link Parties to Attend?
Some of the bloggers you follow will probably host link parties. Check out the bloggers you like, and at the bottom of their post or on their side bar, they will typically list all of the parties they attend each week.
How to Work the Crowd
I started by participating in approximately 10 parties a day for maximum exposure, but have since narrowed it down to between three and five a day, which is much more manageable. Here are 15 best practices you can implement to help you get the most out of these parties:
1. Participate in parties in your niche. Get a feel for the party and content to ensure you fit in. I'm not saying don't participate in parties that are outside of your niche, but it's more about finding the right audience to target yourself to.
2. Bigger parties are good for the chance of increased visibility, but you really have to stand out to be noticed. If you are one of 300 posts that go up on a party, you may be invisible.
3. Smaller parties are like the old TV show Cheers. You want to go where everybody knows your name. It's easier to meet and mingle with bloggers in a smaller setting where you won't get lost in the crowd.
4. Make an Excel spreadsheet or something similar to track the day, time, category, and link to each party. Here is a sample of what I track.

5. For maximum exposure, be at the party when it starts.
6. Don't worry if you are late to a party, even by a day or two. A lot of the hosts will pin each of the entries to their Pinterest board/s and/or use the entries of the week for a roundup or feature. If you link up late, you may not get the same amount of visibility from the party goers, but there is still longer-term visibility potential.
7. Follow the rules. Each party has a different set of rules. If it's a food only party, don't post your DIY craft. If they limit to three links, don't post five. Pay close attention to the rules for linking up Etsy shops, your own link parties, or something you are selling. Most parties are not a free-for-all. You want to keep your host happy with you!
8. Follow all of your hosts on social media, and when you do, be sure to tag them with their party hashtag (if they have one).
9. Be sure to show somewhere on your post or blog which parties you are linking up to. Some parties require a backlink. I keep a thumbnail list of my parties by day of the week on my blog, along with a written list of parties on each post.
10. Once you have linked up, share the party on social media. Whether it's Facebook, G+, or Twitter, be sure to share the party and tag your host/s.
11. Leave a comment to thank the host.
12. Take the time to read the content written along with the linkup. Link parties are usually a big referral driver to the blog, and your host will often leave remarks about things going on in their lives or business. If they are sharing that their dog died, or their daughter graduated from college, don't leave a generic, "Thanks for the party!" comment. Express your kindness.
13. The average character limit for your title is 50-75 characters. Don't mess with your perfectly SEO crafted title, but if your title is longer, think of a shorter blurb to catch their attention.
14. Ensure one of your images is optimized to stand out in a thumbnail. The title of your post will always be seen along with the picture, so you don't necessarily need a title on your picture as well. Experiment and determine what works best for you. I always make sure I have an image that is a close-up and optimized for a thumbnail for the parties. These pictures are generally good for Twitter and Facebook feature images too.
15. Be social and mingle. This is the whole reason for going to a party right? Try and visit at least three other links – more is better! Mix it up – don't always go to the posts written by your favorite bloggers. Even if you are first to the party, go back a few hours later or the next day and visit other links.
16. When you visit other party links, be sure to leave a nice comment, along with the hashtag from the party or some other indication that is where you came from. "I love zucchini! I can't wait to try your recipe! Visiting from #FoodieFriDIY." If you share their post on social media, be sure to tag the post author, and either the party hashtag and/or party host.
17. Bonus Round – This one is time consuming, but it will produce fruitful results. Most weekly parties will showcase a feature/s from the prior week. Click on the link to the feature to take you over to their post. Share on social media with a congratulatory note and tag the post author and party host. "Congrats on your feature (URL link) @awesomeauthor @besthostess #LinkyParty"
18. Track your referral traffic to determine which parties to focus your effort. This can be tricky for several reasons. If your party has multiple hosts, you may not always see the traffic in its collective. Additionally, if the hosts are sharing on Pinterest or Facebook, you may be getting traffic from those sources without knowing they came from the host/s. If/when the link parties become too time consuming for you, it will be easier to figure out which ones are your most productive if you track their referral traffic.
19. Finally, as in everything in life – be genuine, be kind, and be yourself. Have fun at the party!
Connect and Share
What about you? How many link parties do you attend each week? What are some of your best ideas to grow your blog using link parties?
[inlinkz_linkup id=526144 mode=1]
Holly Bertone, PMP is an author, blogger, and breast cancer survivor and advocate. She is the President and CEO of Pink Fortitude, LLC and Editor in Chief at the inspirational blog The Coconut Head's Survival Guide. Holly holds a Masters Degree from Johns Hopkins University, a Bachelor's Degree from Elizabethtown College, and is a Project Management Professional (PMP).
Holly is an Ambassador for the Tigerlily Foundation,was accepted into the National Cancer Survivor's Day Speakers Bureau, and was named a 2014 Woman of the Year by the National Association of Professional Women. She is passionate about reaching out to breast cancer survivors, and also volunteers for organizations supporting our military veterans. In her free time, she loves to garden, hit flea markets, antique stores and yard sales, and drink a cup of coffee on her back porch. Holly is married to a retired Green Beret, is a stepmother, and lives in Alexandria, VA.