Welcome back to #FoodieFridays! This is a great place to share your best recipes, and find new ones to try!
After a week off for the Thanksgiving holiday, we're back and excited to see what you have to share with us!
I love seeing what you all link up with us each week, and I try to share as much as possible on Twitter, Facebook, Pinterest, G+ and even StumbleUpon! Watch for the hashtag #FoodieFridays to see what I am sharing.
If you stop by my Facebook page and leave me link and # of a recipe you linked up, I'll be sure to give you a shout out on some sort of social media. You're also welcome to leave me the # of the recipe you linked up in the post comments. I will do my best to get everyone shared! But if you can help me out to make it faster for me to find your recipe, I would definitely appreciate it!
Of course, we also pin EVERY recipe that gets linked up to the Foodie Fridays board, so please feel free to share your favorite recipes (limit of 3) from your blog each week.
We will also be pinning our features to a very special board for Featured Recipes only!
We'd really love it if you'd help us spread the word about our party! It has grown tremendously and we know we have YOU to thank! Tweet us. Share another recipe from the link up and add the hashtag #FoodieFridays. Let's build a community here!
As we discussed a couple weeks ago, we are going to be starting a Facebook community as well, so if you are interested in joining us, please message me at [email protected].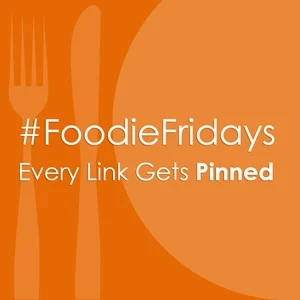 [Tweet "We love to SHARE and PIN your recipes at #FoodieFridays! #linkparty"]
And now for my features!
Holiday food gifts come in handy this time of year. What hostess wouldn't want to receive a sweet treat like this?! Plus homemade food gifts come straight from the heart!
From top to bottom, left to right:
Easy Chocolate Peppermint Truffles from The Suburban Mom
Gingerbread Box & Mason Jars from Recipe Tin Eats
Pina Colada Baklava from In Good Flavor
Pumpkin Macarons & Cinnamon Brown Sugar Frosting from Cookie Dough & Oven Mitt
Peanut Sea Salt Chocolate Truffles from I Knead to Bake
Cookie Dough Fudge from My Life Cookbook
Of course you can pin the holiday food gift roundup, but if you'd like to pin any of the individual features, PLEASE remember to click through to the site where the recipe actually lives and pin from there!
Before we get started with all the party directions, I wanted to let you know with great sadness that we are saying goodbye to two of our hosts, Shari of Pure Grace Farms and Norma of Nutmeg and Allspice. Both Shari and Norma have a lot on their plates right now, but we are going to miss them and I know you will too!
We're not really a rules-type link party. But here's what we do ask.
1. Link up your favorite recipes from your own blog. We'd prefer that the recipe lives on the post that you share, but roundups are also fine as long as they include links to the recipes. Please DO NOT link a post without a recipe or link up duplicate posts. …we will not be pinning them and we do delete them.
2. We'd be truly grateful if you recommended our party to other food blog friends so others can join in the fun!
3. It's not a requirement of course, but if you can, try to visit another link or two and leave a thoughtful comment. Give someone a shout out on social media. Use the hashtag #FoodieFridays…we're trying to grow a community for all of us, and it's always nice to make new friends.
4. If you'd like to include our button on your sidebar or your link party page, or even a link back on the individual post you linked up, we'd love it, but again, there is no requirement to do so.
5. We'd love to connect with you on social media too! If you follow me, let me know, I will gladly follow back!
Michelle @ A Dish of Daily Life
Christie @ A Kitchen Hoor's Adventures
Mila @ Girl and the Kitchen
Petro @ The Seaman's Mom
Christine @ Curried Cantaloupe

This party is hosted by: