Already seen the monuments? Here's a couple must see sights in Washington DC, one of which you may not have thought of, plus a must visit restaurant!
We spent Thanksgiving in DC this year visiting my brother in law, who is now stationed at the Pentagon, and his family. This is the first time in many years that Dave and his family have lived relatively close to us, if you count five to seven hours driving time, depending on traffic, close. Some of you might remember that my husband and I went to Alaska this summer for Dave's promotion to Brig. General.
Our trip to DC was a whirlwind trip…in Tuesday night, home Friday morning, and Thanksgiving in between. I actually started my trip even earlier, visiting two colleges with my oldest son on the way. But we all got in to DC on Tuesday night.
[contextly_sidebar id="4tL7UaJXn9lnzDwqzg8cbQ1sY6KiRWTJ"]We managed to pack in a lot of sights in Washington DC in a short period of time. On Wednesday, we toured the Pentagon, visited The National 9/11 Pentagon Memorial and checked out the International Spy Museum. People aren't allowed to take pictures at the Pentagon except at the entrance (can you tell my children were just so thrilled to have their picture taken?) and at The National 9/11 Pentagon Memorial. I highly recommend the Pentagon tour if you ever have a chance to go…the building is filled with history!
The National 9/11 Pentagon Memorial was sobering. We all remember where we were at that moment…my husband and I and three young children were visiting friends in Boston when my oldest pointed at the television and said "that airplane just hit that building." We spent the rest of the day in a fog, frantically trying to get ahold of my husband's sister who was due to fly out of Boston that morning (her flight was cancelled) and trying to get news of friends who worked in NYC.
The National 9/11 Pentagon Memorial honors the 184 people whose lives were lost at the Pentagon and on American Airlines Flight 77. Each person is memorialized with a cantilevered bench made of stainless steel and granite, with a lighted pool of flowing water. The Memorial Units are organized by age lines based on the year each victim was born. The different directions they face signify whether the victim was in the Pentagon or on American Airlines Flight 77. It's truly a beautiful memorial..we will never forget those who lost their lives that day.
I also wasn't able to take pictures at the International Spy Museum, but I can tell you that was definitely another one of the highlights of our trip. The history there was fascinating. We learned how East Germany refugees were smuggled out to West Berlin behind the front grill (and other odd spots) in cars, what kind of spy techniques were have been used by the US and Russia, how spies have been caught throughout the years, and so much more. It was fascinating! They also included James Bond in this fun museum for both kids and adults. Everyone really enjoyed it. We spent hours there. The gift shop is awesome too!
[Tweet "Traveling to #WashingtonDC? Check out this MUST SEE list from @dishofdailylife! #FamilyTravel"]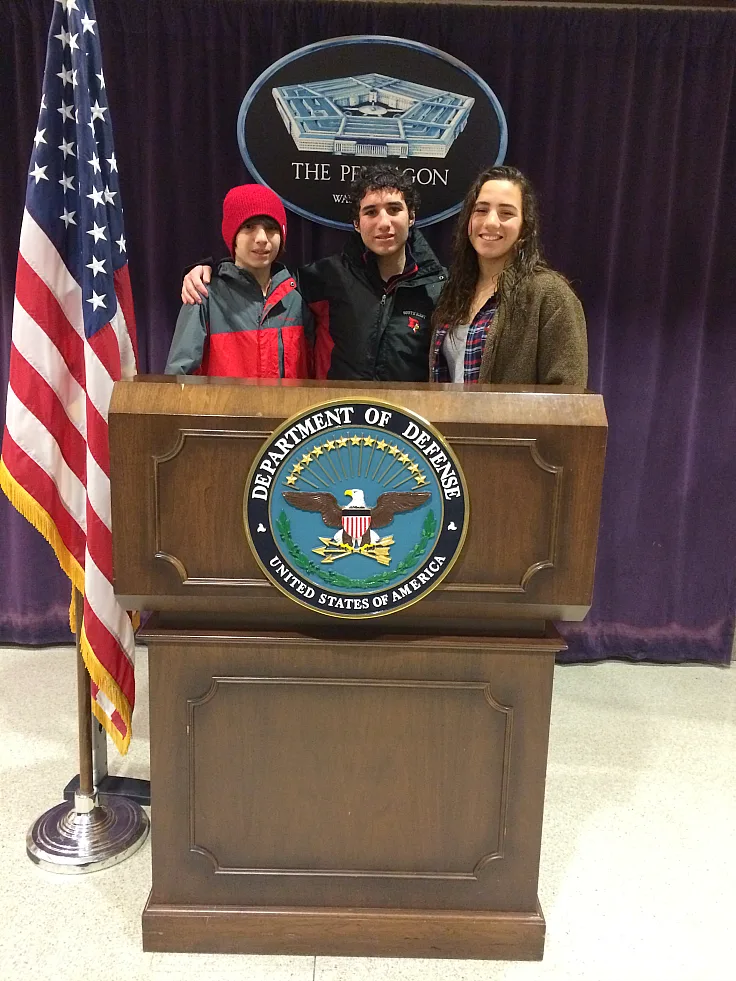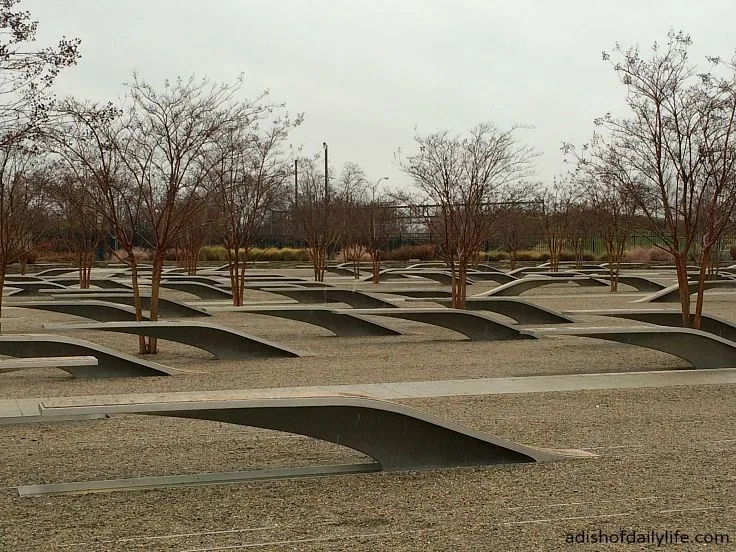 Of course the entire day on Wednesday, it was pouring rain! I don't usually love sightseeing in the rain, especially not a cold rain in the winter; however, I was dry as could be in my new Walin & Wolff Fairfield rain boots! I was gifted these beautiful boots by Walin & Wolff, a new specialty retailer for women's designer shoes, handbags, accessories and jewelry. That was pretty sweet timing with the weather we had on our trip to DC!
I have to say I absolutely love them…they are stylish as well as functional, and I especially like the leather trim at the top! Quite honestly, I have been wearing them nonstop, as they are comfy as can be as well. Don't tell my mother in law (fortunately she does not read my blog), but she was admiring mine, and she is getting a pair of her own for Christmas!
Here we are at DC Cupcakes, picking up some of our treats for Thanksgiving day…my feet fared the best that day, as you can tell!
From there, it was off to Clyde's, a saloon in Georgetown.
First off, I can't say enough about the service there. Our family is known for its jokesters (especially my one brother in law) and our servers took everything in stride!
Then there was the food. I ordered the Steak Frites. Let me start by saying I rarely order steak in restaurants. But for some reason, I kept coming back to the Steak Frites on the menu. It was calling to me! And I am so glad I ordered it because it was incredible. The grilled hangar steak was cooked to perfection, and the green onion-garlic aioli was mouthwatering. I'm going to have to figure out how to make it! And who can resist Parmesan herb french fries?
Interestingly enough, Clyde's shares the recipes to some of their most popular dishes on their website! How cool is that? Unfortunately for me, that aioli was not on there. I wonder if they would share that recipe?
Everything I tried of everyone else's was good too…yes, we are that family! When I first met my husband's family, he warned me, if you don't eat what is on your plate, someone will steal it. He wasn't kidding. We do a lot of sharing!
I don't usually do this, but I loved my meal so much I took a picture.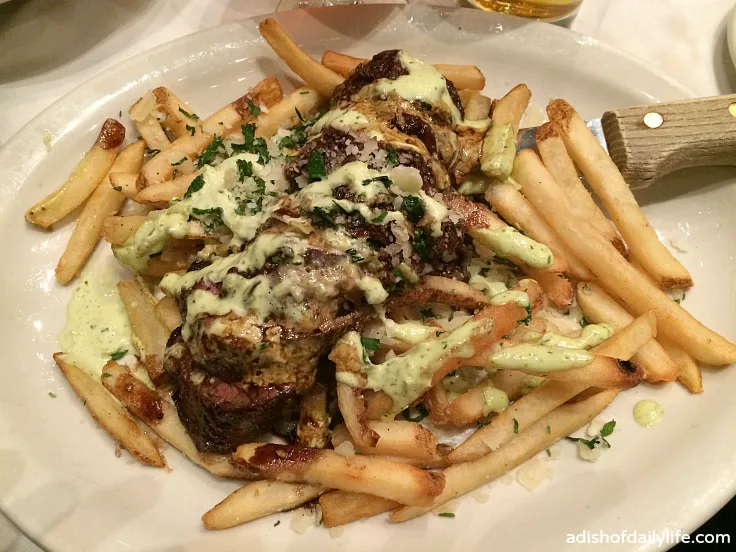 Stay tuned for part 2 later this week…Thanksgiving day was just as jam packed with fun!
Disclosure: I was gifted the Walin & Wolff rain boots I mentioned in this post. I received no other compensation, and all opinions are my own.