This festive DIY Christmas Tree Topiary is perfect as a hostess gift or for holiday decorating!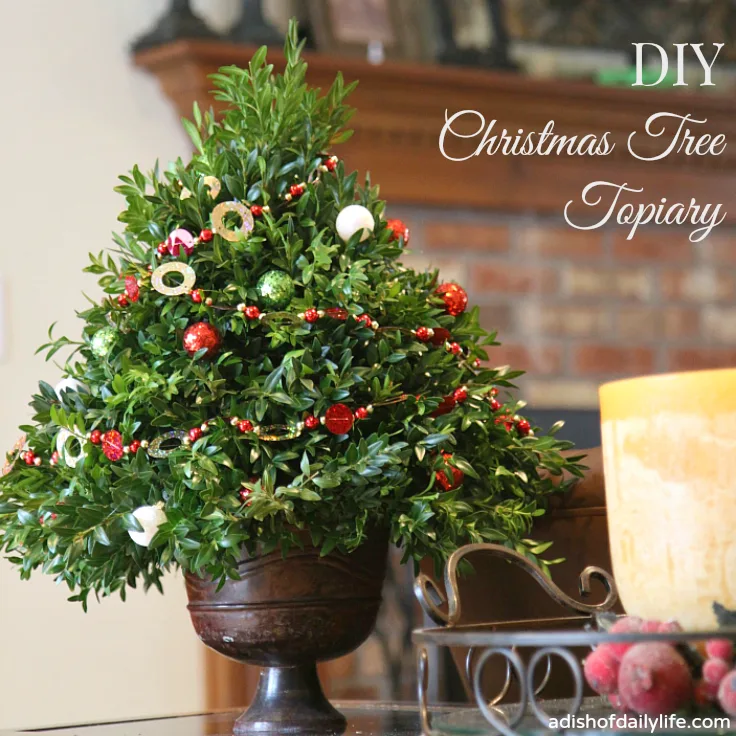 These holiday Christmas tree topiaries are one of my favorite holiday projects. I've been making them for years. I started right about when my oldest was in preschool and he's off to college next year!
I'll tell you a funny story before we get started. I used to make these for teacher gifts. My kids are all two years apart, and they all had the same preschool teachers, so by the time year six of preschool rolled around, I was wondering if the teachers were growing tired of them. I thought maybe they might rather have a gift card instead. I was quite friendly with them at that point, and I asked one of them if they might be getting just a little bit tired of them? She had an "oh no" look on her face…the first words out of her mouth were "You're not making them this year? But we love them!" I ended up making them for the teachers after all.
I generally try to make several trees at the same time to save some time. The process is fairly simple but it can get time consuming. However, once you get the hang of it, it's pretty easy.
I've taken pictures of all the steps, and they move from top to bottom, left to right. The tutorial should be easy to follow.
Materials needed:
Container: Your local craft store or nursery should have a good selection.
Oasis: You should be able to get this at your local craft store.
Boxwood: Order from your local nursery or florist. If you want an entire box, order early if possible, as they generally order for their own projects and might not necessarily have extra to sell. I order a large box of it, and as of right now, with five trees made, there is still at least half the box remaining. I have some other projects in mind though. If you just want enough for one tree, you may find that they will sell you a small amount, even right now.
Decorations: Your local craft store will have these. My local nursery will also sell these to me.
Floral picks: You should be able to get these at your local craft store, or you can also order online.
Pick your container wisely.
Your oasis needs to fit into your container snugly. You don't want it moving around. You can use smaller cut up pieces of oasis to "snug it up" if your oasis is just a little loose in your pot. You can see where I did that in the top right hand picture on the collage.
If you want to raise your tree up higher in the container, you can place a small piece of oasis in the bottom to raise the larger piece. However, keep in mind, you don't want too big of a piece, because you want your tree to be stable. I did not add any extra oasis to the bottom with either of my trees shown here.
Soak the oasis overnight.
This is really important. Your greenery needs the oasis to be wet so it will stay green.
Clip your greens (I use boxwood) into varying sizes.
Think about the shape of a Christmas tree. The branches on the bottom come out further than the ones up top.
Before I start, I cut a bunch of my boxwood branches and make piles of the different sizes.
Build your Christmas tree topiary from the bottom up.
I work my way around in a circle, with the largest pieces around the bottom, and progressively smaller pieces as I move up the tree. You might be tempted to use those thick woody stems that look bushy to get your tree done quicker. Don't do this. Your tree will look much better if you use smaller stems.
When you are about 2/3 of the way done, add a pointy piece to the top of your oasis.
I taught a few friends how to make these, and they were convinced we were going to end up with topiary balls. If you add that pointy piece to the top, it will help you visualize how it is all going to come together. Continue adding progressively smaller lengths of boxwood towards the top of the tree.
Fill in your topiary tree the rest of the way.
You can see a picture of my topiary tree being filled in, in the bottom row of the collage below.
Decorate.
If you'd like, you can actually stop right there and skip the decorations. I personally think the Christmas tree topiary is beautiful undecorated. You could also tie a pretty wire ribbon around the base. But if you'd like to add ornaments, then you'll need some florist picks.
Thread the wire through the the little hole at the top of the ornament and then wrap the rest of the wire around the pick. Easy peasy. Then poke your florist picks into the oasis in the topiary where you want to decorate. I also used a couple garlands my mother in law had laying around to decorate my trees this year.
*Things to Remember
Your boxwood needs to be kept in cool temperatures, like your garage. It's actually suggested that you keep it refrigerated at 34-38 degrees. If you are storing it in your house, it will dry out too quickly.
In order to keep your trees green and fresh looking, you need to spritz them every few days. You could also add a little water to your pot to keep the oasis damp, which will allow your tree to stay green longer. One of our preschool teachers had hers until March.
[Tweet "#DIY #Christmas Tree Topiary…perfect for gift giving and holiday decorating! #Crafts"]

As you can see, everyone's topiary came out looking like a tree and not a ball!