Disclosure: I am participating in a Vibrant Influencer network campaign for Marie Callender's. I am receiving a fee for posting; however, the opinions expressed in this post are my own. I am in no way affiliated with Marie Callender's and do not earn a commission or percent of sales.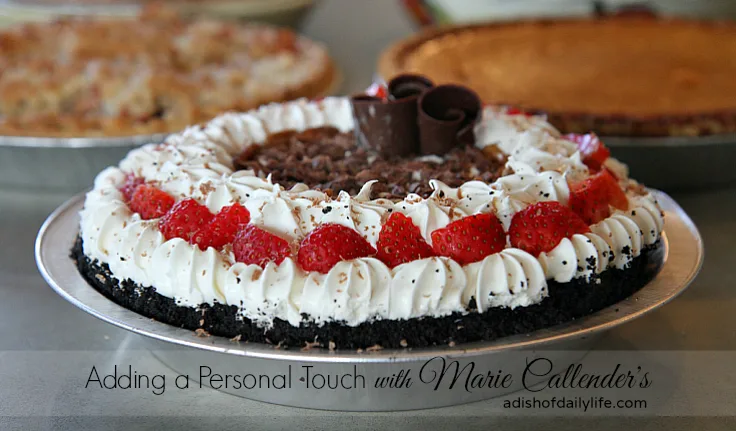 Thanksgiving is one of my favorite holidays.
For our family, it's all about the together time and the food.
But I'm going to share a little secret with you today about how I make a little more time to spend with my family, thanks to Marie Callender's.
Let me start at the beginning though. For almost every year of my married life, we have spent Thanksgiving with my in-laws, who live next door, and a few other relatives. My father in law was in charge in the kitchen; the rest of us were designated helpers.
Every year on Thanksgiving morning, my husband, kids, and I run a race, and then spend the rest of the day with family enjoying each other's company.
This year was a little different. My father in law passed away this summer, and it just wouldn't have been the same to have Thanksgiving here in Connecticut without him.
So my husband and I drove to Washington DC with his mother and our kids to celebrate Thanksgiving with my brother in law and his family. We met his sister and her family there, as well as an Aunt and Uncle and a cousin and his family. With 21 people, we were a full house!
On Thanksgiving morning, we ran the Trot for Hunger, along with 11,000 other people. I usually don't like races that are that big, but I have to say it was well organized and I never felt overwhelmed by the crowd. My oldest son, who hates to run, walked-ran with his youngest cousin. My middle child and youngest got 1st and 2nd in their age groups, respectively. My husband placed 8th overall…at 47, he was by far the oldest top 10 finisher. We won't talk about me. My pace was respectable, but I have some work to do. Anyway, on to some pictures…
After the race, it was on to the turkey day celebration. Here's a few more pictures that I snapped.
I've mentioned before on my blog that everyone in our family likes to cook. Anytime we have any kind of gathering, holiday or not, there is always lots of great food. This year though, we were reminiscing about the good ol' days of my father in law's cooking. In fact, that last picture on the bottom of the collage was a toast to my father in law. Dave made the comment "If the food isn't good, it's because Big Ed wasn't here to cook it." Of course the food was good, but my father in law had a knack for putting together an amazing restaurant quality meal, and it will never be quite the same without him.
However, while my father in law was content to spend his entire day in the kitchen, none of us really want to do that. So we definitely take advantage of time saving shortcuts when we can, especially if we can still have that "homemade goodness" taste.
If you read my blog on a regular basis, you know I love to cook, but that desserts are not necessarily my forté.
During the holidays, I have a secret though. I can take a Marie Callender's pie, add a personal touch to it, and save time, without sacrificing homemade goodness.
I did exactly that for Thanksgiving a few weeks ago.
I knew I wanted a Chocolate Satin Pie, but apparently lots of other people had the same idea in mind because when I went to the grocery store, the Marie Callender's section was pretty much decimated. I was in a panic until my husband who is a lot taller than I am and could move things around on the top shelf of the freezer case found one last Chocolate Satin Pie tucked away at the very back! Dessert panic attack averted!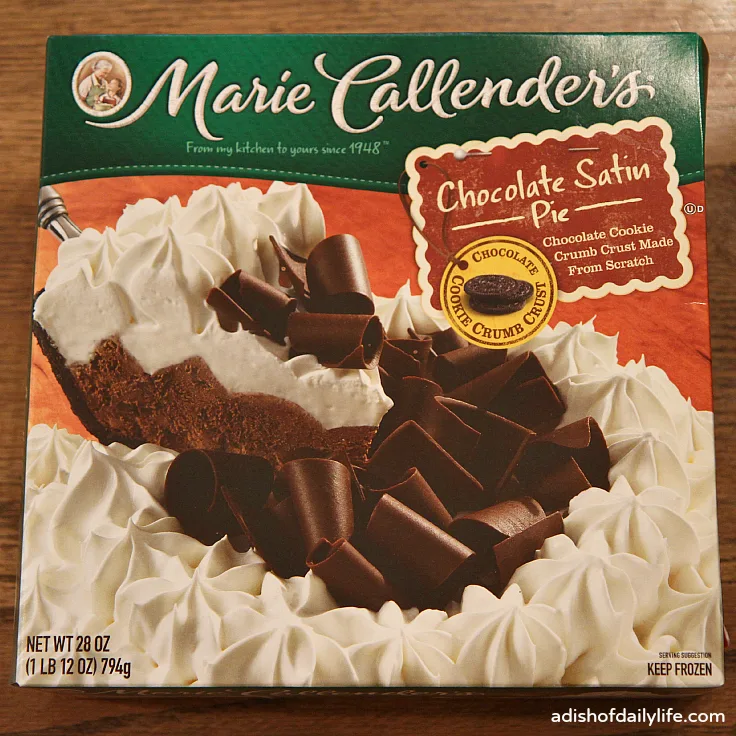 Of course, this dessert is quite pretty by itself, but it's easy enough to give a beautiful pie like this a personal touch too.
I should have taken a picture of it before I got started, but we were all rushing around after the race to get our Thanksgiving meal ready and I didn't think about it until I'd already started decorating my pie! But if you look at the box above, you can see there are chocolate curls on top. I simply removed those, added cut strawberries around the edges, lined the inside edge with pecan pieces, added chocolate shavings to the center, and then finer chocolate shavings to the entire pie. At the end, I added some of the large chocolate curls back in. I thought it came out quite nicely, and since it got eaten very quickly, I think everyone else agreed too!
[Tweet "Make time for family memories with @MarieCallenders! #HolidaySecrets revealed by @dishofdailylife!"]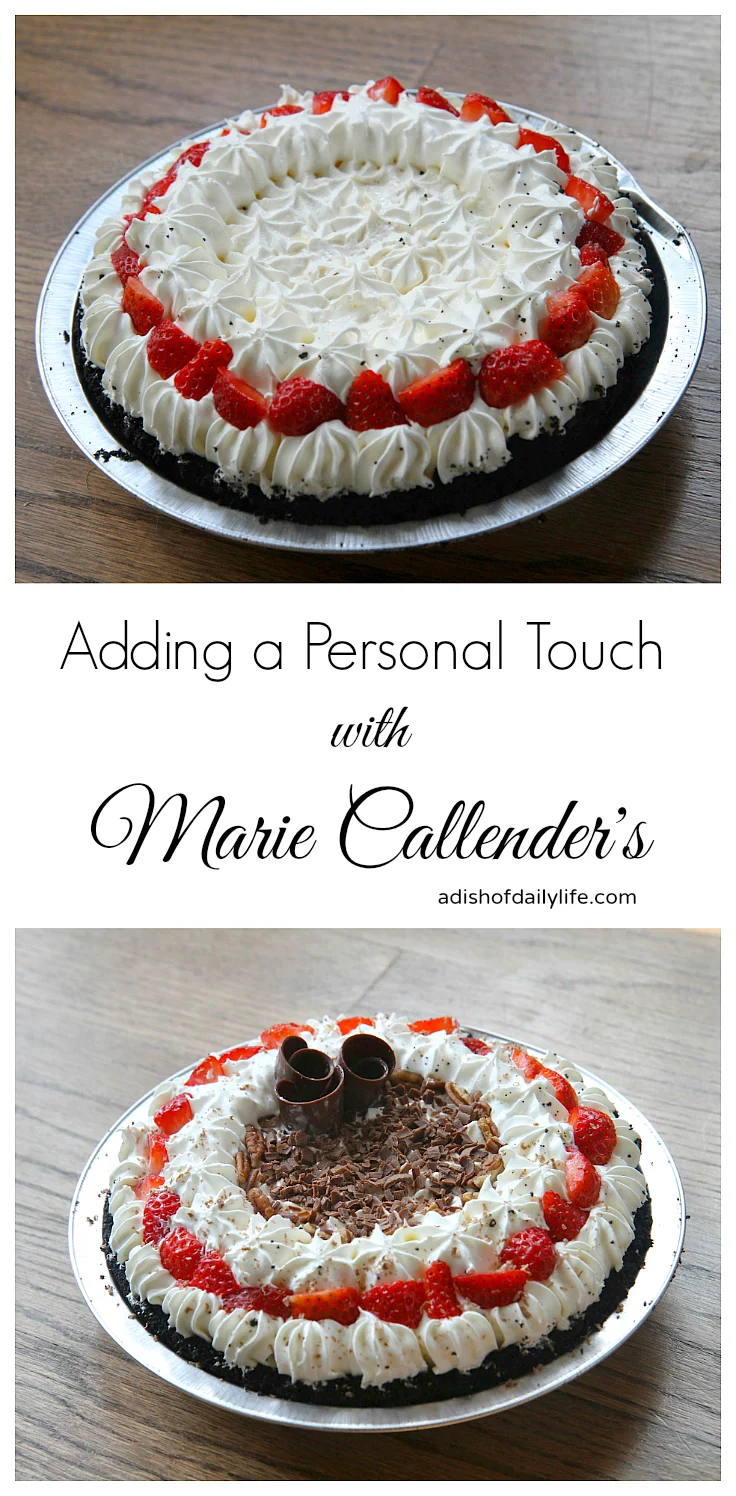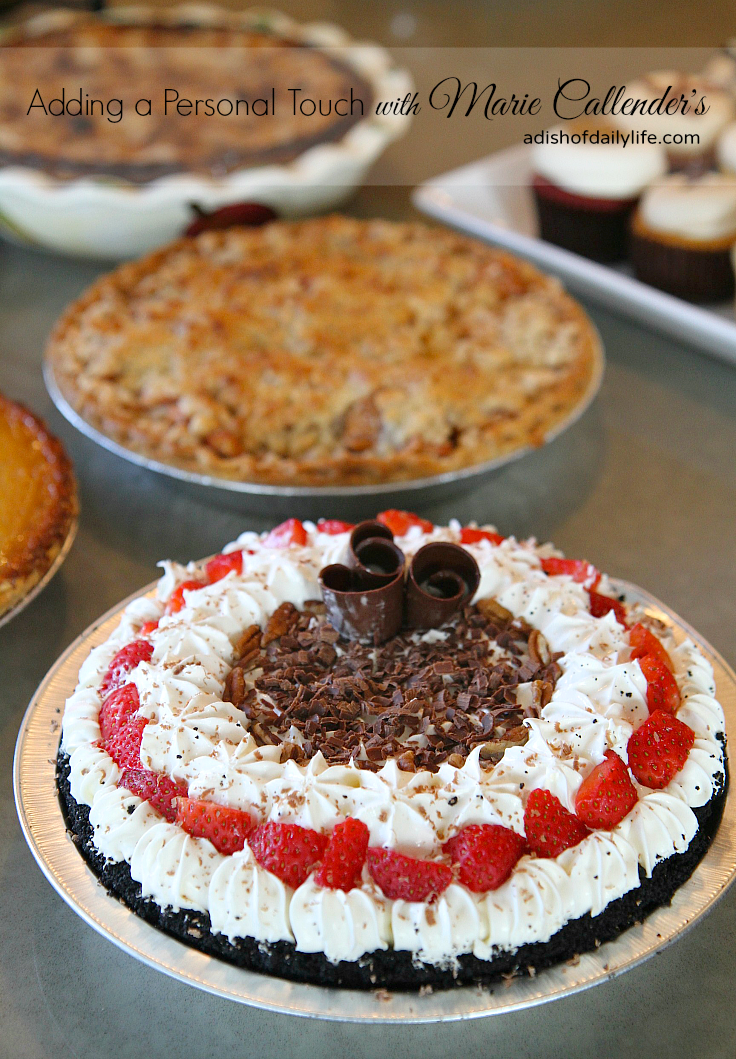 What holiday secrets do YOU have? Have you ever tried a Marie Callender's pie?
Marie Callender's believes in high quality ingredients and special touches that give all of their desserts and meals a homemade goodness. Visit Marie Callender's website or Facebook page for more information on their frozen meals and desserts, and more ideas on how to give your dessert that personal touch!