You won't believe how easy it is to make naturally sweet, healthy, homemade applesauce! Two ingredients plus a little water is all you need for this applesauce recipe!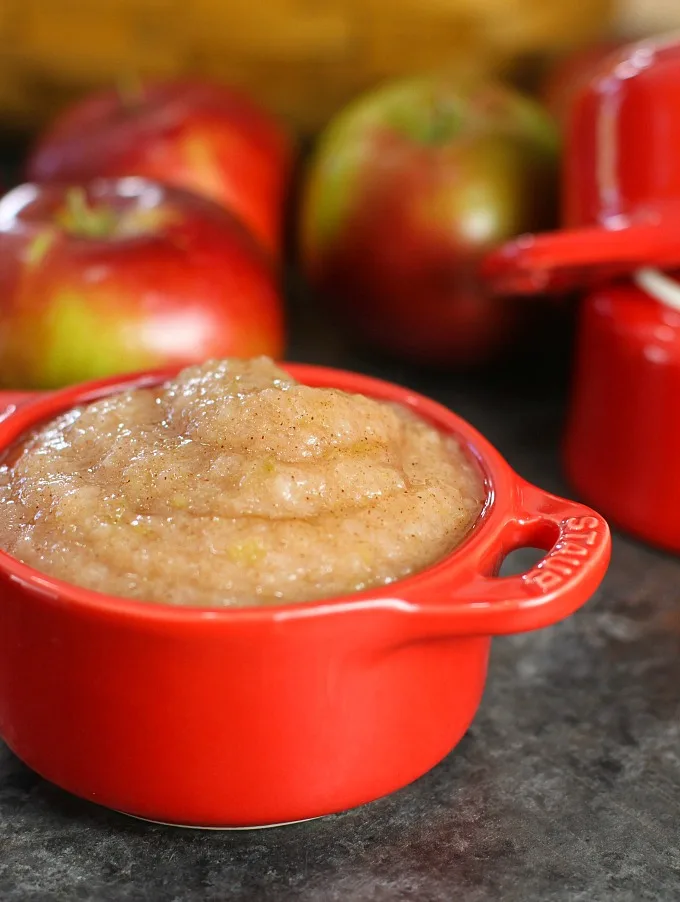 My husband makes applesauce nonstop all fall long. We use a recipe passed down from his mother, who used to make applesauce for our kids all the time when they were little. She still makes it for them when they request it, but once my husband realized how easy it was to make, he started making it himself as well.
Apple season in New England is a real treat. When the kids were younger, we'd go apple picking several times during the season. The farmer's market usually has a stand where we can pick up local apples as well. There really is nothing like the taste of fresh apples right off the tree!
We actually have two small apple trees in our yard now, although we don't get a lot of apples from them yet. The first year we only had one tree, and we didn't get any apples. I did a little research and discovered you have to have another apple tree nearby in order to get apples. Our first tree we "won" at a fundraising auction, so the following year, I of course had to try to bid for the apple tree as well. That's how we ended up with two! This year I wanted to go for a third. My husband convinced me that I should let someone else have the tree this year…no bidding for me. Next year though, I am going for tree number three. I love being able to just go out in my yard and pick apples!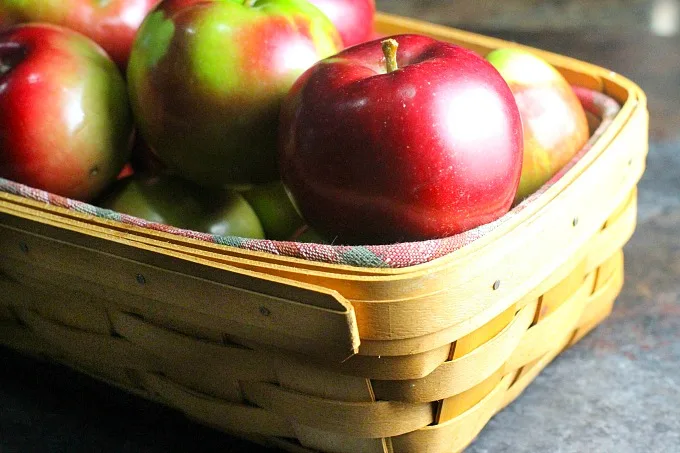 HOMEMADE APPLESAUCE RECIPE
If you've never made your own applesauce before, you are going to be surprised at how easy it is. We keep it simple and don't add much to it. It really doesn't need it. This easy applesauce recipe has been a favorite of our kids for many years.
Wash the apples well. We leave the skins on because the skin packs in most of the vitamins, and we want to keep most of those in our applesauce. The skins also leave your applesauce with a pretty rosy color, as the color leaches out into the applesauce.
Core the apples; then put them in a covered pot with a 1/2 cup of water, and heat over medium low for about 15 minutes or until soft.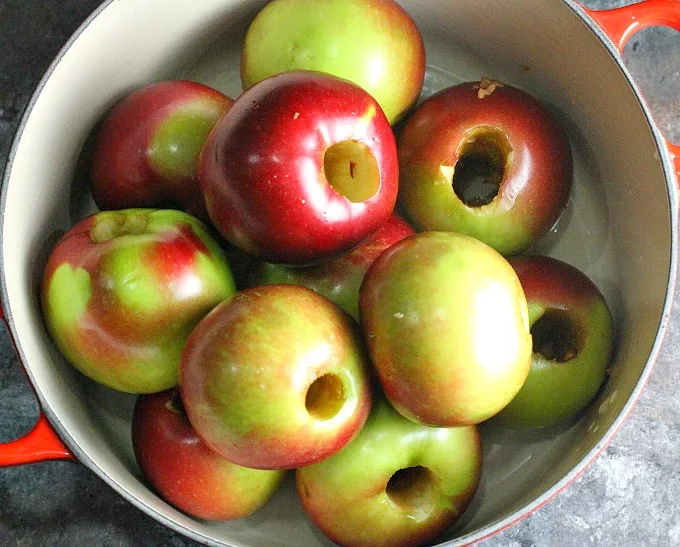 This is what the apples will look like when they're ready.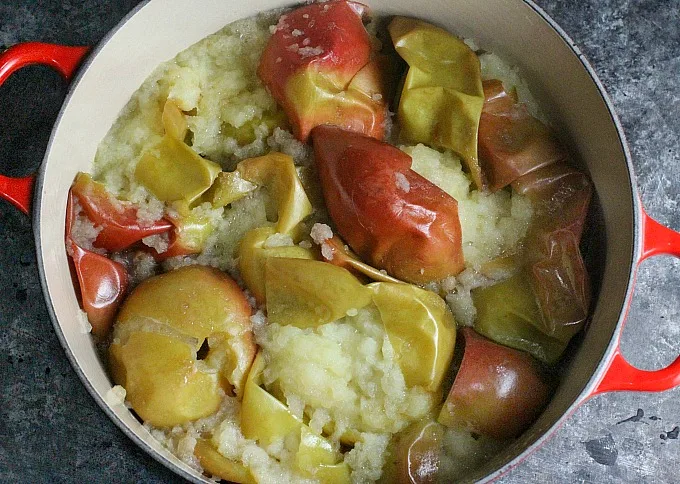 We use a food mill to catch the skins. The food mill mashes and strains, while preventing the skins from going through. You get the benefits of the vitamins from the skins this way, but no fibrous chunks.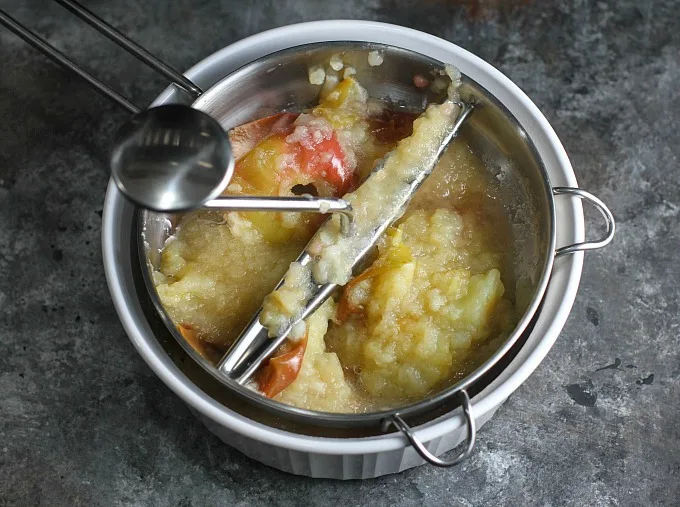 We add a teaspoon of cinnamon to the applesauce for taste. We usually do not add any extra sugar, but depending on your apples, you may want it a little sweeter. Add a little bit of brown sugar at a time, if you're looking for a sweeter taste.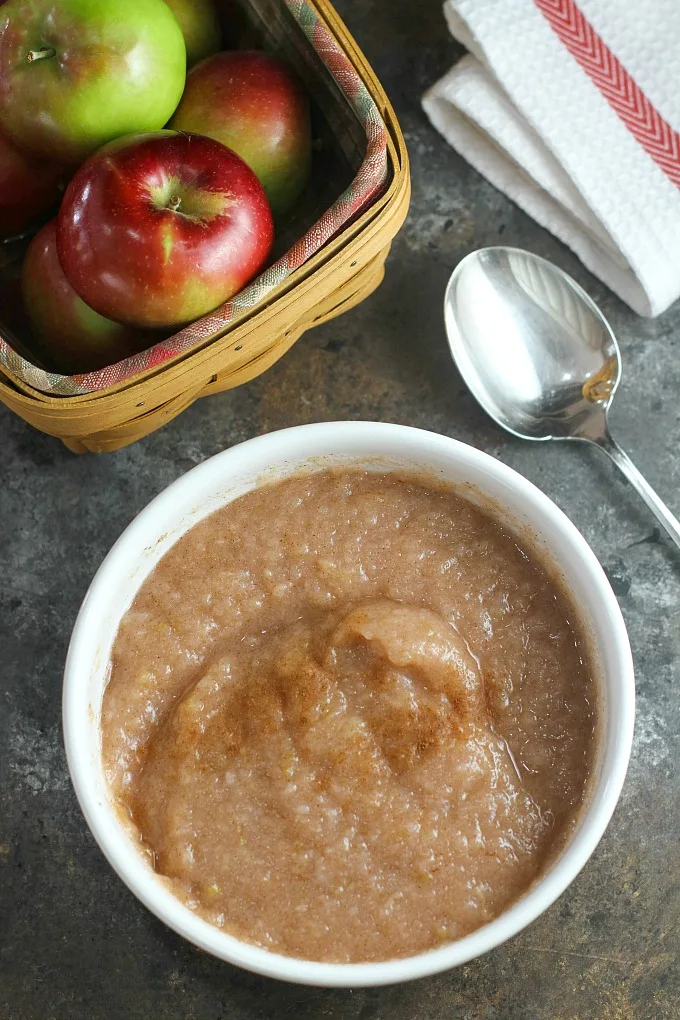 Doesn't it look delicious?!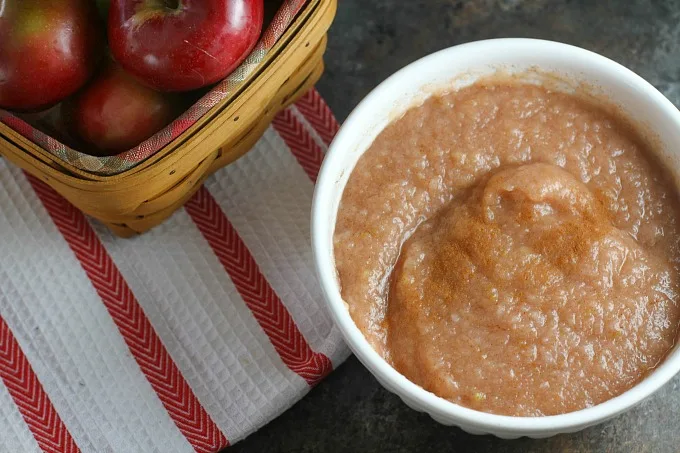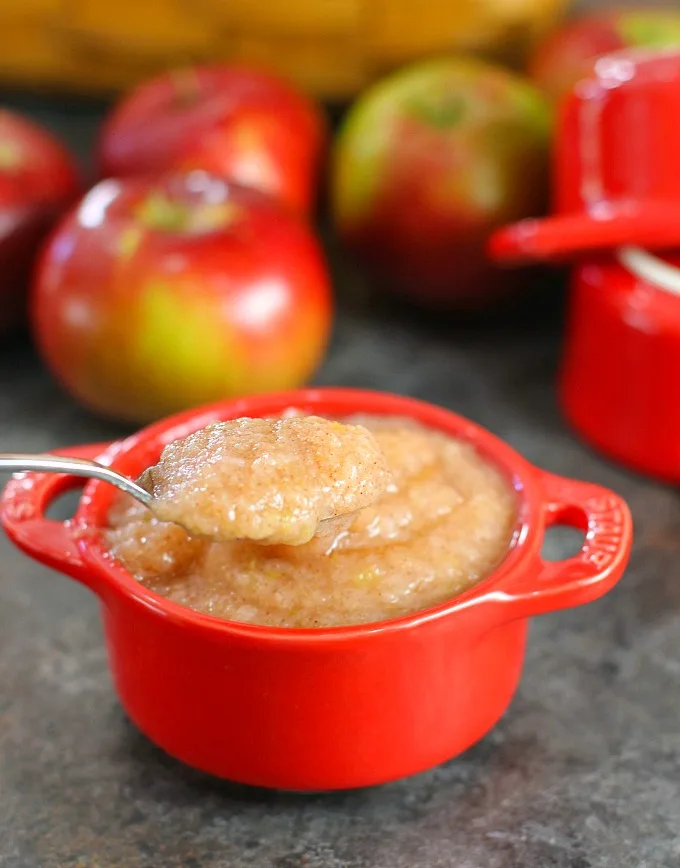 OTHER RECIPES WITH APPLES YOU MAY ENJOY
Let's start cooking!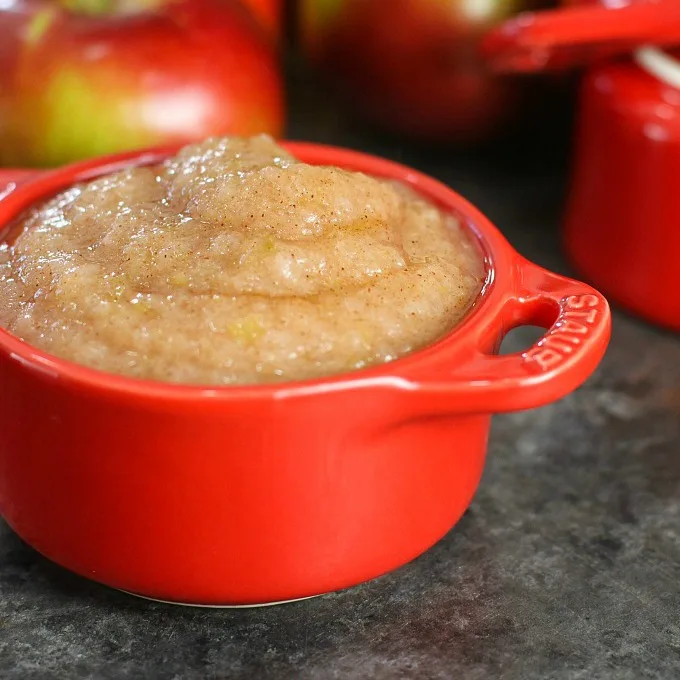 Homemade Applesauce Recipe
You're going to love this easy homemade applesauce recipe...two ingredients and water is all you need!
Ingredients
3 lbs apples
1/2 cup water
1 teaspoon cinnamon (or to taste)
Instructions
Wash apples well.
Core the apples.
Put in covered pot with 1/2 cup of water and cook over medium low until apples get mushy (about 15 min).
Strain the apples through the food mill. The skins will be left behind.
Add teaspoon of cinnamon (or more to taste). Mix well.
Notes
If you like your applesauce a little sweeter, feel free to add a little brown sugar. Add a little bit at a time though. You won't need much.
Nutrition Information:
Amount Per Serving:
Calories:

402
Carbohydrates:

105g

The links below are affiliate links, so if you make a purchase, we will receive a small commission which helps us cover the costs of running this website.