Disclosure: I participated in an Ambassador Program on behalf of Influence Central for Hood Cream. I received product samples as well as a promotional item to thank me for my participation.
I recently had the opportunity to attend an Immersion dinner at Deuxave, a French-American restaurant located on Commonwealth Avenue in Boston's historic Back Bay, courtesy of Hood®.
Hood® teamed up with Deuxave Executive Chef and Owner Christopher Coombs to create this amazing Immersion dinner for us. Chef Coombs graciously explained each dish to us as it was served. Each dish was created with local and seasonal foods, and featured a Hood cream as well. You might think cooking with cream means heavy, but in fact, it was quite the contrary. Chef Coombs explained to us that cooking with cream does not to have to mean heavy and filling, and the dishes he created for us were most definitely a testimonial to that.
Our server was equally wonderful, and quite knowledgeable about their wines. Deuxave is well known for its extensive wine collection. I dared not partake because of my 3 hour drive home, although I would have liked to! What I did have though was a fantastic mocktail, made with pomegranate juice, ginger beer, vanilla simple syrup, and lime juice…you can bet I'll be trying to recreate that at home…perhaps as a cocktail!
Getting back to our Immersion dinner, we were served a four course meal and dessert that was absolutely divine. If you are in Boston, you should definitely make a reservation at Deuxave…you will not be disappointed! I have to say it was one of the best meals I have ever had. And what I loved even more is the fact that each of these dishes could definitely be re-created at home!
The Menu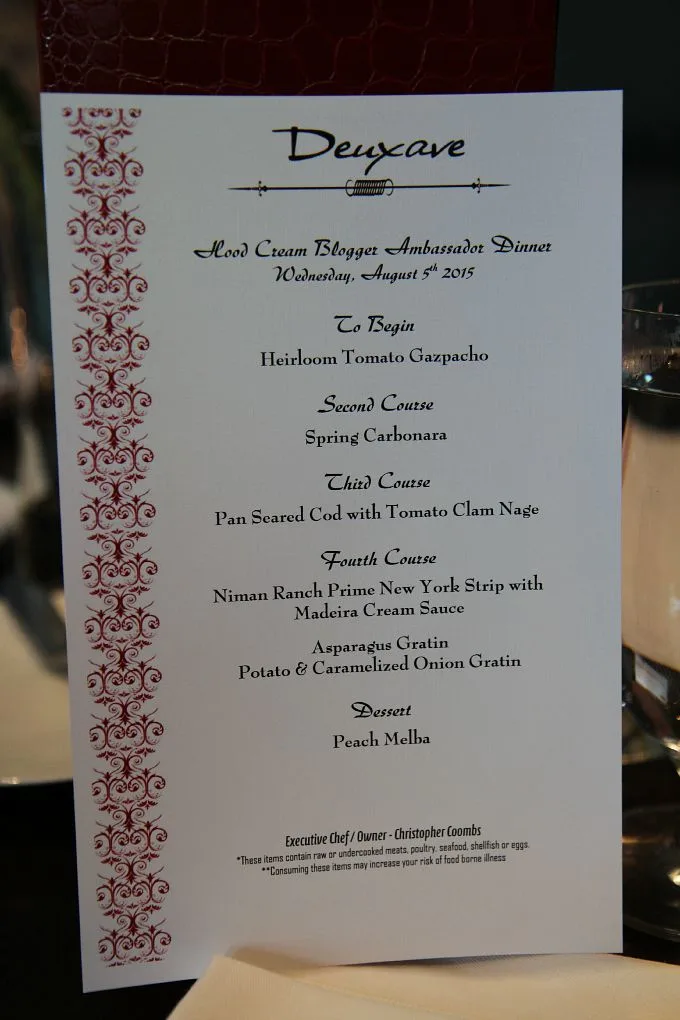 Heirloom Tomato Gazpacho
Our meal started with an Heirloom Tomato Gazpacho. I'm not normally a huge fan of gazpacho but this made a convert out of me. It was a light summery soup, with a lovely flavor. I don't think the gazpachos I have had before had cream in them, and I think that is what made the difference for me. The cucumber curl and tomato garnish were a nice touch as well. I love heirloom tomatoes…I get them at our CSA whenever they're available. I normally use them for tomato salads, but I would really like to try this soup now as well.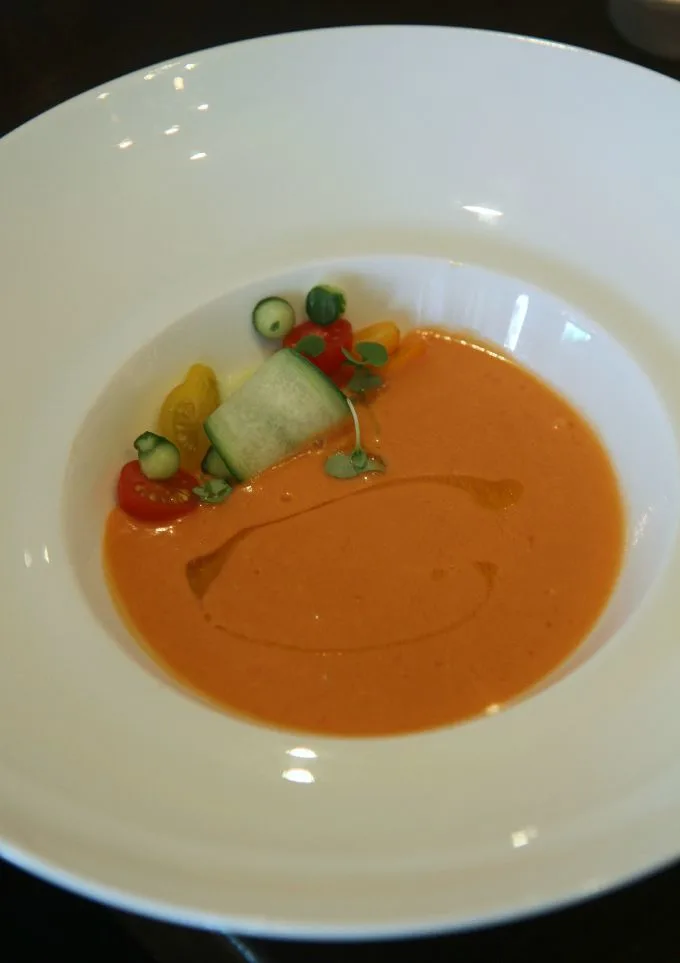 Spring Carbonara
This was an absolutely delightful dish. We love pasta in our house, and I think my family would have loved this dish. It was topped with a quail's egg, which you were supposed to mix in, and I did, a little apprehensively. I don't think I have ever had a raw egg before. The cream sauce and the local fresh ingredients were quite nice together, and this was one of my favorites of the night.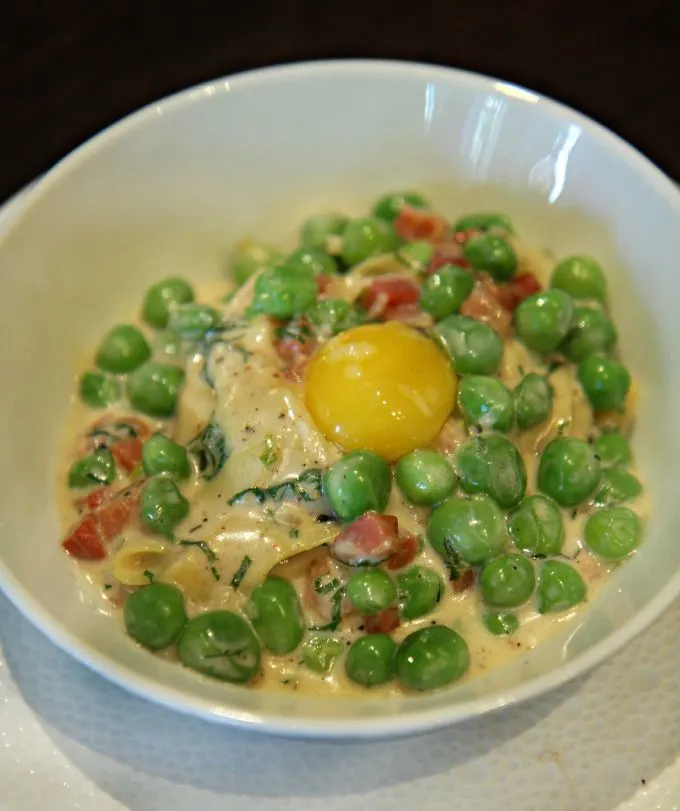 Pan Seared Cod with Tomato Clam Nage
Hands down, this was my favorite dish of the night! Nage is a broth flavored with white wine and herbs, thickened with cream, and used to poach the fish. I do love food with sauces, and this sauce was one of those "lick the plate clean" ones. The mild flavor of cod was perfect with the sauce. I often cook seafood with cream, but I would really like to try a Nage now!
Niman Ranch Prime New York Strip with Madeira Cream Sauce
We don't often have steak at home, so this was a nice treat. My husband and sons would have loved this! The Madeira Cream Sauce was absolutely superb…very light and flavorful. The steak was served with two gratins, an Asparagus gratin and a Potato and Caramelized Onion gratin. Neither had that heavy feel that you often get with gratins. Chef Coombs explained that you really need a high quality cream for gratins, to keep the stability. Have you ever noticed that the cream in a gratin has separated? Thinking back to the gratins I have had over the years, there was definitely a noticeable difference.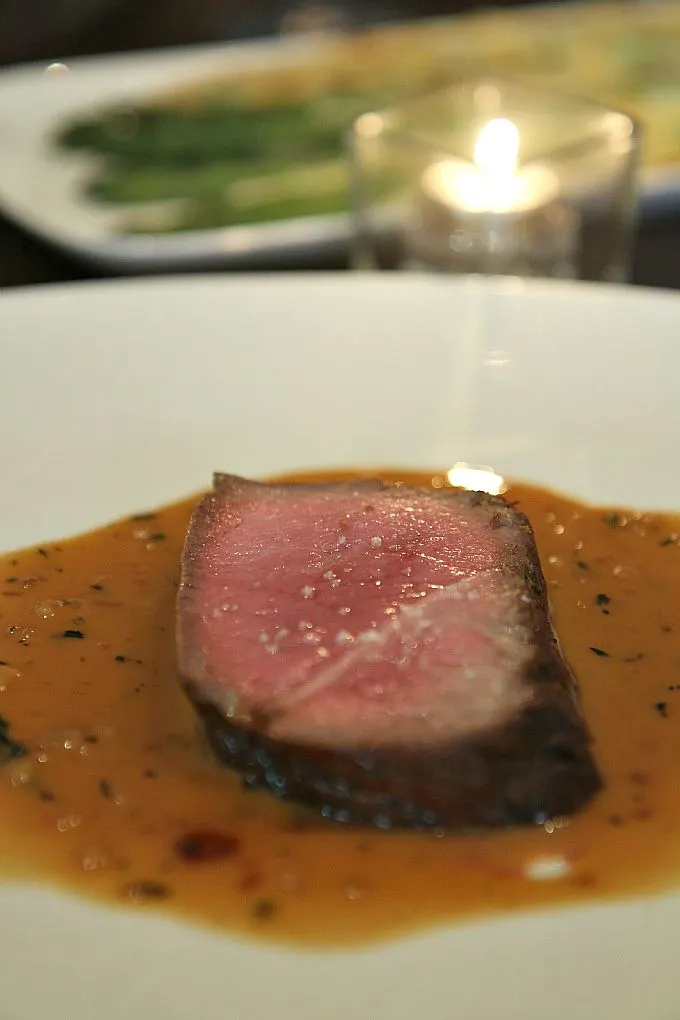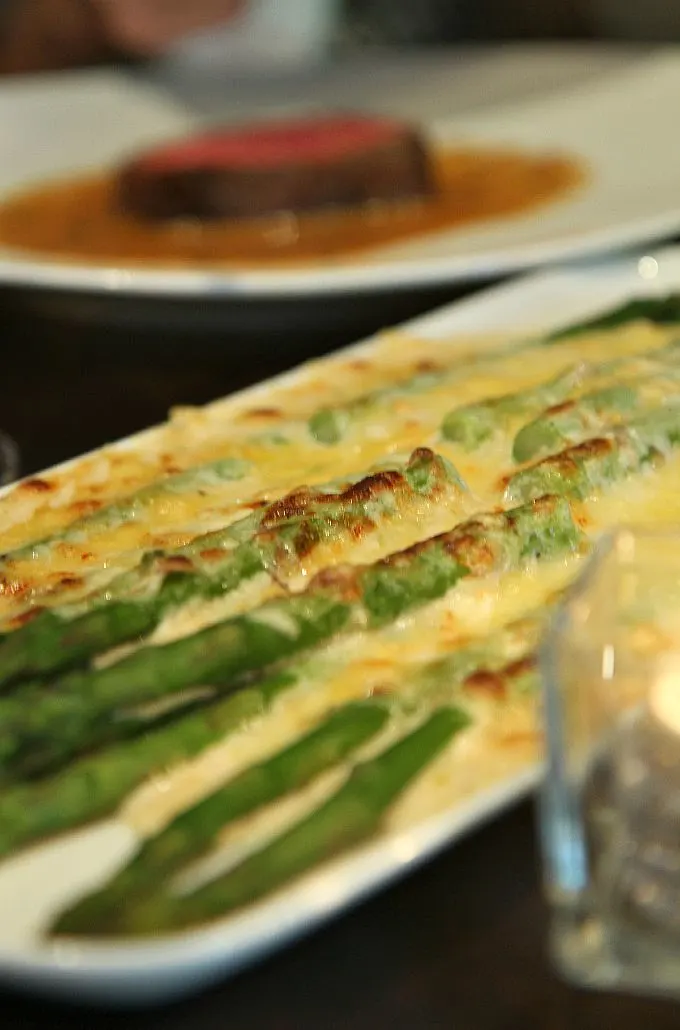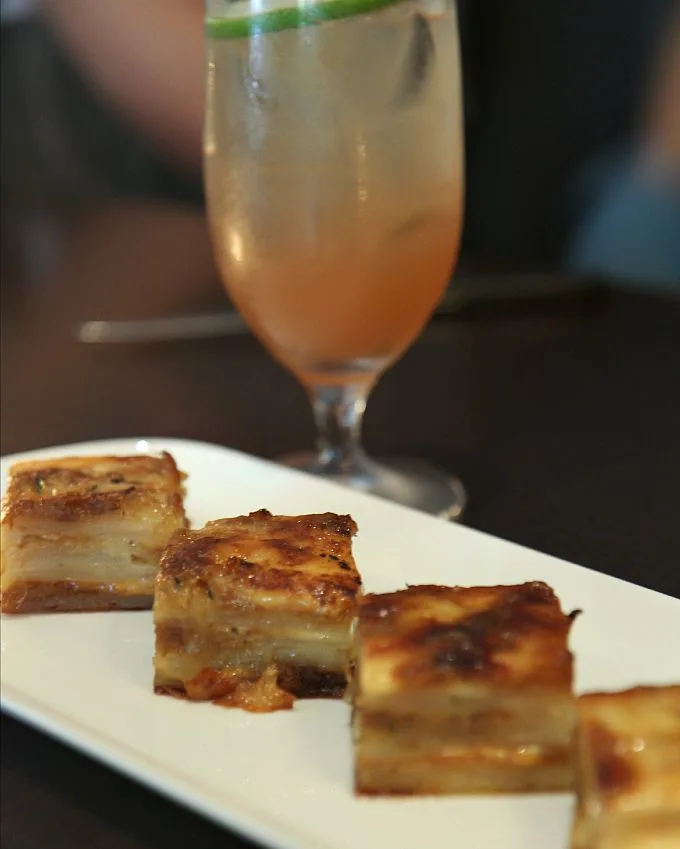 Peach Melba
Dessert did not disappoint either! The combination of the peaches, raspberry sauce, vanilla ice cream, and vanilla custard was truly delicious. And beautiful as well! I loved the presentation of the Peach Melba in a wine glass. I will be trying this in the near future!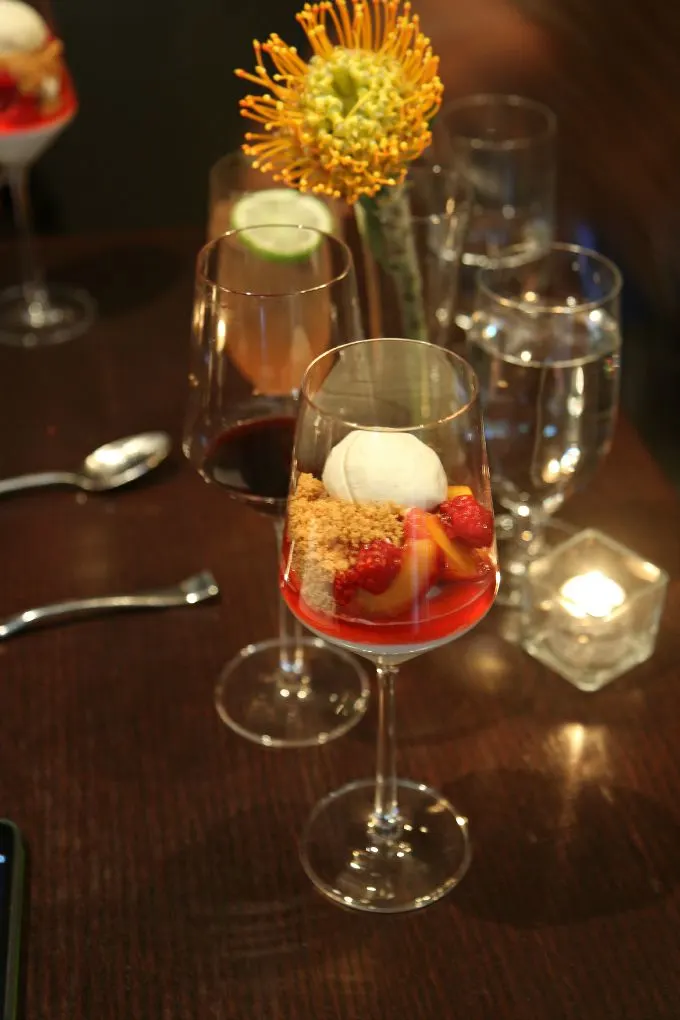 And of course the company was great as well! I enjoyed meeting everyone and discovered some blogs that are new to me, thanks to Hood®. And one of my seat mates was a fellow runner!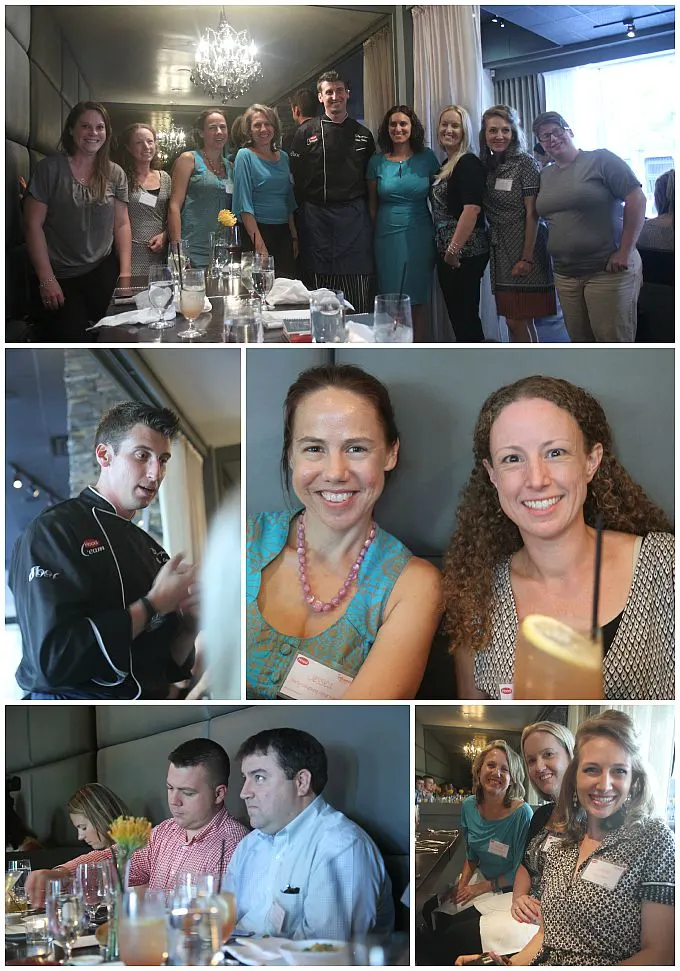 Hood®
Hood® was founded in 1846 by Harvey Perley Hood, in Charlestown, Massachusetts, the oldest neighborhood in Boston. Today Hood is one of the largest branded dairy operators in the United States, with 14 manufacturing plants. Some of their farms are even located in New England!
Chefs across New England also depend on Hood® for its superior quality, performance and taste. I've actually been using Hood®'s creams as long as I've been cooking. I cook with cream quite often, and there is almost always a Hood® product in my refrigerator. I like the fact that they are a New England company, but their quality and taste is second to none, and that of the ultimate importance to me. It's nice to know that a quality ingredient that professional chefs use in their kitchens is also available to us, the home cooks, as well.
Another thing I really like about Hood® is that they are responsive to consumer needs. All of their farmers have pledged not to use artificial growth hormones, which is something that is important to me. I also appreciate their commitment to environmental sustainability. I believe we have a role to play in reducing our own environmental footprints, and while we can all make an impact in our own ways, obviously a company that takes the initiative to do so can make an even bigger difference for future generations.
Follow Hood® on Facebook and Twitter, and check out their blog for recipes and cooking tips!