Do you use Facebook Insights to keep your audience engaged?
If you're flying by the seat of your pants with Facebook and hoping for the best with your posts, you're throwing away a valuable opportunity for your business or blog. Facebook Insights are a great resource…they can tell you when your fans are online, which is important if you want them to engage with you, and what kind of posts they like best! This is great information to have because when you update your page with posts that your audience likes, you'll be rewarded with likes, comments and shares.
This helps you in a couple of ways. The more people that like, comment, and share your content, the more people Facebook will share your post with. You also may have noticed that when you like, comment or share something, it often shows up that you have done so in your network's news feed. The same thing goes for your page. When people engage with content on your page, it is shared with their networks…which increases your reach and in turn, quite possibly your fan base as well!
Your Facebook Insights are located in a section on your page directly below the Admin Panel. It looks like this.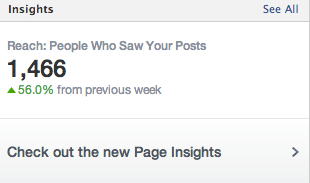 Let's click on "Check out the new Page Insights" and see what we can learn!
When you switch to your Facebook Insights screen, you will have this information along the top (there is a tour available…if you haven't checked that out, the tour may show up at the top as well.

Note the three dots on the right hand side. This has a drop down menu that includes an option to take the tour again and visit the Help Center.
Page will show you information about your page likes and where they came from, as well as information on post reach. The thing that I find most interesting about this section is in the Page Visit tab. At the very bottom, there is a section called External Referrers that shows the number of times people came to your Facebook page from outside sources, and who those sources are.
People will show you your demographics…where most of your fans are from, whether they are women or men, and their age brackets, as well as including how many people were reached and how many engaged with you.
For this post's purposes, we are going to look at Posts.
In this section you can see when your fans are online. Why is this important? Well, if you want people to engage with your posts, it would probably make the most sense to post when your fans are actually online. However, you don't want to limit yourself to posting only at that one time of day when you have the most fans online. Some of your fans may only check Facebook in the morning; others only at night. For this reason, you may want to re-post your blog posts in the morning AND at night!
A common worry is turning off your fans by posting too much. Keep in mind that Facebook only shares each of your posts with a portion of your audience. (You can get a much larger reach by paying to promote your posts, but that's a whole other topic!) So chances are most of your fans are not going to see a duplicate post. However, for the purposes of how it looks when someone goes to your wall, I would suggest mixing up what you say and using different pictures if possible.
Below is a screen shot of my most recent 5 posts. As you can see, my reach was the furthest, and I got the most post clicks and likes, comments and shares from my post When Do Online Friendships Become "Real Life" Ones? When you're looking back at how well each of your posts did, consider the following:
the topic

what time you posted

whether you posted a status, link or picture, or video (I try to use a picture instead of a link on all of my own content) and attach the link separately. The reason for this is because Facebook doesn't necessarily want you to leave Facebook to go somewhere else, so they tend to show "link" posts to fewer people. But there are other things that factor into the algorithm as well, and it is best to have a mix on your wall.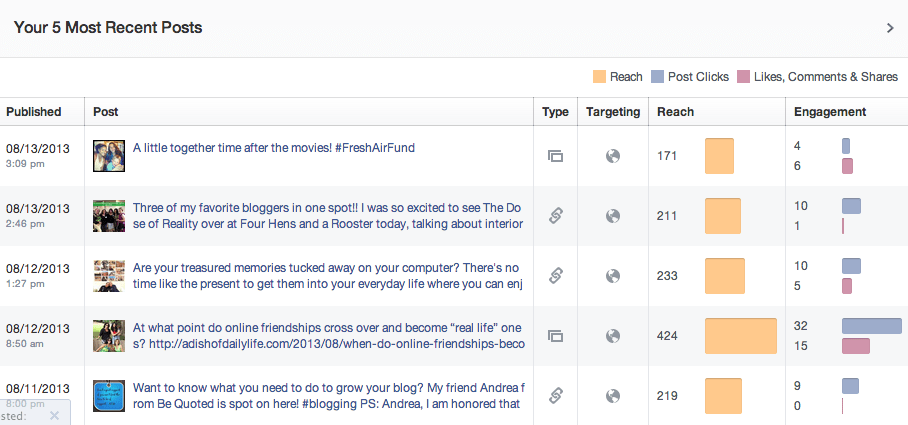 Another thing you will want to look at is when your fans are online. In my case, you can see more of my fans are online Friday, Saturday and Sunday…and I know for the last few weeks, I have not done a good job of posting then. I can definitely improve there! If you click on each individual day, you can see if your fans have a different pattern on certain days of the week. Mine is not drastically different.
The bottom line? If you understand your Facebook Insights and listen to your fans, you can tailor your content to your audience and keep them engaged!
Have you ever looked at your Facebook Insights? Do you use them on a regular basis?
Linking up with Traffic Jam Weekend Linky Party