Welcome back to #FoodieFridays! This is the place to share your best recipes, and find new ones to try! We love seeing what you all link up with us each week and try to share as much as possible on Twitter, Facebook, Pinterest, G+ and even StumbleUpon! Watch for the hashtag #FoodieFridays to see what we are sharing!
Stop by my Facebook page and leave me the link of a recipe you linked up. If you do that, I'll be sure to give you a shout out on some sort of social media. You're also welcome to leave me the # of the recipe you linked up in the post comments. I will do my best to get everyone shared! But if you can help me out to make it faster for me to find your recipe, I would definitely appreciate it!
Of course, we also pin EVERY recipe that gets linked up to the Foodie Fridays board, so please feel free to share your favorite recipes (limit of 3) from your blog each week.
We'd really love it if you'd help us spread the word too! Tweet us. Share another recipe from the link up and add the hashtag #FoodieFridays. Let's build a community here!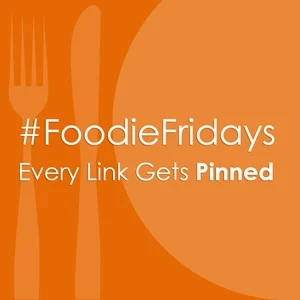 [Tweet "GET PINNED at #FoodieFridays! Link up your favorite recipes TODAY! #linkparty"]
And now for my features! I couldn't resist all these great international recipes that I saw this week.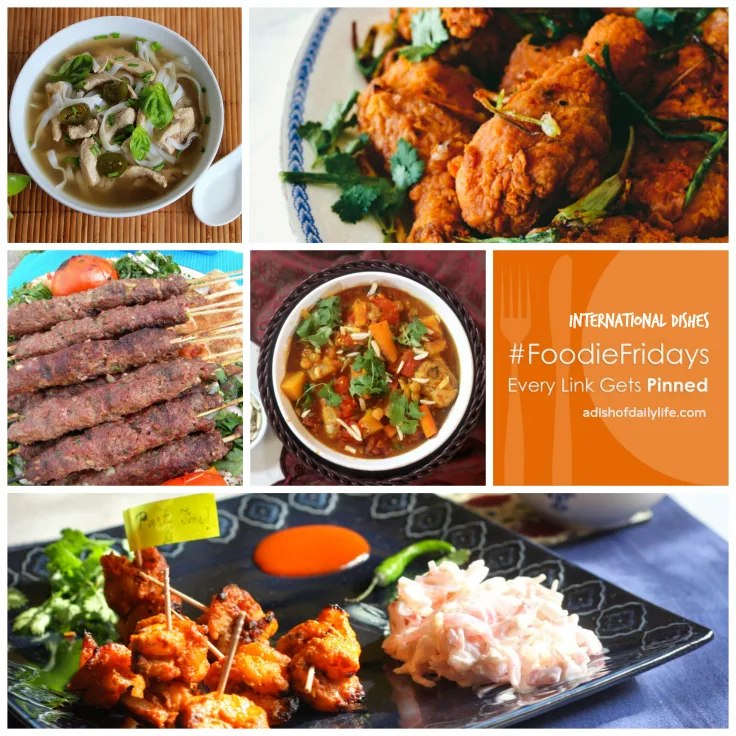 From top to bottom, left to right:
Chinese Five Spice Chicken Noodle Soup from PicNic
Chinese Five Spice Chicken Fried Drumsticks from The Woks of Life
Grilled Kafta Kebabs from Hadia's Lebanese Cuisine
Moroccan Fruity Chicken Tagine from Simply Fresh Dinners
Tandoori Prawns from La Petit Chef
Of course you can pin the roundup, but if you'd like to pin any of the individual features, PLEASE remember to click through to the site where the recipe actually lives and pin from there!

The rules are simple.
1. Link up your favorite recipes from your own blog. Please DO NOT link a post without a recipe or link up duplicate posts. …we will not be pinning them and we reserve the right to delete.
2. We'd love for you to share the party so others can join in the fun. We would truly be grateful!
3. Please visit at least 2-3 links and leave a thoughtful comment. Give someone a shout out on social media. Use the hashtag #FoodieFridays…we're trying to grow a community for all of us, and it's always nice to make new friends.
4. If you'd like to include our button on your sidebar or your link party page, or even a link back on the individual post you linked up, we'd love it, but there is no requirement to do so.
5. We'd love to connect with you on social media, but again, it is not a requirement of the party. If you'd like to check out our Pinterest boards though, we think you might find some great pins though!