If you have a dog, you know how mischievous they can be when given the opportunity. It seems like in our house, they may have a few too many opportunities. Since I wrote about our cats recently and how I'd be happy to receive snuggles rather than "presents" from them, I thought it was only fair that I give equal editorial space to the dogs. So today I'm going to share some of their antics as well…let me tell you they are definitely not angels!! You know the saying, when the cats are away, the mice will play? Well in our house, I think it's when the humans are away (or are otherwise indisposed), the dogs have a big dog party, just like in P.D. Eastman's Go Dog. Go!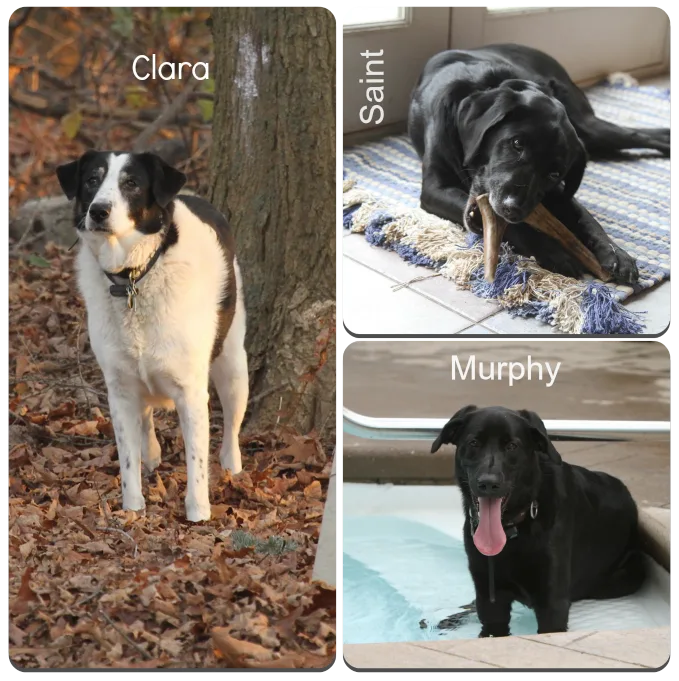 It's hard to stay mad at a puppy. They are just plain silly. Every single time Murphy chases his tail, I laugh. I can't help it. I'd never seen a dog chase his tail before this one, but he does it every single day. And he never seems to figure out that it is attached to him when he catches it. He's continue turning round and round in circles with his tail in his mouth! It has got to be one of the funnier things I have seen him do.
I've told you how Murphy went to school (yes, we're talking in the classroom) and how you can't leave the cabinets open in the house. But now that Murphy is older, he has some new tricks. He knows how to slide open the cabinet with the garbage can and many times I wake up to half eaten garbage all over the kitchen floor. We think we're going to have to install a child proof lock! I'd like to catch him in action, but we haven't yet. He's the only dog that gets up before us though, so we know it's him. He also knows how to open the lazy susan cabinet. I've seen him smack it with his paw till it pops open just a smidge and then he's in, able to help himself to a smorgasbord of cereal boxes that he can drag out into the pool area through his dog door and feast to his delight.
Clara is also a food thief. She and Murphy steal anything on the counter that they can get their paws on…Murphy has definitely learned his craft from the master. Clara is actually a bit more inventive though. She actually removes plates and silverware from the dishwasher and brings her finds underneath the dining room table to complete the cleaning process. Yes, she does break things on occasion. It's always a treat to wake up to broken dishes or your dinner dishes under the table…NOT! Needless to say, we are trying to get better about remembering to always keep the dishwasher closed!
Saint is our best behaved dog, but she is far from her namesake as well. Her vice seems to be being up high, on top of tables. The other day I was hanging out at our patio table, working on my computer while the kids swam in the pool, and Saint just jumped right up on the table. She's not a big dog, but she is a 55 pound lab! I'm not sure what she was thinking! This isn't the first time she's done something like this. When we first got her, she was about 6 months old and I came home on day and found her on the kitchen counter, licking plates in the sink clean. I screamed so loud she has never done that again. And I've found her sleeping on top of the coffee table. Clara also pulls this stunt on occasion. Once I came home and caught her sleeping on the dining room table! They know it's a no-no but when we're not home, I think it might be a big dog party around here.
What kinds of silly stunts have your dogs pulled?