Hello, again! It's Bev from Linkouture with another beautiful (and easy!) jewelry tutorial. A few months ago I shared on A Dish of Daily Life how to make a spiral pendant necklace. Today I'm going to teach you how to make a coordinating pair of earrings.
Jewelry Tutorial: Spiral Earrings
Here is what you will need to get started:
2 pairs of flat nose pliers
1 pair of ear wires
6 large jump rings (I use 7.0 mm inner diameter sterling silver rings)
6 smaller jump rings (I use 4.5 mm inner diameter sterling silver rings)
2 small jump rings (I use 3.5 mm inner diameter sterling silver rings)
To get started, take three of the largest jump rings (7.0 mm) and close one of them (you know it's closed well when it makes a nice click and the two ends are flush). Take a second one and loop it through the first jump ring and close it. Take the two looped jump rings and hold them so that there is a space between where they overlap. Think of it as you are making a very small venn diagram with your jump rings. In that space, loop the third jump ring and close it up. You've got the first spiral.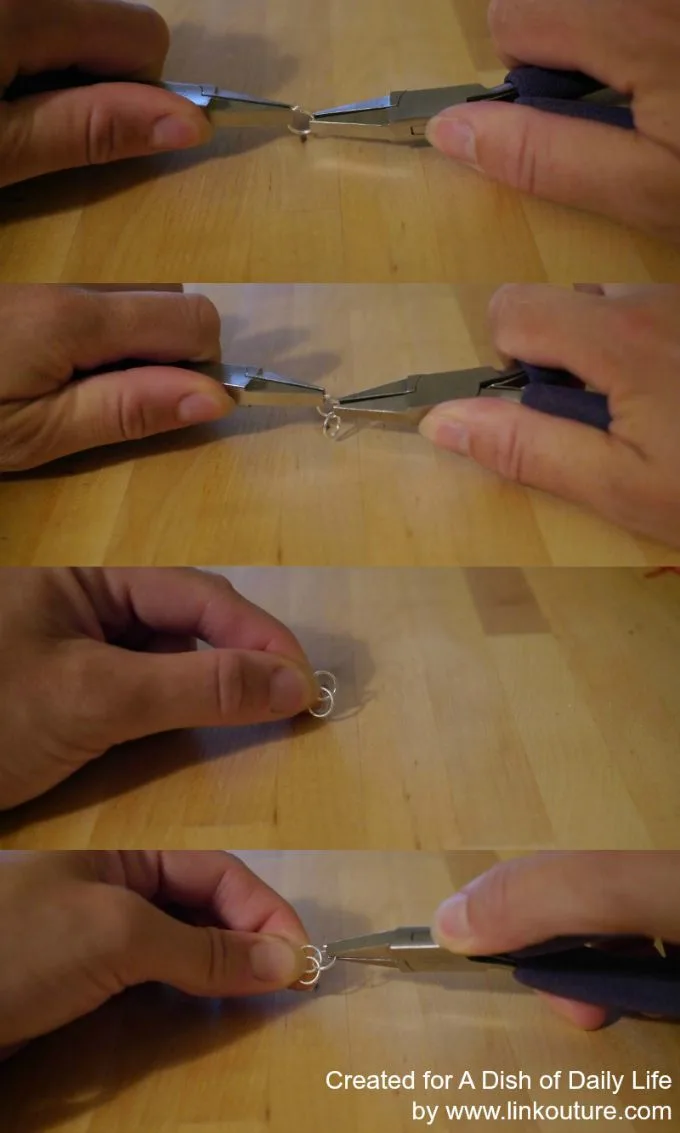 Repeat the previous steps with three of the smaller (4.5 mm) jump rings. Now you will have two sets of spirals in two sizes. Open one of the small (3.5 mm) jump ring and loop it through the larger spiral like so:
Connect the smaller spiral by looping the small jump ring that is already looped through the larger spiral and loop it through it through the smaller spiral as well.
Once the two loops are connected by the small jump rings use the pliers to close it up tightly. It should look like this:
Take one of your ear wires and open the loop at the bottom and string it through the smaller spiral then close it.
Repeat the steps with the remaining jump rings and tada! A pair of lovely earrings.
If you are looking for other jewelry tutorials, you can learn to make a pair of heart post earrings and simple hoop earrings on my website, or you can purchase jewelry already made through my Etsy shop!
[Tweet "Learn how to make a pair of elegant spiral earrings with this simple #DIY jewelry #tutorial from@linkouture!"]
Have you ever made your own jewelry?
Bev Feldman is a creative entrepreneur and a mom to adorable toddler. She makes handcrafted modern and elegant jewelry for women with a focus on chainmaille with a feminine twist and blogs about her adventures in running a small business while being a stay-at-home mom. With everything going on in her life, she has to stay organized, and she'll be sharing her organizing strategies here with us, as part of our Creative Team. Connect with Bev on Facebook, Twitter, Pinterest, or Instagram.