I am very excited to once again be co-hosting a Ladies Only Blog Share Link Party with Crystal from Mommifried and Angela from Writer Mom's Blog! These ladies are two of my favorite bloggers. Be sure to bookmark or RSS feed their blogs and visit them on Facebook, Twitter, Pinterest, Google +, etc….wherever you'd like to connect! They (and I of course too!) will gladly return the favor!
With Mother's Day this weekend, we thought we'd take the time to celebrate the moms everywhere. Whether you've got a funny post about motherhood, a life lesson post from your own mother, or any post that has anything at all to do with mothering, we'd love for you to link up with us!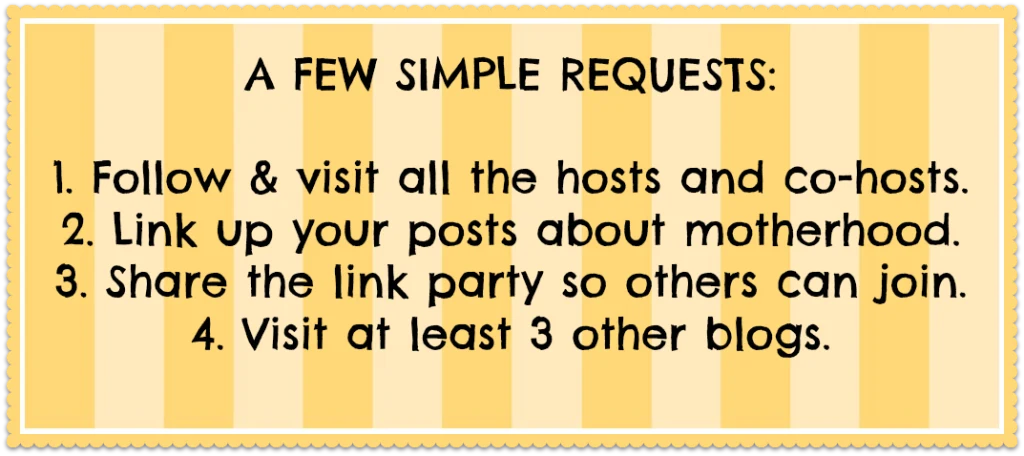 We're also adding a fun little optional way to share and grow your community this week and meet some new people! On Friday, we'll have a comment chain on A Dish of Daily Life's Facebook page specifically for our Joys of Motherhood posts. Post your link in the comments. If you choose to post here, you need to comment on the two blog posts directly ahead of you. That way each person receives 2 comments, and hopefully will meet some new people as well! Feel free to comment on others as well but make sure you comment on those directly above you. The person who is first on the comment chain can choose to comment on anyone in the comment chain! And of course you can participate on multiple days. On Saturday, Mommifried will host the comment string, and WriterMom's Blog on Sunday.
I also wanted to share a few of my favorite motherhood posts from this week (in no particular order)!
Andrea at BeQuoted shared 10 Lessons I Learned From Mom…my personal favorite from her list was #8, "Never Tell Yourself No." I am always telling my kids (and myself) whether you think you can or think you can't, you are right. Thank you Henry Ford for those wonderful words of wisdom. How true they are! You will love Andrea's mom's list…it is packed with good advice!
Chris at the MomCafe told us about why she is Mom of the Year. You will be in hysterics when you read her children's lists of why she is Mom of the Year. Out of the mouths of babes!
Susan from This Happy Mom made me giggle a little when she talked about Mothering Mischief and creative ways to get the kids to move just a little bit faster!
Ready to get started? Have fun and visit the links below. Don't forget to comment on the new blogs you've discovered!
In the URL field, place the link to your post. The name field should contain the title of your post.
[cjtoolbox id='6′]