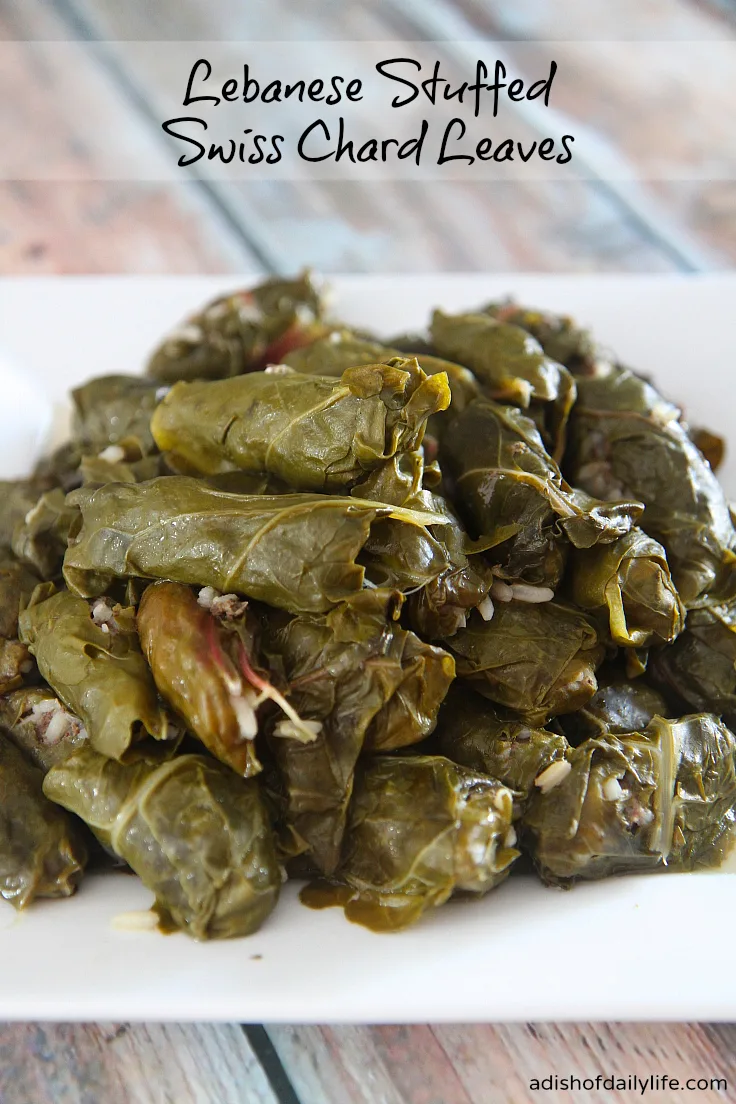 If you like Middle Eastern food, you're familiar with grape leaves. I had never heard of grape leaves until meeting my husband (who is half Lebanese on his father's side); now they are one of my favorite foods. My kids have grown up with grape leaves…they're like comfort food to us.
And if we have them in the house, it's best to get there fast, because the grape leaves are always the first to disappear!
Earlier this summer, my mother in law, two of my sister in laws, and I made grape leaves. But of course we winged the recipe, and we used all the grape leaves that we had picked. All the grape leaves that are left around the house now are full of bug holes, so I decided to make stuffed swiss chard instead.
I prefer to buy already ground lamb when I am using lamb as a stuffing, but I needed the bones anyway for the bottom of the pot, and the grocery store didn't have ground lamb, so I ground it myself.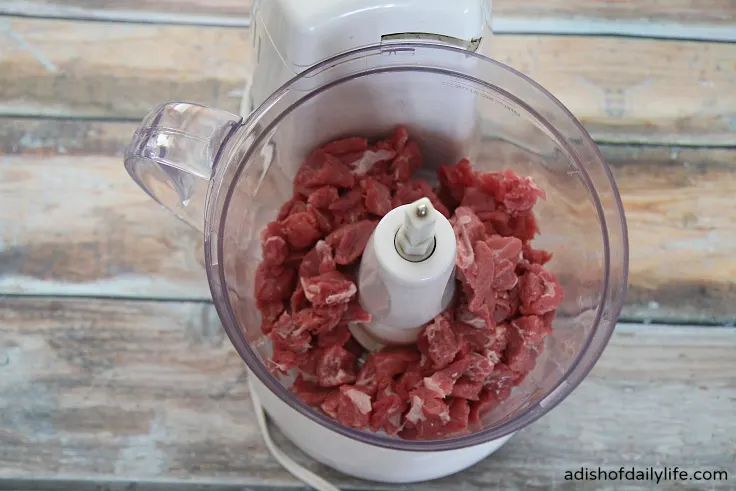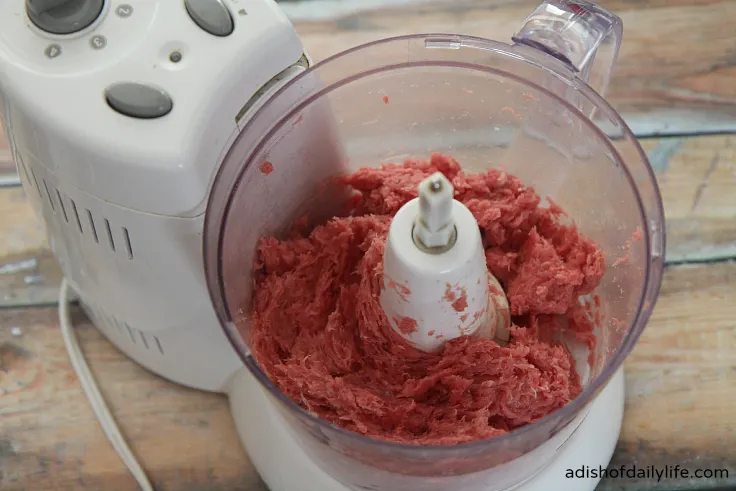 I ended up with about 2 cups of ground lamb, packed tightly into the measuring cup. I added 1 1/2 cups rice, which I rinsed first, 2 tablespoons allspice, 1 tablespoon of salt and the juice from one lemon. Then I mixed it all together.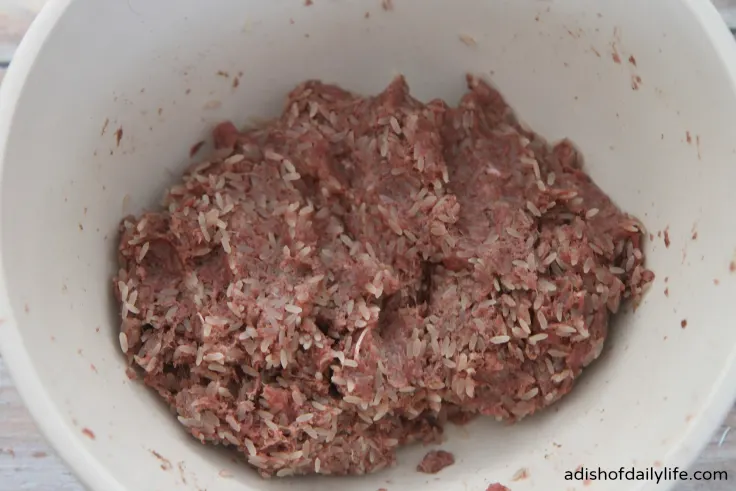 I then juiced another two lemons, crushed a garlic clove into the juice and held that aside.
At the bottom of the pot, I placed the meat bones, and a chopped onion. I sautéed the mixture with a tablespoon of butter, removed it from heat, and added a couple whole cloves of garlic, then a few swiss chard leaves over the top.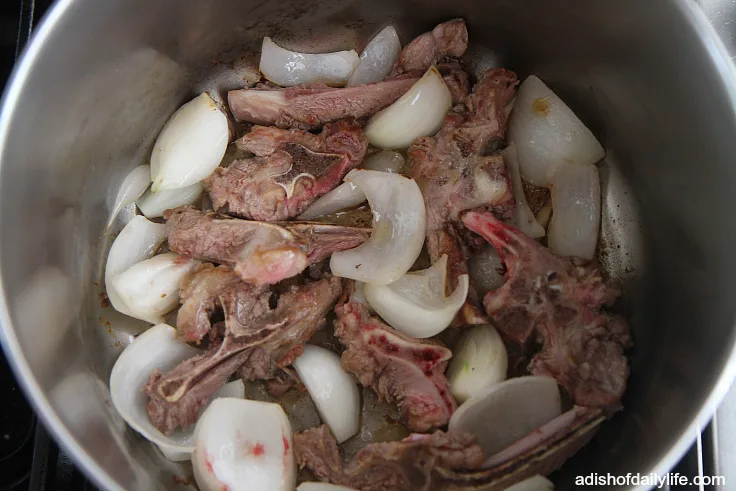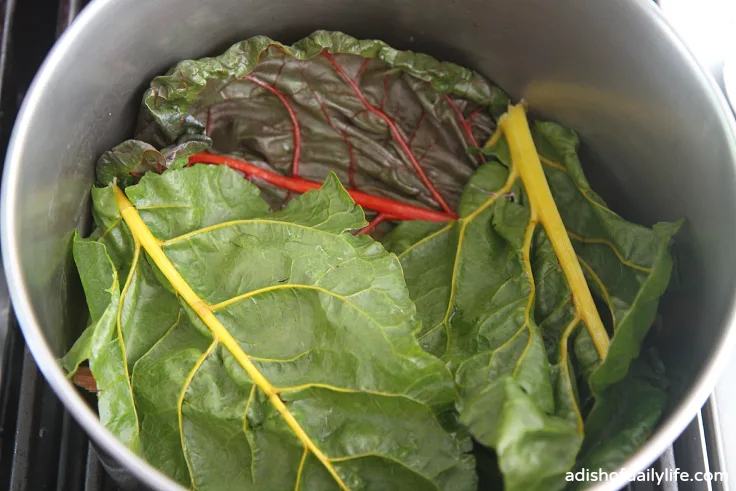 Rolling time. I am not a skilled roller. But what you want to do is form a small amount of the meat and rice mixture into a cigar shape, place it on the chard, vein side up, and fold the top of the tip of the chard over it, then fold the sides in and start rolling.
Swiss chard is harder to roll than grape leaves, in my opinion. It might have been smarter to freeze the leaves first, which is what we did with our grape leaves. Mine kept breaking, and what I found worked best for me was to remove the rib and use each side of the leaf as its own roll. This worked best with the larger swiss chard leaves because there was enough to roll on each side. My picture shows me using a full leaf though, which is what I initially did before I figured out an easier way.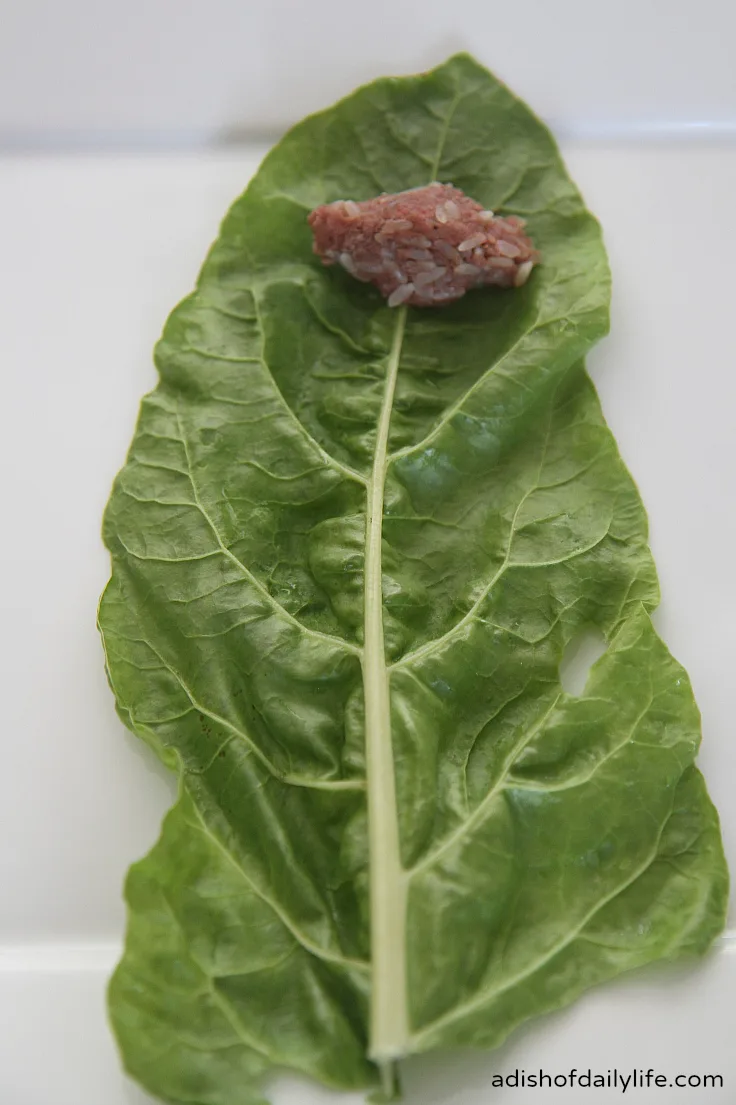 When placing your rolls in the pot, you want to nestle them close together tight, like this. As you're layering the rolls, sprinkle a little of the lemon juice and crushed garlic mix over the top.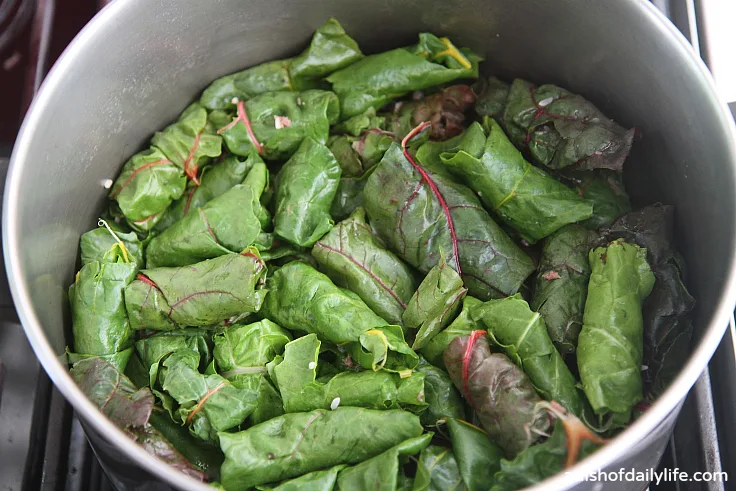 When you are finished layering, add in enough water to come about half way up to the stuffed swiss chard. DO NOT cover them with water. Salt and pepper that top layer, pour the remainder of the lemon mixture over the top, and cover with a plate, like this.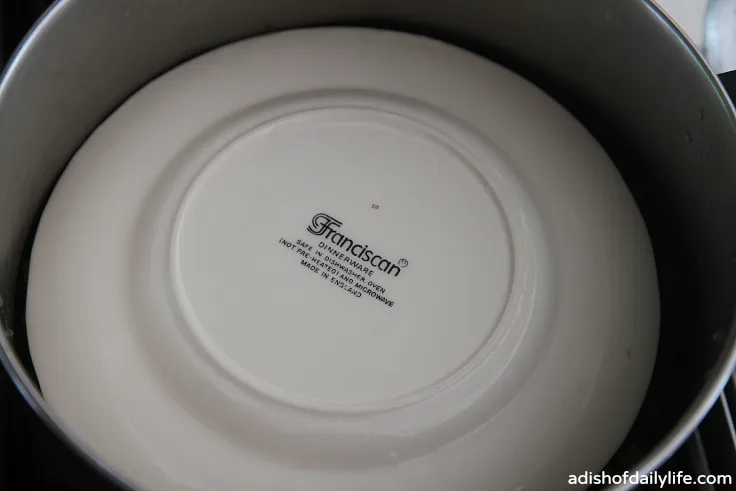 Put a lid on your pot, bring to a boil, and then simmer for about 40 minutes. I had to pick up my son in the middle of my cooking and had to rely on my younger son to take the pot off the stove, and so mine got overcooked a tad bit. But they were still good.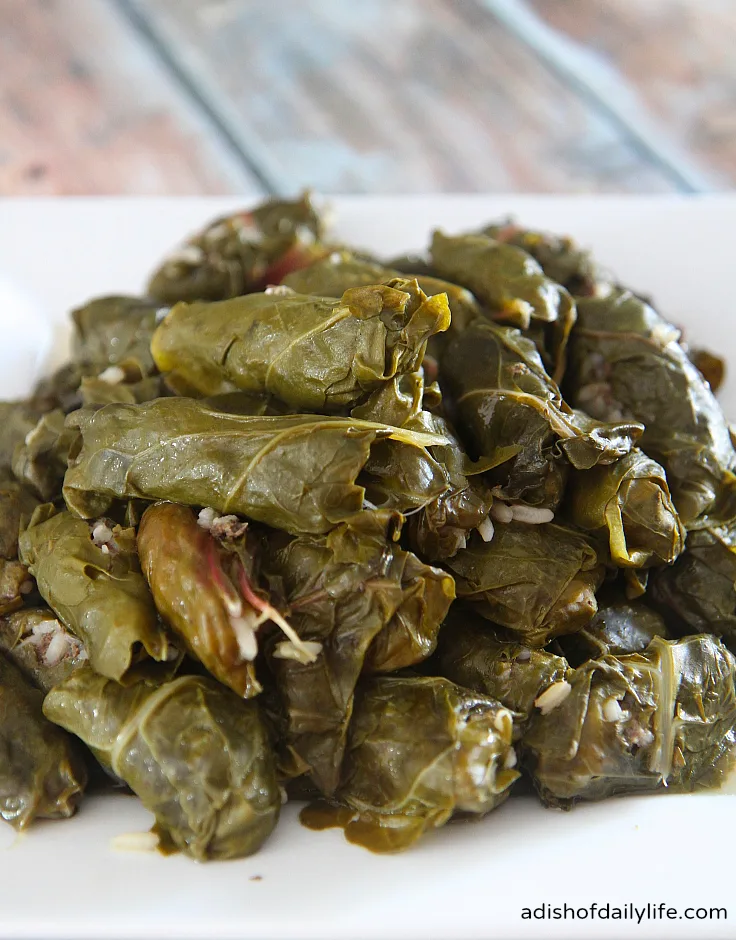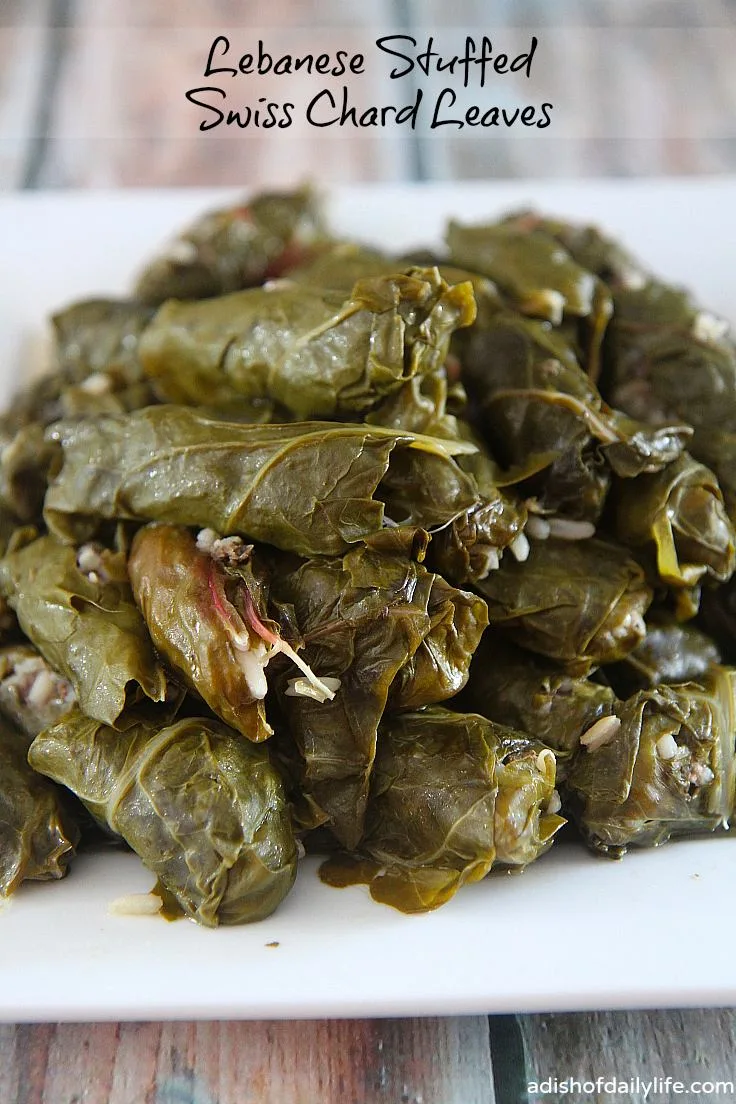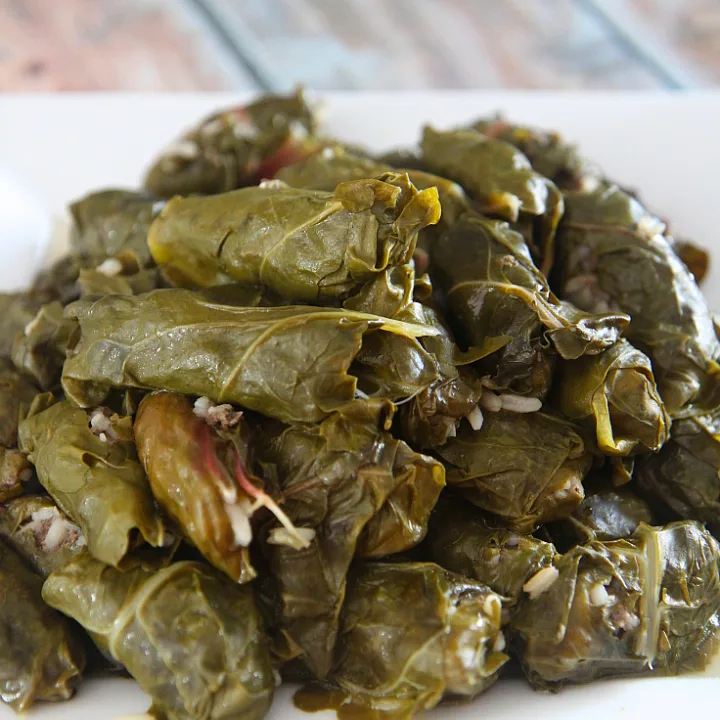 Lebanese Stuffed Swiss Chard
Total Time:
1 hour
40 minutes
Ingredients
4 bunches of swiss chard leaves
1 onion, chopped into big pieces
3 cloves of garlic, 2 whole, 1 crushed
2 lbs of lamb, shoulder chop (I had 2 1/3 lbs)
1 1/2 cups of rice, rinsed
2 tablespoons of allspice
1 tablespoon of sea salt
Juice from 3 lemons, 2 separated
1 tablespoon of butter, or ghee if you have it.
Instructions
Rinse your swiss chard, set aside.
Grind lamb in Cuisinart. Remove, mix with rice, allspice, salt and juice from one lemon.
Make a mixture from the juice from another two lemons, and a crushed garlic glove. Set aside.
On the stovetop, brown meat bones and onion with a tablespoon of butter. Remove from heat, and add 2 garlic cloves. Top with a few swiss chard leaves.
Prepare your stuffed swiss chard rolls by placing a small cigar shaped amount of the meat and rice mixture and roll as tightly as you can.
Add them on top of the swiss chard leaves in the pot and keep them nestled as close to each other as possible.
When you finish your first layer, sprinkle some of the lemon juice and crushed garlic mixture on top.
Once you have finished adding the stuffed swiss chard rolls to the pot, fit the pot about halfway to the top of the layers (not the top of the pot) with water, sprinkle with salt and pepper, and the rest of the lemon juice and crushed garlic mixture.
Place a plate on top.
Cover your pot, bring to a boil, then lower to a simmer. Cook for about 40 minutes.
Making the stuffed swiss chard was a bit time consuming, but well worth it. I got a thumbs up from all the kids and my husband.
Do you like Middle Eastern food? What is your favorite Middle Eastern recipe?
If you like this recipe, you may also like: