How do you share your photos? If you've ever been to a family reunion or another event where there are multiple people taking pictures, you know how difficult it is to corral them all in one place! Share on Facebook or Instagram, and you're likely to run into privacy concerns.
Enter Linea…a photosharing app that offers you a new way to share and enjoy your photos, privately and securely! Your photos are full of memories, good times and stories to be enjoyed with family and friends. Linea offers a way to view your photos beautifully while allowing you to control who you share them with.
Check out these key features of the Linea app:
You can sync across all devices. Linea allows you to sync your digital photos across all of your devices, including your iPad and iPhone / Android as well as the web. Your photos are available to you no matter where you are!
You can share and collaborate with others. Family vacation? Multiple people taking pictures? No problem! Set up a line, upload your photos and share! All picture takers at an event can upload their photos to the same line, allowing everyone to have access to the photos. You'll view your photos in a beautiful mosaic, and you can add comments as well.
Linea offers 30GB of free photo storage (that's about 10,000 photos) and your photos will be stored in their original resolution. Should you need to export your photos at any point in time, they will download at their original resolution.
Your photos are private. You choose who sees your photos! You'll enter the email address of those you'd like to share your photos with, and they'll have access to only those lines of photos that have been shared with them.
Linea takes security seriously. Your photos are backed up on a triple redundant server. That way even in the event of a technological failure or a natural disaster, you're covered! We've all heard the stories of photo accounts that were accidentally erased and unrecoverable. Backing up in three different locations eliminates the possibility of this happening.
Print your photos in books. With Linea, you can print photo books right from your iPad or iPhone! It's very easy to arrange your photos the way you want them and then print as a hardcover or softcover book! Once you create your book, you can also order multiple copies to share with family and friends. Photo books made wonderful gifts! If you find you need a little help, Linea has great video tutorials as well.
Here's a couple pages from our book of our visit with family over the Christmas holiday!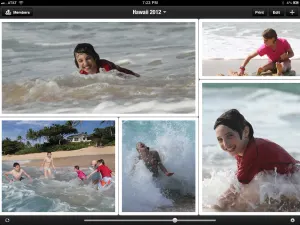 This week, I've teamed up with our friends at Linea to host a Photo Book Giveaway! Five lucky readers will receive a gift card with which they can create one hardcover Classic Book and two Softcover Mosaic Books (value $25). Ready to start sharing and enjoying your photos? Head over to Linea now to get started!
Terms and conditions:
US or Canadian residents only please!
In order to create photo books with Linea, you must have access to an iPad or iPhone.
You must be 18 to enter.
Disclosure: I did not receive any photo books or compensation for this post. I have, however, made a number of Linea photo books. All opinions represented here are my own.