Last week we had a birthday dinner in our house! I always let the kids choose what they want to have for dinner on their birthdays, and most of the time they choose lobster. My youngest was even choosing lobster before he knew how to say it, asking for the "pink meat!"
As we got ready to start dinner, one of the cats even got in on the celebration! He didn't get any lobster, but as you may have seen on my Facebook page, our curious boy had a whack at a wiggly antenae!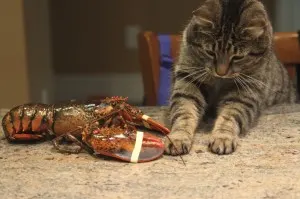 Since we had leftover lobster, I decided to make Lobster Bisque as well! I've never made it before but with the chilly winter weather around here, soup always sounds good. Plus the timing was right! Our Giddu has an amazing recipe, so once again I'm sharing. (Thank you Giddu for being so generous with your recipes!) I don't think I have mentioned this before, but my husband and I live next door to his parents. It has been a blessing for the kids to be so close to their grandparents, and we get yummy leftovers from time to time too! Both of my in-laws are amazing cooks!
Lobster Bisque (recipe credit: Edmund Nahom)
2 lobsters*
2 eggs, yolk separated
3 tbsp flour
3 tbsp butter
12-14 peppercorns
2 Bay Leaves
1 tsp thyme
1/2 tsp cayenne
1 oz Cognac
1 1/2 oz Port Wine
1 quart half & half
Salt and pepper to taste
Boil 2 lobsters in 2 1/2 quarts of water until cooked. Strain and reserve water.
Remove the meat from the lobster and save the shells. Put the shells back into the strained water with 12-14 peppercorns. Reduce by simmering to achieve 1 3/4 quarts of liquid.
Separate two eggs, placing yolks into a small bowl.
In a small saucepan, make a roux with the 3 tbsp of flour and 3 tbsp of butter.
To the simmering liquid, add the bay leaves, thyme, cayenne, cognac, port wine, and salt and pepper to taste. Simmer for 10 minutes more, and then strain again.
Temper liquid into beaten eggs and bring egg mixture into the hot liquid.
Temper the half & half with the hot liquid, and then bring the cream mixture into the hot liquid as well.
Add 1 cup of the liquid to the roux mix, and then bring into the hot liquid and simmer for 2-3 minutes.
Add the cut up lobster meat. Take the bisque off of the flame and let steep for at least 20 minutes covered before serving.
*I did not have meat from two lobsters…I think we had one tail and one claw left over, so that is all I used. And I sprinkled a tiny bit of paprika on top of my bowl as well, which is not in the recipe.
Enjoy! If you try it, let me know how you like it!