Give traditional pesto a makeover. Add another flavor dimension to this summer favorite…make pesto sauce with a citrus-y twist!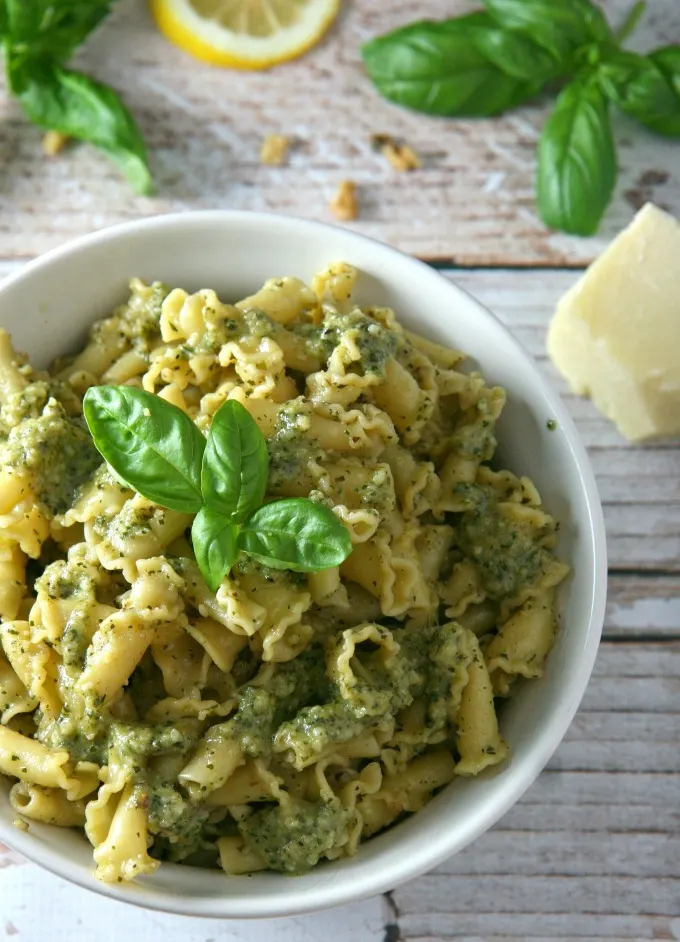 We make pesto a lot.
We're talking at least once a week in the summer.
We don't have a garden, but we do have a big pot of basil growing on the back deck.
This year I bought the most gorgeous basil plants at the farmer's market. They were big and healthy looking, and I love that the farmer that sold them to me made the comment that they were his pride and joy and told me to take good care of his babies. He showed me where to cut them back so they would grow bushier, and I have followed his instructions to a t. This year I have the best looking basil plants I have ever had. A bumper crop, if you will.
And so, I have already made a ton of pesto!
I often make the traditional style pesto with basil and pine nuts, but I like to mix it up and try other variations as well, like this garlic scapes pesto. If you're wondering what to do with those curly garlic tops that you see at the farmer's market this time of year, you need to try this recipe! (Stay tuned for a collection of garlic scapes recipes…coming soon!)
But back to our recipe for today…
I really like the citrus-y twist the lemon gives this version.
Make Pesto Sauce with Basil and Lemon
Anytime I make pesto, no matter which basil version, I start with two cups of basil, packed.
I add this, along with garlic, walnuts and the lemon zest to the food processor and chop until the garlic and the nuts are pretty much pulverized. I really like the extra zing the lemon zest gives it.
Then I add the olive oil in a steady stream and at the end, I add the lemon juice.
Lastly, I add the cheese and give it a quick whirl or two with the food proceesor.
Anything I don't need for dinner, I freeze.
I freeze as much as I can throughout the summer so we can enjoy it through the winter as well. I freeze my pesto in Ball Jars, which are freezer safe, using their plastic storage lids. You really need these lids if you're freezing…you can't use the other kind. I use their small jars for smaller servings, like what we would use for a chicken dish, paninis, or a pizza. I add a very thin coating of olive oil to the top before I freeze the jar. I use the larger jars (same plastic lids) for pasta size servings or for larger groups.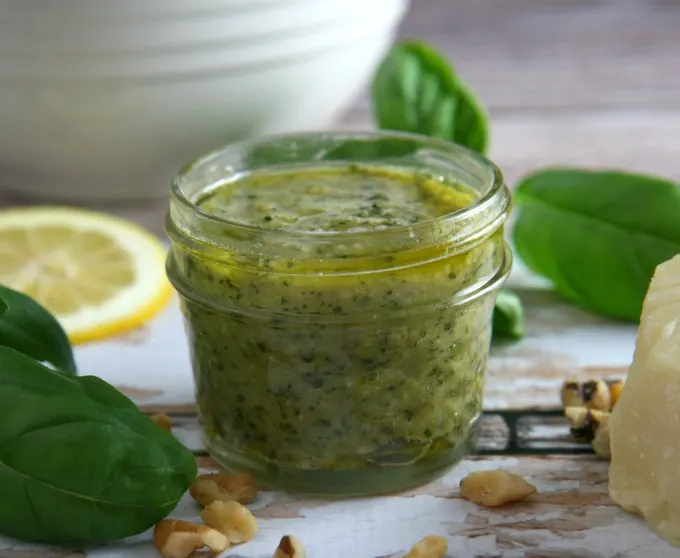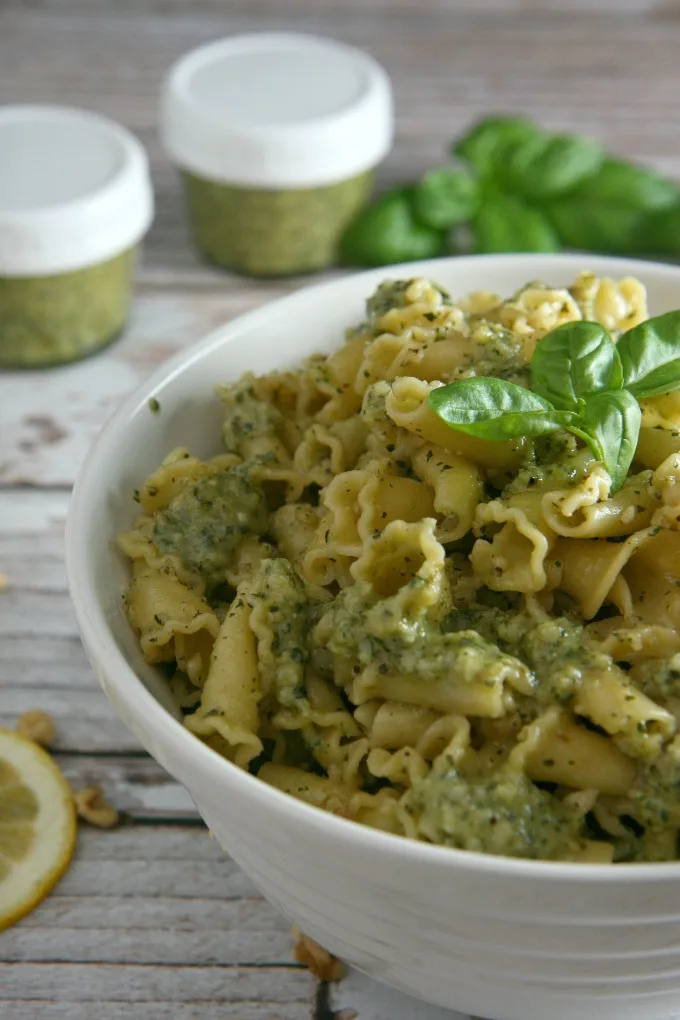 In case you are wondering about the pasta shape…its Barilla Campanelle. I just love using this pasta shape because of all of its nooks and crannies.
Now for the recipe!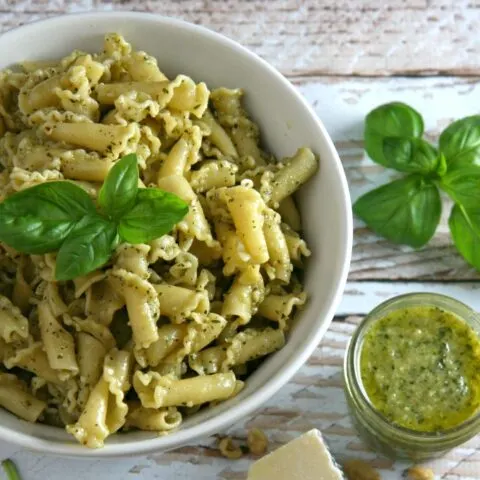 Basil Pesto with Lemon
Ingredients
2 cups fresh basil leaves, washed and patted dry
4 good size garlic cloves, peeled and chopped
1 cup walnuts
1 teaspoon lemon zest
1 tablespoon freshly squeezed lemon juice
1 cup extra virgin olive oil
1 1/4 cup Parmesan or Romano cheese, or a mix of the two
salt and pepper to taste
Instructions
Add basil, garlic, walnuts, and lemon zest to food processor and chop.
Add olive oil slowly; continue to blend.
Add lemon juice and blend again.
Add the cheeses, a little salt and pepper to taste, and blend one more time.
Notes
This should be enough for two pounds of pasta. Freeze any extra. I like to use mason jars with plastic lids. Add a thin film of olive oil over the top.

*I have heard conflicting reports of whether or not to freeze with cheese. I have been freezing my pesto with cheese for years, and it has never been a problem.
Enjoy!
How often do you make pesto in the summer time? Are you like us?