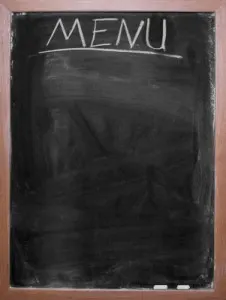 Here's what's on the menu for this week!
Monday: Chicken Quesadillas, Mexican Roasted Potatoes*, veggie depends on what looks good at the grocery store…unfortunately our veggies from the CSA are dwindling 🙁
*I was going to make these potatoes with the enchilada recipe that we made last week (which was amazing by the way!) but we never got to it. Tomorrow night needs to be a really quick and easy dinner, so we're doing quesadillas. Since we're making a "South of the Border" meal, I figured I'd make the Mexican Roasted Potatoes to go along with it. I cooked them tonight to get a head start on tomorrow's dinner and they are really good! Thumbs up!
Tuesday: I'm headed to the US vs Germany Women's soccer game with my daughter, so I'm not cooking!
Wednesday: Butternut Squash and Apple Soup, Pan Roasted Chicken Cutlets with Maple Mustard Dill Sauce, roasted brussel sprouts
This Butternut Squash Soup is recipe is the closest I could find to the recipe I remember making in the past, but can't find the recipe I like right now! I will be making my own butternut squash puree though. The chicken recipe looks like it got good reviews, and it's a little different. I think it will go nicely with the soup.
Thursday: Lentil and Noodle Soup with Kale, salad
This is a recipe from my husband's Lebanese relatives…I've adapted it a little in that I usually use less onion and garlic than the recipe I have calls for, a mixture of water and chicken broth, and I add kale or another leafy green vegetable to it.
1 cup lentils
5 cups water/chicken broth (I use a mix of both)
1 onion, chopped
1 large clove garlic, chopped
olive oil
1 tsp dried coriander
sea salt to taste
pepper to taste
spaghetti, broken in pieces
1 bunch kale, stem removed and finely chopped
Rinse lentils. Add water/chicken broth and cook until tender. Saute onions in olive oil until browned, then add to lentils. Crush garlic; mix with coriander; stir into lentils. Add spaghetti pieces and kale and cook until pasta is tender. Add salt and pepper to taste.
Friday: Tortillini with Pesto, veggie will depend on what looks good!
We use the Silver Palate cookbook pesto recipe, but we have stockpiled a bunch of pesto in the freezer since we had so much fresh basil this summer!