3o Min Meal, Middle Eastern Yogurt Chicken: This Middle Eastern inspired dish of chicken topped with a tangy yogurt blend and mixed with cilantro rice is fast and easy, but big on taste!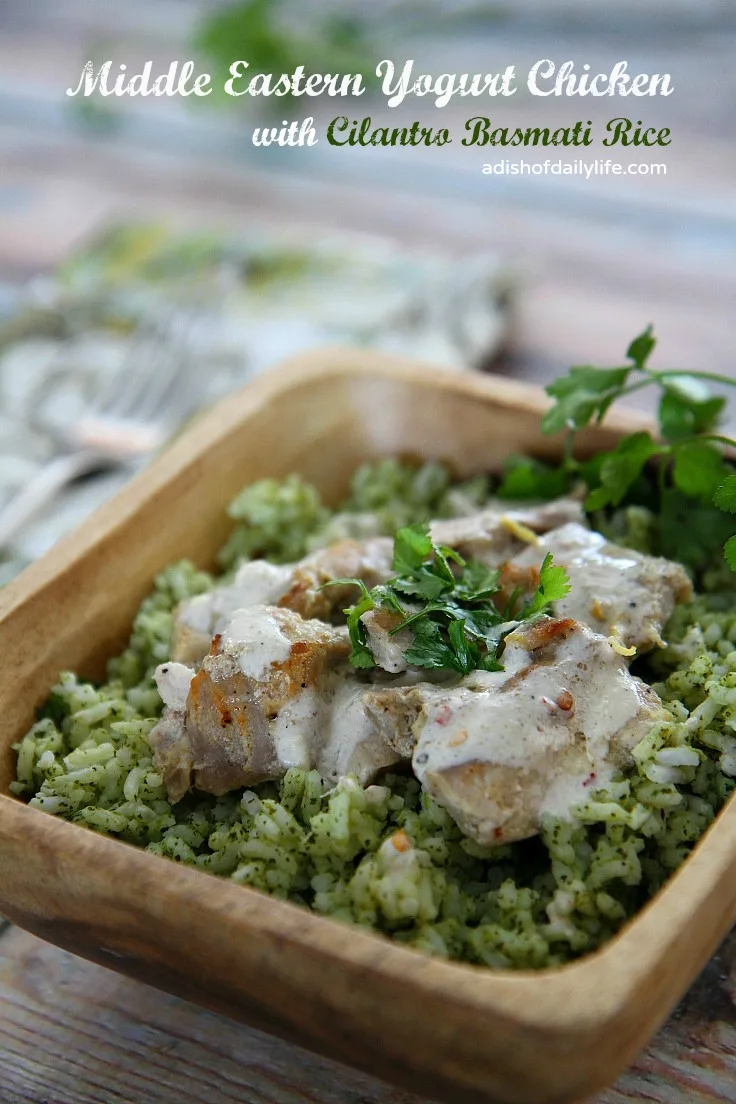 For those of you who know me, I tend towards the healthy side of cooking. We belong to a CSA, I'm a frequent farmer's market shopper, and I read my labels. While I won't go so far to say we always eat ultra healthy, I will say it is more the norm than not in our house.
So what is a Stir?
Think of a stir as your favorite rice bowl with toppings. Your rice is your canvas…add meat, vegetables, sauce…whatever suits your mood best. You can make something quick and easy, or you can create stir worthy of a special occasion. You pick. You decide.
The other night I was in the mood for some Arabic food, and so the "Stir" I am sharing with you today has a Middle Eastern flair. I used the Della Rice White Basmati. If you're a frequent visitor to my blog, you know that my husband is half Lebanese, and that our family loves Arabic food.
Middle Eastern Yogurt Chicken with Cilantro Basmati Rice
You could make this Middle Eastern yogurt chicken in a couple of ways. If you are looking for a fast and easy meal, simply grill the chicken, and spoon the sauce over the chicken and the cilantro rice. You can do some of your prep work making the yogurt sauce and the cilantro paste while the chicken and rice are cooking. Using this recipe version (shown below), you can have dinner on the table in 30 minutes!
If you're looking for something a bit more complex, make a double batch of the yogurt sauce, and divide the sauce into two portions. Then marinate the chicken in half of the sauce for two hours (or longer), remove from the marinade, bake, and add to your rice.
Most of the time, the fast and easy version is better for us because of our crazy weeknight schedule with the kids' sports and activities. We have three teenagers, all active in sports, and we are always on the go.
We ended up with a tiny bowl of leftovers the other night and when I went to heat it up for lunch over the weekend, my daughter asked if she could have some. SCORE.
As a food blogger, I often am trying new recipes or tweaking things, and sometimes my kids get frustrated with me. "Can't you make something you know we like?" they ask. And of course they don't always love what I make. Sometimes they aren't all that tactful about it either. So whenever a teenager wants the leftovers, you KNOW you did something right.
The inspiration for the Middle Eastern yogurt chicken in this "Stir" came from this recipe. I made a few very minor changes to the yogurt blend…a little less red pepper flakes (because my family doesn't usually like things too spicy), and I added some grated ginger, because I just love that flavor in these types of dishes.
I thought the chicken would be lovely over cilantro rice, so I whipped up a cilantro paste that I could mix into the rice when it finished cooking. The cilantro goes perfectly with the nutty flavor of the basmati and complements the yogurt sauce as well.
By the way, I like a saucy rice, so I added more sauce after I took this picture. My husband and kids don't like things quite as saucy as I do. But the beauty of a #CreateAStir is, you can decide how you like it.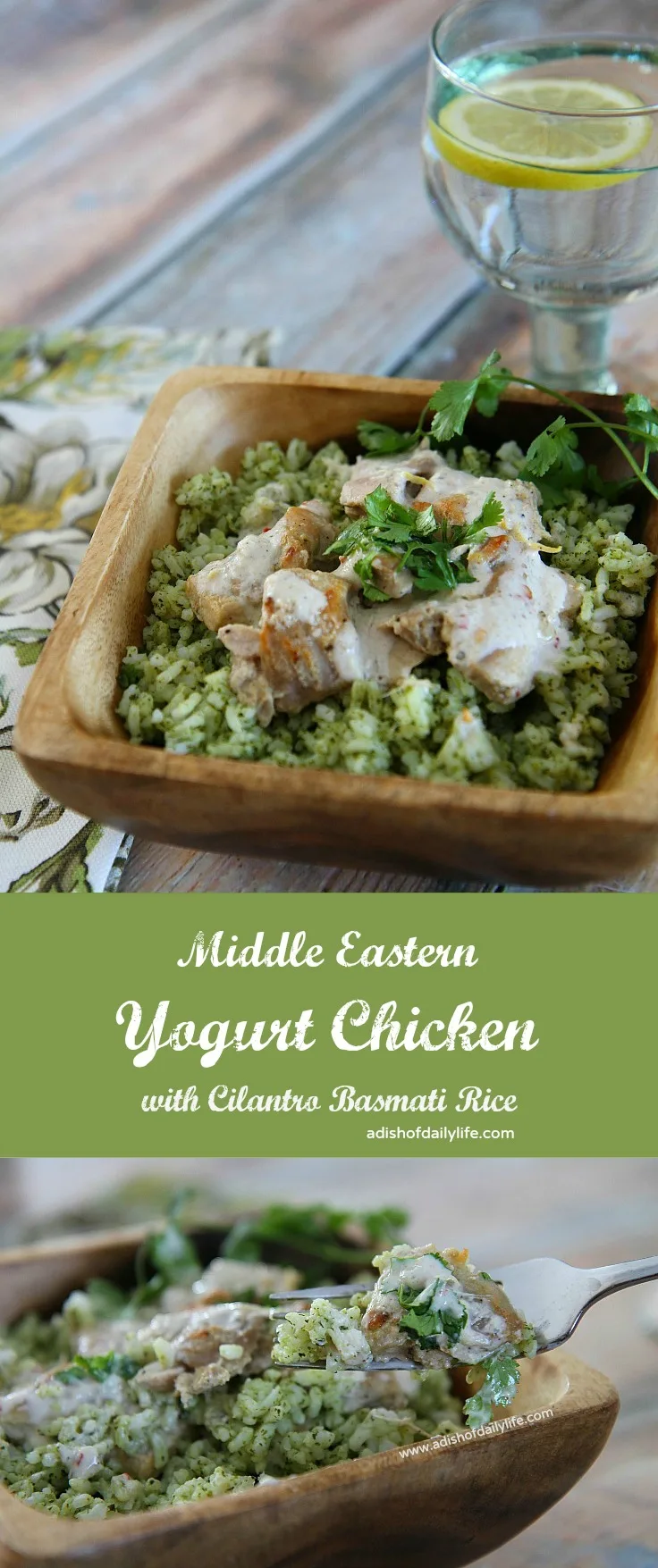 I have to tell you I am pretty much enamored with my rice cooker. I am one of those cooks that multi-tasks while cooking, and I have burned many a pot of rice. This little appliance has simplified my life so much I can't even tell you. I don't have to pay attention to my rice at all anymore. All you have to do is add your rice and water to the cooker, along with a dash of salt, close the lid, pick white or brown rice, and touch the start button. That is it! It beeps when it's done and just keeps the rice warm. I may never use a pot to cook my rice again. Correction…I will NEVER use a pot to cook my rice again. This is way easier.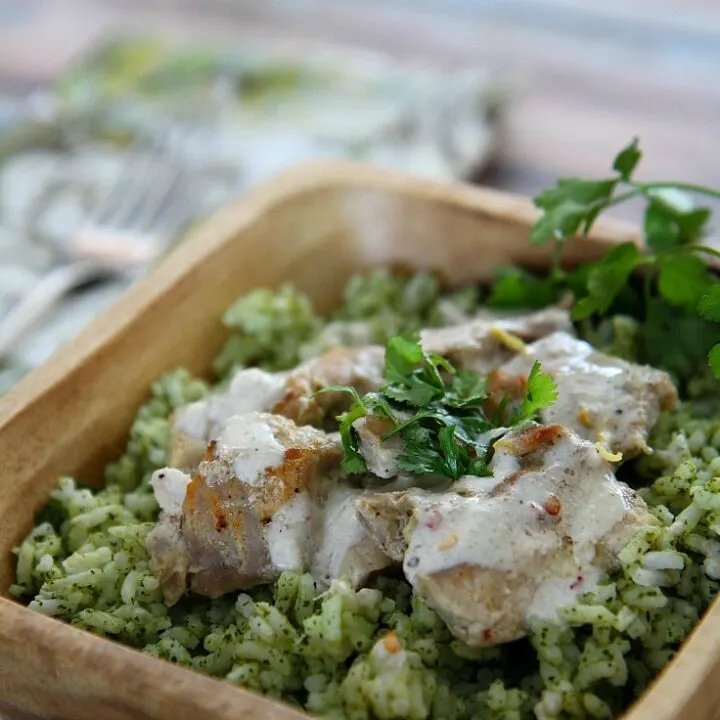 Middle Eastern Yogurt Chicken with Cilantro Basmati Rice
This 30 minute Middle Eastern inspired dish of chicken topped with a tangy yogurt blend and mixed with cilantro rice is fast and easy, but big on taste!
Ingredients
2 lbs of chicken thighs, grilled, then cut into chunks (you could use breast meat instead, but personally I prefer thighs)
1 cup Basmati rice, cooked according to package directions
Chopped cilantro for garnish for the dish
Yogurt sauce
1/2 cup of plain yogurt
2 tablespoons lemon juice
2 teaspoons lemon zest
1 clove of garlic, crushed
1/2 teaspoon ground cumin
1/2 teaspoon ground coriander
1/2 teaspoon black pepper
1/4 teaspoon red pepper flakes
1/2 teaspoon of ginger root, grated
Cilantro Paste
2 cups of cilantro, chopped, some stems ok
1 jalapeño pepper, seeded and chopped
1 clove of garlic, coarsely chopped
1/2 tablespoon of ginger root, grated
2 tablespoons of lemon juice
2 tablespoons of water
salt and pepper to taste
Instructions
Chicken
Grill chicken thighs until internal temperature reads 180 degrees and juices run clear (about 15 minutes). Cut into chunks.
Rice
While chicken is cooking, cook your basmati rice according to package directions.
Cilantro paste
Combine the chopped cilantro, jalapeño, garlic, and grated ginger root in a mini cuisinart or blender and give it a few whirrs around.
Add the lemon juice and water, and continue to blend.
Season to taste with salt and pepper.
If you need more liquid, you can add a bit more water.
Yogurt sauce
Mix yogurt, lemon juice, lemon zest, garlic, and all spices together.
Set aside until dinner is just about ready to be served.
Assembling your dish
Mix the cilantro paste into the basmati rice.
Divide the rice among 4 plates.
Top with grilled chicken.
Simmer the yogurt sauce on low, then spoon the warm sauce over the chicken and rice.
Garnish with additional cilantro, if desired.
Mix and serve!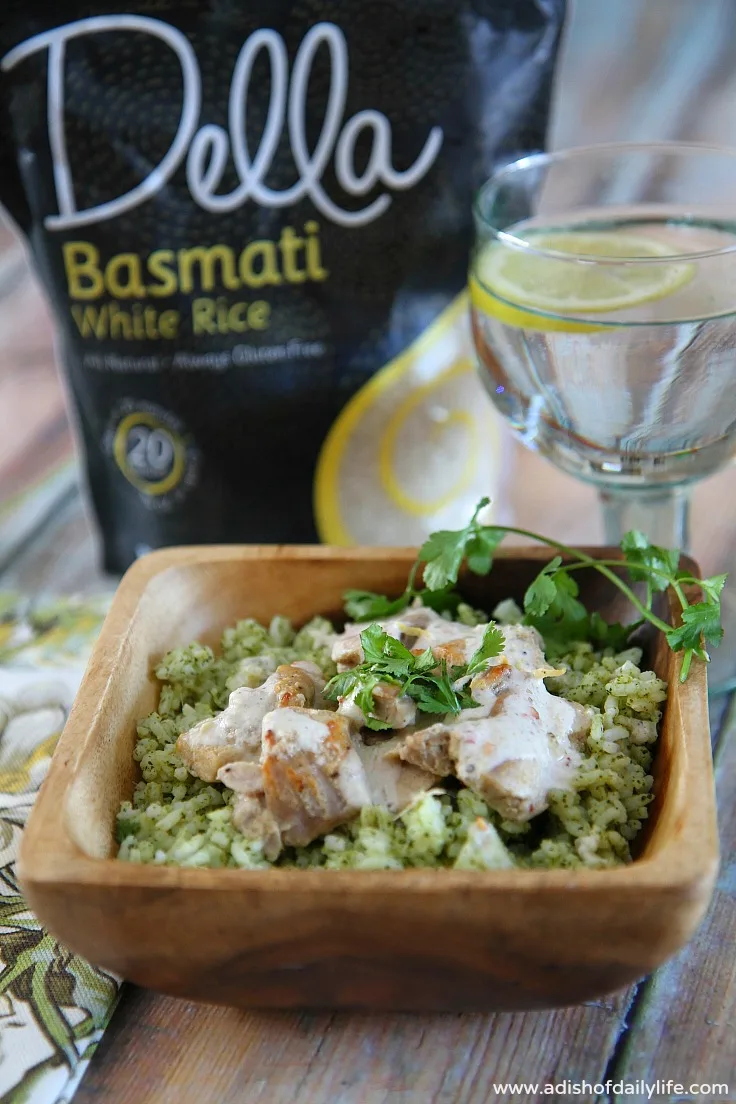 I hope you enjoy this Middle Eastern yogurt chicken as much as we did!