Sweet and perfection in a sandwich! This Monte Cristo with Fresh Blackberry Sauce makes a perfect breakfast, lunch or dinner. And in my opinion, this is the BEST way to use up leftover ham.

Hey there Dish of Daily Life readers! I am Kristen from A Mind "Full" Mom and today it is all about a sandwich for me.
But NOT just any sandwich. Nope, this "sandwich" is sweet, salty, and perfect for any meal of the day, including a late night snack.
"Monte Cristo" is the name given to a ham and cheese (sometimes ham, turkey, and cheese) sandwich dipped in a egg custard and fried. My take on a "Monte Cristo," is well, pretty spectacular.
Monte Cristo with Fresh Blackberry Sauce
I start with 2 pieces of whole wheat bread and layer that with ham and swiss cheese, along with a smear of Dijon mustard. The mustard is not traditional, but the tang that the mustard provides is a perfect balance to the sweetness of the dish.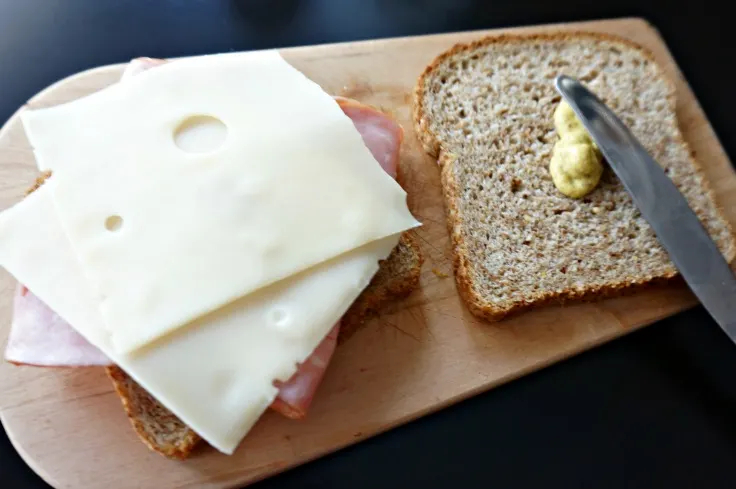 After assembling the sandwiches, I make a simple egg custard (like you would for french toast) with eggs, milk, fresh nutmeg, salt, and a dash of maple syrup.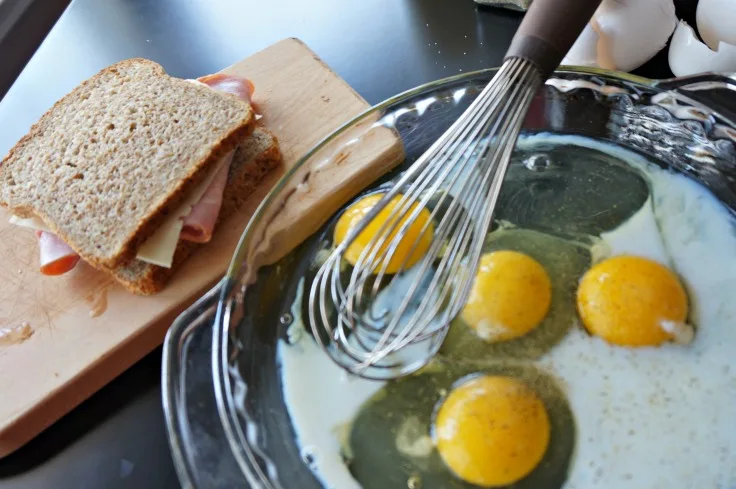 Melt some butter in a skillet and once your sandwich has been dipped into the custard, pan fry it just as you would french toast.
But then the kicker comes in when you top this sandwich–not with just maple syrup or a dusting of powdered sugar. Not for this masterpiece–I am topping this sandwich with a fresh blackberry maple sauce (and a light dusting of powdered sugar–just for the looks.)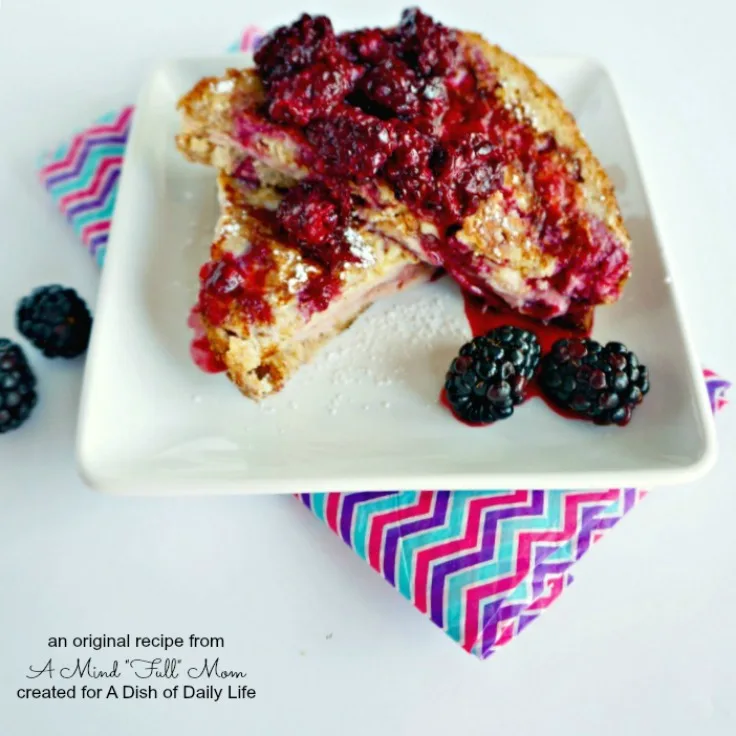 Let me tell you that once you have sunk your teeth into this concoction, your taste buds will be spinning! The sharpness from the Swiss, the tang from the mustard, and the savoriness of the ham all wrapped up in the heartiness of whole grain bread and then finished with a burst of fresh blackberries that's natural sweetness has been highlighted with pure maple syrup.
Is it breakfast? Is it lunch? Is it dinner? Is a sandwich or is it French Toast? I don't know. I don't care! It tastes good and that is all that matters!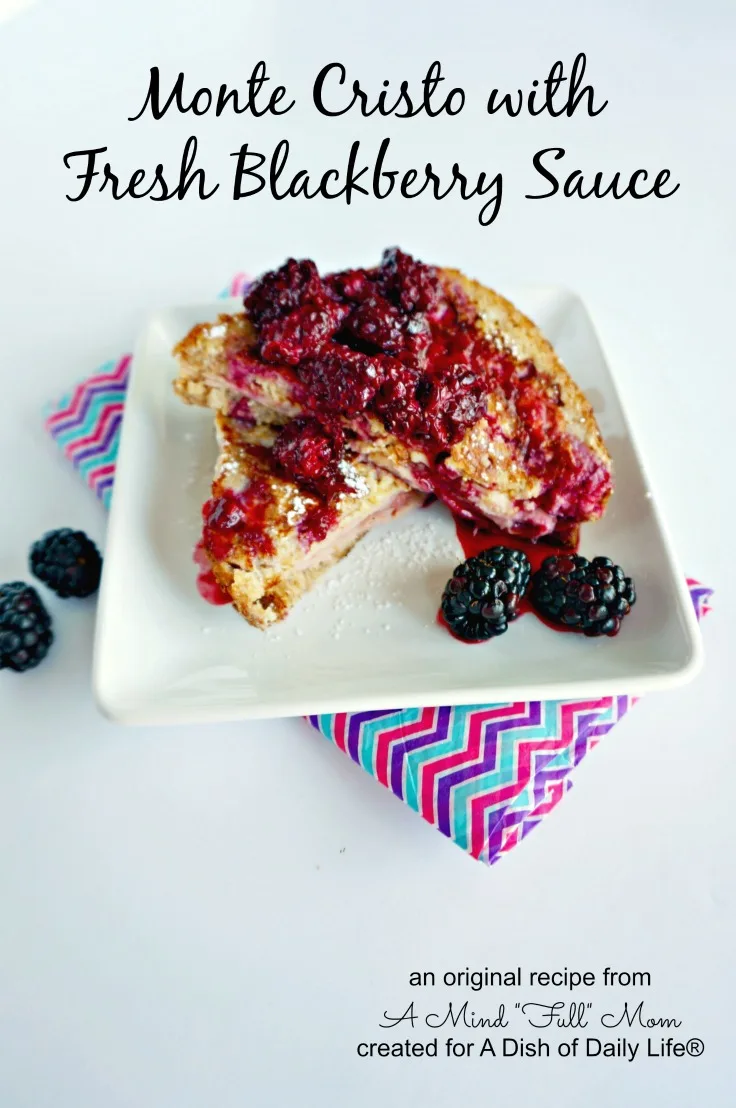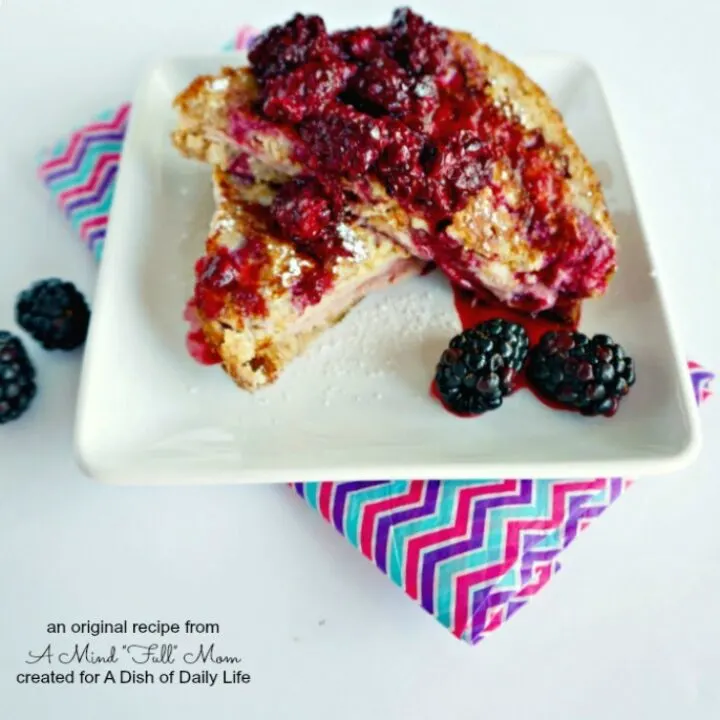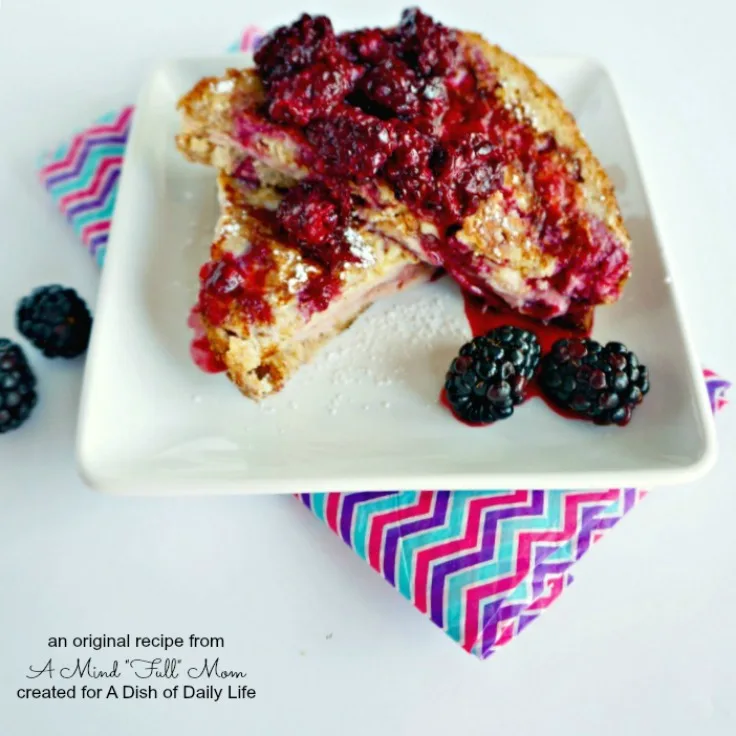 Monte Cristo With Blackberry Sauce
Sweet and perfection in a sandwich! This Monte Cristo with Fresh Blackberry Sauce makes a perfect breakfast, lunch or dinner.
Ingredients
6 oz fresh blackberries
2 tablespoons maple syrup, divided
1 tablespoon fresh lemon juice
8 slice whole wheat bread
4 slices Swiss cheese
8 oz ham, thinly sliced
1 tablespoon Dijon mustard
4 eggs
1 teaspoon salt
1/4 cup milk
1/4 teaspoon freshly grated nutmeg
1 tablespoon butter
powdered sugar, optional (for dusting)
Instructions
For Blackberry Sauce:
Combine berries, 1 tablespoon maple syrup, and lemon juice in small sauce pan. Bring to a boil and reduce to simmer. Let simmer until berries only begin to slightly break down, only about 5 minutes.

For Sandwiches:
Spread 4 slices of bread with Dijon mustard. Layer the remaining 4 slices of bread with the ham and cheese, dividing ham and cheese evenly. Place slice of bread that has been spread with mustard on top of slice with ham and cheese--making four sandwiches.
Heat butter in large non-stick skillet over medium heat.
Whisk together eggs, milk, salt, nutmeg and remaining maple syrup. Dip each sandwich into egg mixture, flipping to coat on both sides of the sandwich.
Place each sandwich in melted butter in skillet, and pan fry on each side until golden--about 5 minutes per side.
Notes
To Serve:
Place one sandwich on a serving plate, dust with powdered sugar, if using. And divide the blackberry sauce evenly between the sandwiches.
Now I would love to know, What is your favorite way to use up leftover ham?