Disclosure: This shop has been compensated by Collective Bias, Inc. and its advertiser. All opinions are mine alone. #BrightMind #CollectiveBias
Hi, I'm Clara. I'm taking over my Mom's blog today. I'm what they call a rescue dog. My Mom and Dad picked me out at a shelter. Actually, my sister, Saint, did. She went with them to pick me out, and she liked me so much, they brought me home.
I didn't have an easy past. I didn't like most men or newspaper. I wouldn't look my parents in the eye. It took a long time, but I have become more trusting again. I have a really good family now.
I came up to the Northeast from down South. My time might have been up down there, but I got shipped up to the East coast, which is where my parents found me. They called me a Southern belle at the shelter, and named me Clara. My family kept my name, and I'm glad. I would have learned a new one for them, but I like the name Clara. It makes me feel pretty. They almost always keep the shelter names…they've rescued a lot of animals over the years. Right now I have 5 other rescue sisters and brothers and one brother that isn't a rescue.
I am very grateful for my family. Most of us shelter dogs are. We will shower you with love and affection if you just give us a second chance.
Now I'm in my golden years, a senior dog. That means I'm over 7, although I'm actually several years older than that. There are a lot of us old timers out there. There are about 87 million dogs in the U.S., and around 44% of them are considered seniors like me.
When you're in your golden years, you slow down. You're not as alert anymore. Your memory isn't as good. You know how it is, it happens with humans too. But your diet and how you take care of yourself can help. My parents are really into eating healthy. They feed us Purina Pro Plan because they know how important good food is.
Then they heard about Purina Pro Plan Bright Mind.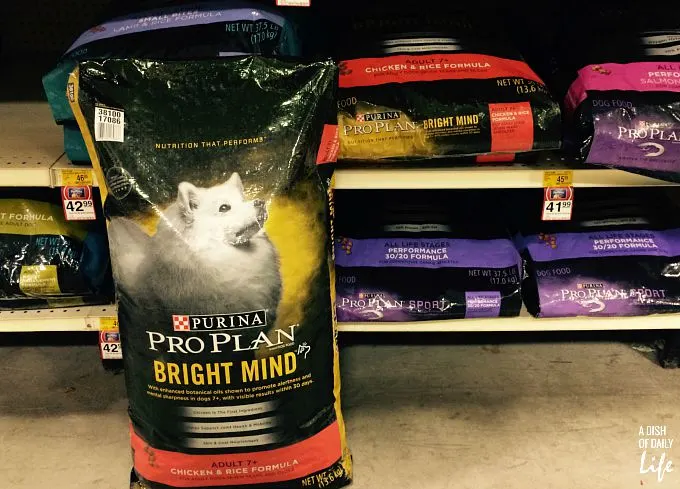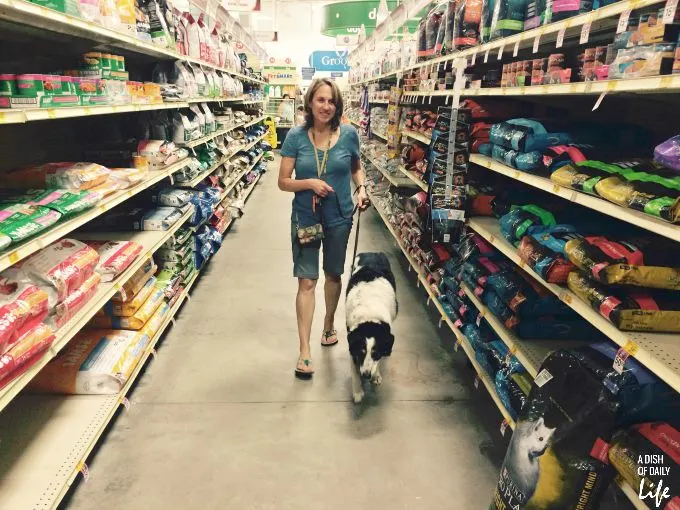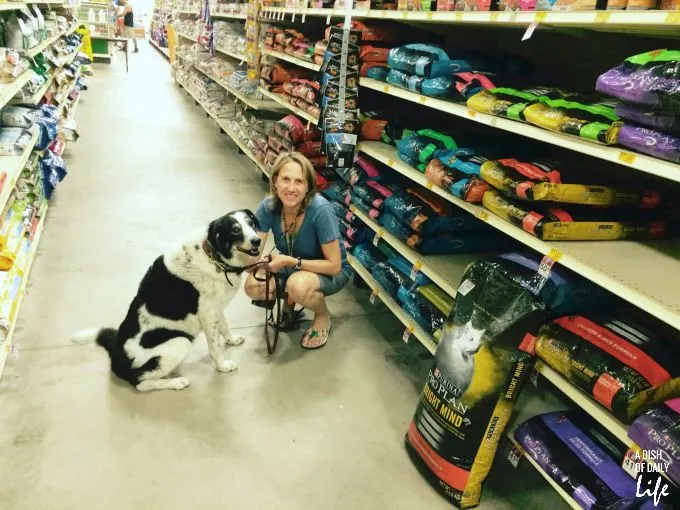 Mom and I took a trip to PetSmart to pick up our Purina Pro Plan Bright Mind. Mom doesn't usually take me to pick up my food, so this was fun. I saw several other dogs, and our cashier gave me a treat on the way out!
They slowly introduced me to my new food by mixing a little bit in with my old food every day, and slowly increasing the amount. I really like the taste! But more importantly, I am excited to see some of the benefits that Mom has been talking about too!
You see, around the age of 7 (I'm well past this), the glucose metabolism in a dog's brain starts to change, affecting our memory, how we learn, as well as our awareness and our decision making. Purina Pro Plan discovered that botanical oils can be helpful for better memory and attention span. You might be wondering what that means? Basically it means that a senior dog who is fed Purina Pro Plan Bright Mind might feel like playing more, be more alert, and better able to deal with change.
One of the things I really like to do is go for walks with my human family and dog siblings. Here is a video of us doing just that. Be forewarned though! This video is from my point of view. I stop to check a lot of things out, and when I am walking or running, the camera rocks a lot. It's hard to hold the camera steady when you're wearing it! Hopefully you will find it interesting to see what I see.
My Mom had a really hard time getting a picture of me while I was eating because every time she tried to take a picture of me, I ran away. I prefer my photo shoots outdoors. My Mom was shaking her head though. I really was giving her a hard time.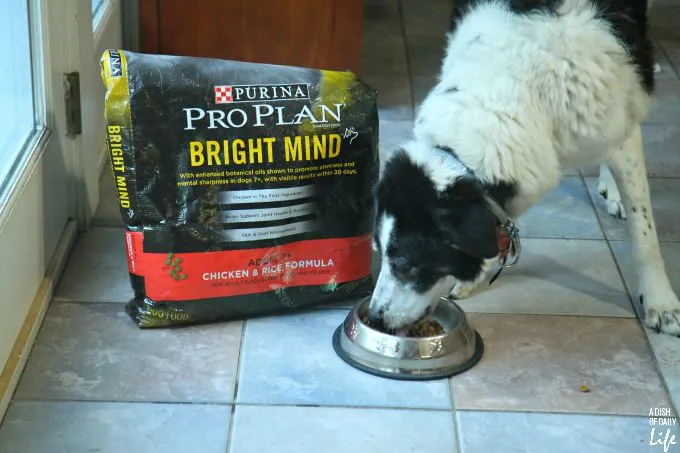 My parents are hoping by switching to Purina Pro Plan Bright Mind that I'll start to feel more like my younger self again.
They want to see me enjoy more of things I used to enjoy so much, like our runs and walks, and swimming. I do go for a run or walk every day, but Mom and Dad bring me back early now.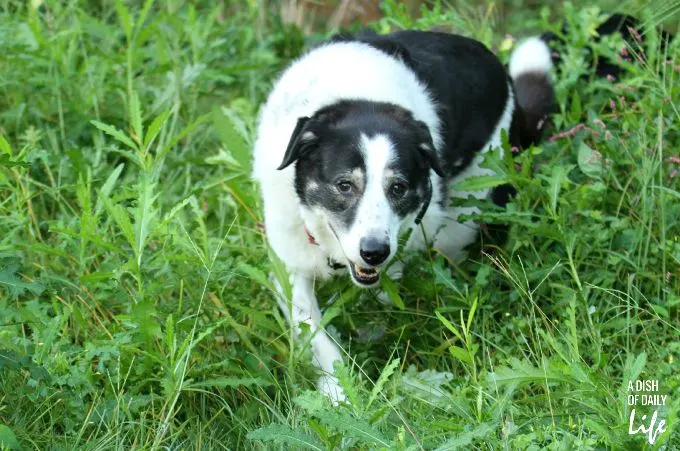 I think they'd also like it if I played more with my youngest brother because he always wants to play with me. He has a lot of energy.
But I think most of all, they'd love it if I would hang out more with the family. I go off by myself a lot now, and I know they wish I would spend the time with them instead.
Stay tuned for part 2! What is your dog's favorite thing to do with you?!