Old School Blogging was so much fun last month, I decided to join in again. This month, it's lists of 5! Some of these I whipped right off and some required a little more thinking on my part…you'll probably be able to guess which those are!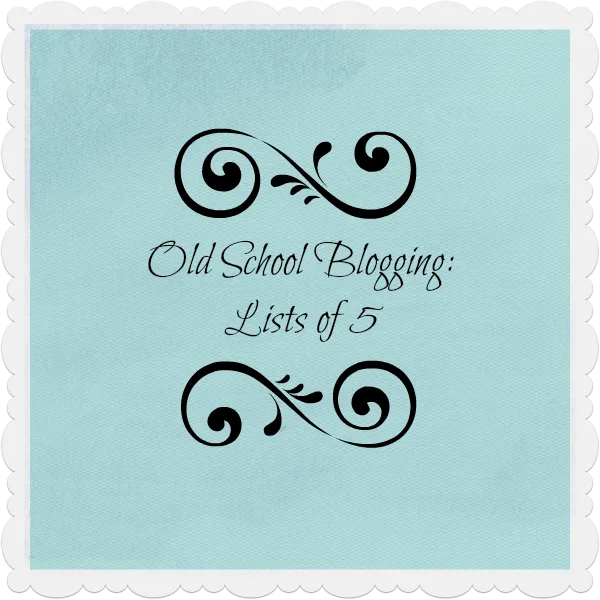 Five Things I Have a Passion For
My family, including our pets: Life wouldn't be complete without them, so they're at the top of my list!!
Photography: I have a thing for photos. If you read my blog, you know how important photos and the stories they tell of our lives are to me.
The Fresh Air Fund: This is a great program where disadvantaged NYC kids are paired up with families for a short vacation during the summer. We host the same child every year, and we look forward to seeing her every summer. We feel blessed that her mother shares her with us. If you'd like, you can read more about our Fresh Air experience at my guest post at Another Jennifer.
Cooking: I love to cook. It probably stems from my love of eating. Notice I said cooking, not baking. I change up recipes all the time…you can't do that with baking. I am a good cook, but I am a really lousy baker.
Sports: I love to watch my kids play sports (and take pictures) and I enjoy running too. I ran competitively in high school and college; now I just run for fun. My children all play soccer, 2 of them run, 1 competes in BMX racing, and all of them ski and snowboard.
Five Things I Would Like to do Before I Die
Know my grandchildren, and hopefully see them grow up as well.
Feel like I made a difference in someone's life.
Create a family history to pass on to future generations, so that they know what their roots are.
Swim with the sea turtles again. What an amazing experience that was!
See more of the world!
Five Things I Say A Lot
"I love you." I say it to my kids all the time. I probably should say it to my husband more.
"No, Murphy! No!" Murphy is my puppy, and he is very busy.
"In a minute." Yes, I am really bad about trying to cram one more thing in.
"Can you empty the dishwasher?" I usually have to repeat myself 2, 3, 4, 5 times before my kids actually get it done. Their list could include "In a minute" as well. Hmmm…perhaps I am inadvertently modeling this to them?
"Where is the phone?" The phone is never where it is supposed to be…in spite of the fact that we all use our cell phones most of the time because most of the calls we get on the house line are telemarkers that are not supposed to be calling here, because we are on the "do not call" list. But when my parents or my husband's parents call, it would be nice to be able to find the phone. On a side note, once we were missing a phone for a really long time (like months), and my friend found it at her house. No clue as to how the phone was transported there.
Five Books and/or Magazines I Have Read Lately
I just finished The Silver Star: A Novel, by Jeannette Walls, which was wonderful. She also wrote Glass Castles and Half Broke Horses, which were both great too.
The other books on my nightstand that I have yet to read?
The Guardian, by Nicholas Sparks
Little Pink Slips, by Sally Koslow
City of Women, by David R. Gillham
America the Beautiful Rediscovering What Made this Nation Great, by Ben Carson, M.D.
The last 2 my daughter bought me for my birthday.
Five Favorite Movies (maybe you've seen them Five times…)
Miracle: "Great moments are born from great opportunity." Coach Brooks pre-game speech was so motivational. Every time I watch this movie, it gives me the goosebumps. Truly an amazing coach!
Remember the Titans
The Blind Side
Coach Carter
The Sound of Music
I have definitely seen all of these more than 5 times. I would venture to guess I have seen all of them at least 10+ times. You're probably seeing a little pattern here. I LOVE sports movies! And The Sound of Music…I've loved that movie since I was a child.
Five Places I Would Love to Travel
An island, any island: I'm not picky. But I love the relaxing atmosphere of the beach and the sound of the water crashing on the sand. If I can swim with turtles, I'm happy. The picture above was taken in Maui years ago, with my underwater camera.
Giraffe Manor in Kenya: According to their website, it's the only hotel in the world where you can eat breakfast with giraffes. Ever since I saw the pictures that a friend took there, it's been imprinted on my mind. She had pictures of giraffes tucking their heads through the windows. Beautiful close up pictures. They were the most amazing pictures I have ever seen. The idea of this trip has been on my mind for years. If you want to put a bug in my husband's year, this would be a great 25 year anniversary present. That's 4 years away.
Alaska: We're planning a trip next summer to visit my brother in law and his wife, who are currently stationed there. My brother in law is an amazing tour guide. Everywhere we visited them, we've gotten the full experience of the area. We wish they lived closer so we could see them more often, but we're lucky that we get to visit some pretty cool places! Our last trip to visit them was in Hawaii.
Houseboat: I have always wanted to take a vacation on a houseboat. I don't necessarily have a destination picked out, but I love the thought of the spending time with family or friends, completely unplugged. Unfortunately, so far I have not been able to convince my kids that this would be a cool vacation.
Europe: I've been to London and Sweden with my daughter for a soccer tournament, and my husband and I went on a Mediterranean cruise many years ago but there is so much more I'd like to see! I don't think I could pick any one place.
It's so much fun to get to know our favorite blog friends better! I'm tagging Dana from Kiss My List, Crystal from Mommifried, Kate from Another Clean Slate, Alexa from No Holding Back, and YOU! So if you want to participate, and I hope you do, please join in the fun! Copy and paste the questions here, write a post and link up with Elaine at the Miss Elaine-ous Life or Alison at Writing, Wishing. Don't forget to tweet your post and include @elainea and @AlisonSWLee as the hosts of the link party (and I hope you'll share with me too @dishofdailylife). Also use the hashtag #OSBlog. Be sure to include the Old School Blogging Button on your post! Can't wait to read yours!