It's official. Hashtags are on Facebook now. You've probably noticed them. Maybe you're even using them. I have to admit I was disappointed when I first heard that this was a done deal. Facebook was the one place in social media you could engage in real conversations. My first thought when I heard the news? Now our status updates are going to be all "junked up" with hashtags. But now that I've had a little time to mull it over, I do feel there are some big benefits to using hashtags on Facebook when used properly. If you have a business, or a blog, you are definitely going to want to get on board, if you're not already!
Networking Looking for an easy way to connect with people outside your immediate network? If you have a business, find a keyword that your potential customer would be looking for, and hashtag it when posting. When they type in that particular hashtag in the search bar at the top, you'll come up! This is a free and easy way to help grow your business, without spending money on Facebook ads to ensure more people see your posts.
Here's an example of how you can use hashtags to provide potential clients with helpful information:
It's a shortcut. Hashtags connect people with common interests. It's now very easy to find and engage with people interested in the same topic! Hashtags are blue and clickable…so when you find something that interests you, all you have to do is click on it, and other recent posts using the same hashtag will come up. You may find interesting blogs or pages that you want to bookmark this way.
One thing to note though: You CAN keep your own hashtagged posts private…you just have to go in and change your privacy settings. For example, if I hashtag something in one of my personal posts, only my friends will be able to see it because I have my settings set to "friends" versus "public."
If you're interested in learning more about something (like photography, for instance), search it with a hashtag!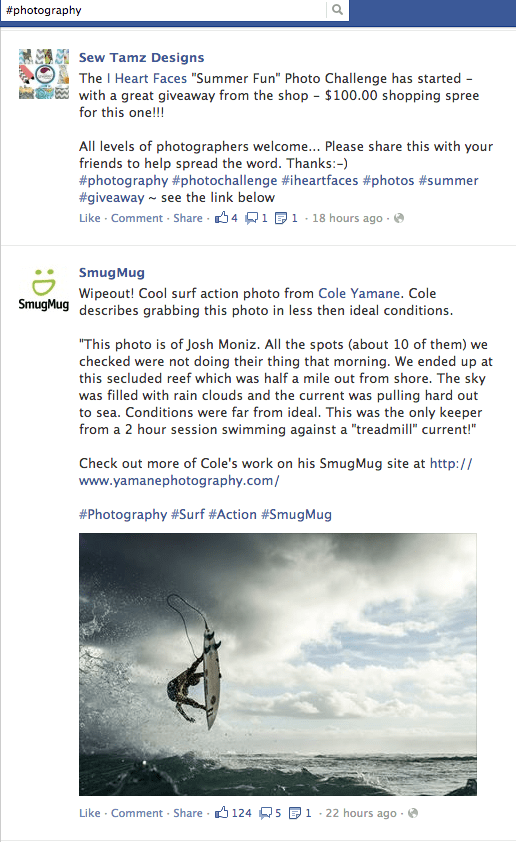 Use Hashtags as part of your branding. You can create your own hashtag! Many brands do this for their marketing campaigns. If you decide to create a hashtag that is specific to your brand or business, you should use it across all of your social media channels. Before you create your own hashtag though, check out this great article Simple Rules for a Hashtag Definition from Pamela Kramer at A Renaissance Woman, and also check to make sure that your hashtag is not taken at TagDef.
Here's an example of a brand using their own hashtag for a campaign: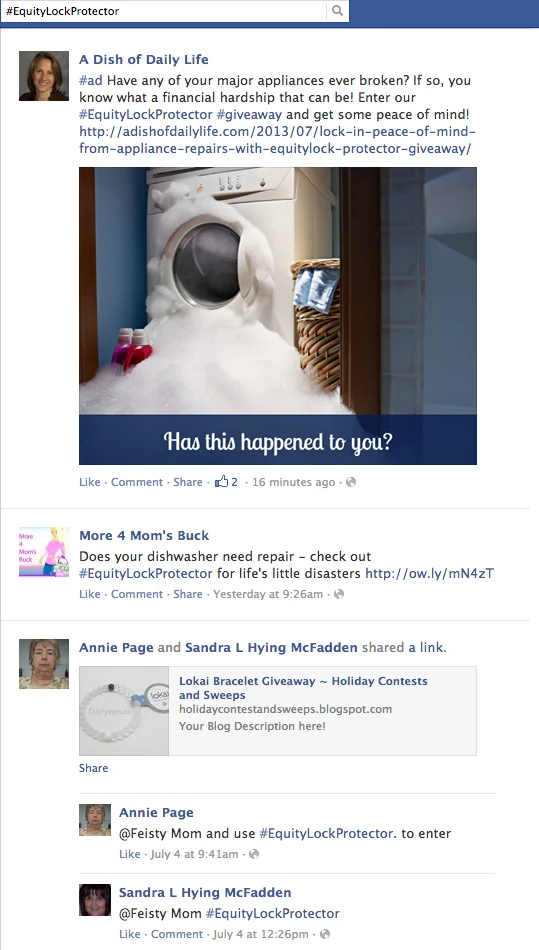 Pack more power into your tweets from Facebook. If you were tweeting your Facebook posts, now you can pack more power into those tweets by adding a hashtag. One of the main reasons I never tweeted directly from Facebook before was because I wasn't using hashtags in my Facebook posts. Since it looks like hashtags are here to stay, I have now shifted to allowing my updates on my blog page to tweet. If you're not sure how to tweet your posts from your Facebook page, follow these instructions:
1) Go to facebook.com/twitter
2) Link your profile or Page to your Twitter account
Note: If you manage more than one page, you can choose which ones you want to connect to twitter. While Facebook allows you to manage multiple accounts from one log in, if you manage multiple twitter accounts (for example for clients), there is probably separate log in information for these, and you will have to sign in to each one to connect them properly.
The rest of the world is using it. Sometimes you just have to go with the flow. Hashtags are searchable on Twitter, Google +, Instagram, and Pinterest…it's probably time Facebook jumped in as well. Keep in mind though that you should use hashtags sparingly. Personally, I think one or two is generally enough…three max. Once you start using more than that, you start to look like a spammer.
Have you started using hashtags on Facebook? Do you have any tips to add?
Linking up with the Fun Friday Blog Hop