Oreo Chocolate Chip Cheesecake Cookie Bars…cheesecake filling sandwiched in between a layer of Oreo cookie crumbles and chocolate chip cookie dough. You'll need some serious willpower to stop at just one!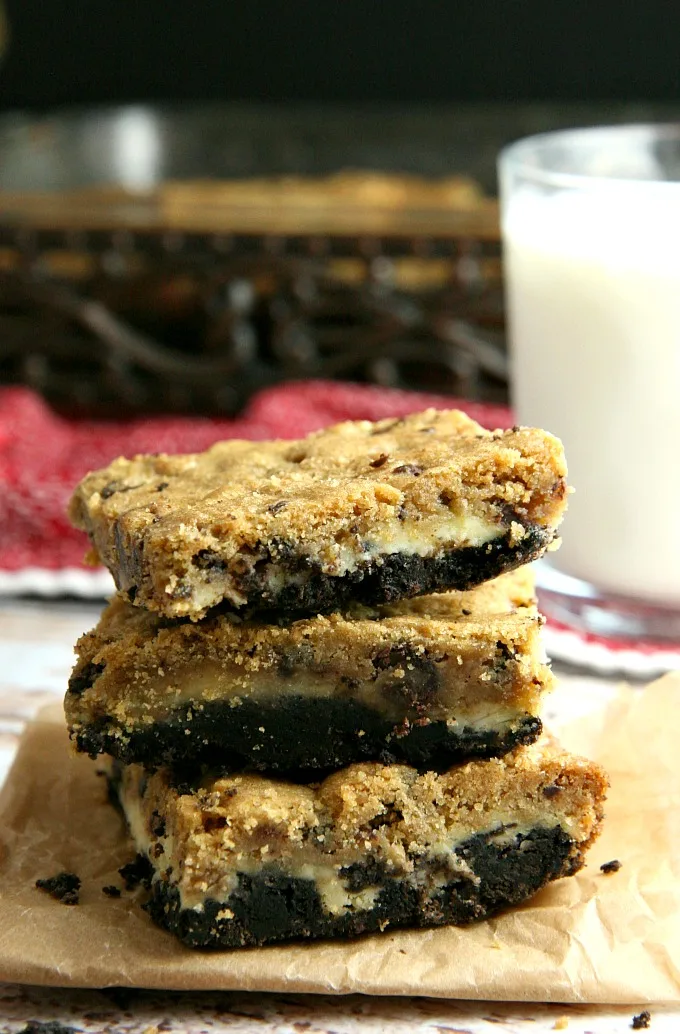 Today I'm doing something fun.
Back in February, my friend Michaela from An Affair from the Heart organized a Freaky Friday recipe swap among a group of food bloggers and we had so much fun, we decided to do it again!
This time I was assigned one of my favorite food blogs, Belle of the Kitchen! Ashlyn doesn't know that I have her and won't until she sees this post… I've been keeping a secret for quite some time now.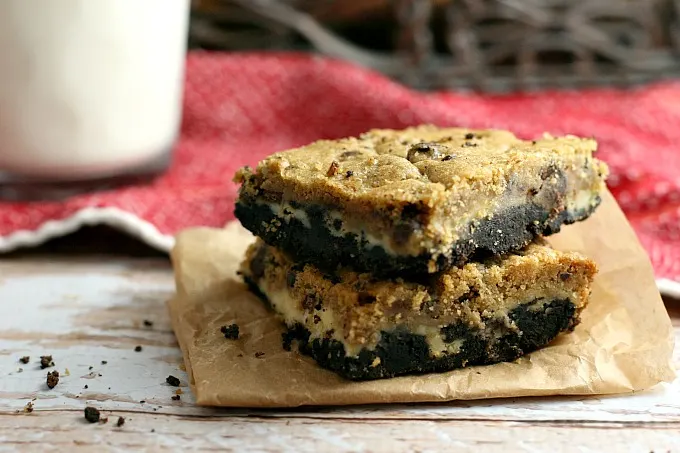 You've probably noticed I don't put a lot of desserts on my blog. That's because I find baking to be much more of a challenge than cooking.
With cooking, you can change a recipe on the fly; with baking, you don't find out until after you're done making it, whether your changes were for the better or not. Apparently I'm an instant gratification cook.
At any rate, the dessert recipes I do have on my blog are easy to make and most of them are cookie bars, so these cheesecake cookie bars fit in perfectly!
We actually made a double batch of them last night because my daughter needed cookies for a party at school. Because it was late, and I wanted the cheesecake cookie bars to set a little before I cut into them, I told the kids they couldn't touch the batch I was using for this post until the next day. You can imagine how well that went over.
I finally got around to photographing them just before lunchtime. Not too long after, my oldest son, who recently graduated but hasn't started a summer job yet, meandered downstairs and helped himself to one of the cheesecake cookie bars. I heard a little gleeful giggle coming from the kitchen and asked him what that was about. "These cookies are REALLY good!" he said. SCORE for Mom!
Best of all, they are super easy to make!
Oreo Chocolate Chip Cheesecake Cookie Bars
First you crush the Oreo cookies and mix them with the melted butter. I put mine in a plastic bag and took a rolling pin to them. Press the crumbs into the bottom of a greased glass baking dish.
Then you mix the cream cheese with the sugar, vanilla and egg using an electric mixer. Layer this mixture on top of the Oreo crumbs.
Lastly, you'll take your cookie dough and make little flat circles and layer them overlapping over the top of the cream cheese mixture. Pinch together the dough to cover any holes.
Then you pop your baking dish in the oven. Easy peasy…definitely my kind of dessert recipe!
After you take them out, you'll have to show some self restraint while your cheesecake cookie bars cool and set before you cut into them.
But then, you can get ready to start dunking!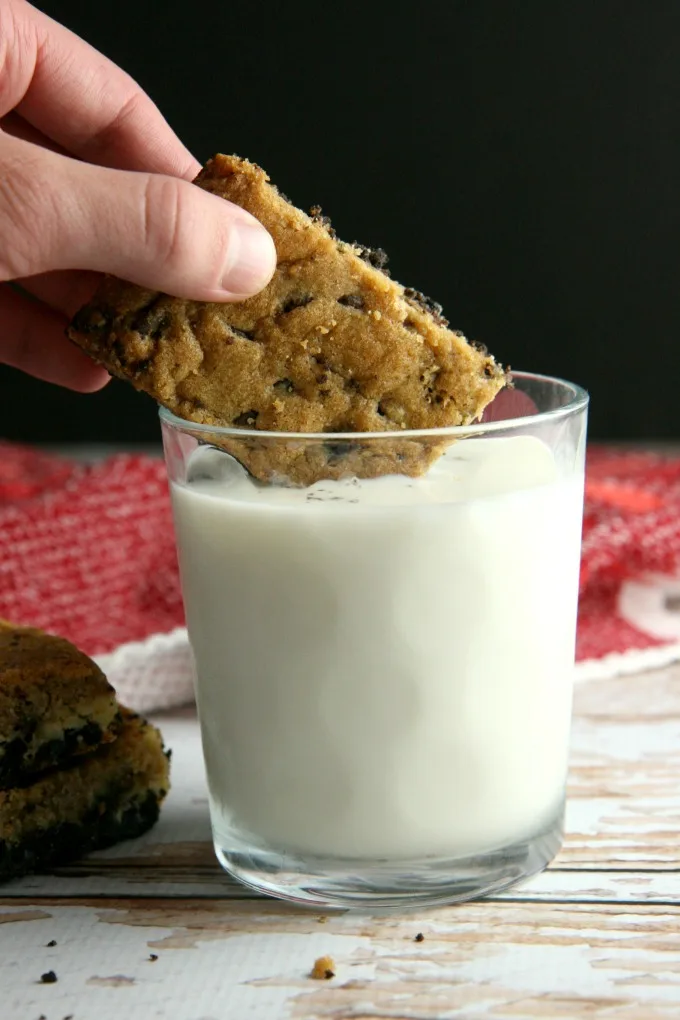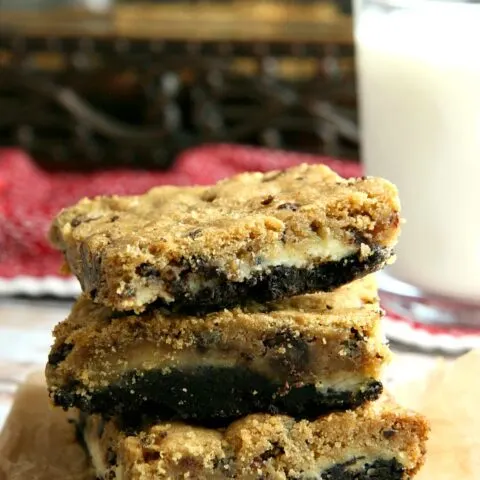 Oreo Chocolate Chip Cheesecake Cookie Bars
Oreo Chocolate Chip Cheesecake Cookie Bars...cheesecake filling sandwiched in between a layer of chocolate chip cookie dough and oreo crumbles!
Ingredients
24 Oreo cookies
1/4 cup of butter, melted
8 oz package of cream cheese, softened
1/2 cup of sugar
1 egg
1 teaspoon vanilla extract
16.5 oz package of pre-prepared chocolate chip cookie dough
Instructions
Preheat your oven to 350 degrees.
Grease an 11 x 7 in glass baking dish with butter.
Crush your Oreo cookies either in a plastic bag with a rolling pin, or use your food processor.
Mix Oreo crumbs with melted butter and press down into bottom of glass baking dish.
Using an electric mixer, beat together the cream cheese, sugar, egg and vanilla. Spread mixture over the top of the Oreo crumbs.
Make cookie dough and make little flattened circles, overlapping them to cover the top of the cream cheese mixture. The top should be completely covered.
Bake for 30-35 minutes.Edges will be golden brown. Test with a toothpick. Remove from oven and use a wire rack to cool completely. I tested mine the first time at 30 minutes and let them go a little longer.
Refrigerate for 2-3 hours (or overnight) to help bars set.
Notes
Allow to cool 2-3 hours before cutting into them.

Enjoy! I hope your family enjoys these cheesecake cookie bars as much as ours did!
Before you go, we hope you'll take a moment to look through the recipes below in our link up. We'd all love it if you would stop by and visit some of the other blogs participating in Freaky Friday. You might find some new favorites and even make some new friends! All of our recipes are in the link up below.