These Peanut Butter Tarts might just put some Girl Scouts out of business. Not really, but peanut butter, chocolate, and a chocolate wafer crust, can't be beat.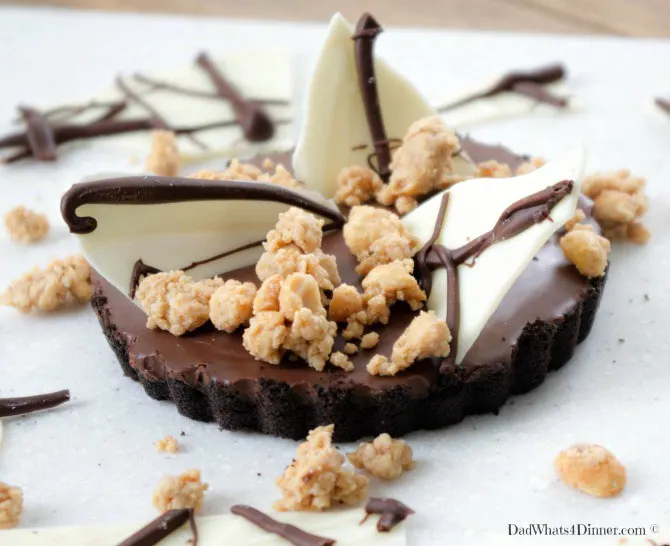 Peanut Butter Tarts
Hi all you wonderful A Dish of Daily Life readers! I am Quinn from Dad Whats 4 Dinner. I am a rarity in the world of Food Blogging. A man!!! Yes there are a few of us out there, but we are few and far between. I am thrilled to bring my recipe for Peanut Butter Tarts as part of A Dish of Daily Life's creative team. Thanks to Michelle for giving me the chance to share my brand of recipes with you and hopefully get to meet many new bloggers.
Every year there is bomb waiting to go off to ruin my weight loss goals for the New Year. As the New Year rolls around, I and many others, decide its time to get off the junk food wagon and get in shape. But usually three weeks into the New Year, along comes a knock at the door…Girls Scouts with their order forms for those delicious cookies. One of my favorite Girl Scout cookies is the "Tagalongs®" or Peanut Butter Patty. It's the perfect combination: shortbread cookie and peanut butter, covered in chocolate. Does it get any better?!
Well, I think it does with my recipe for Peanut Butter Tarts. Why you say? Instead of sitting there on the couch, feeling guilty about eating the whole box of cookies, with my tarts you can tell everyone you ate just one. See no guilt!!
I belong to a monthly dinner group with three couples. We rotate host homes each month and the host decides on the theme. We have been getting together for over 16 years. That is a lot of themes and plenty of good food. For 2016 we are using cities as our theme. This month was San Francisco because of the Super Bowl. The host couple cooks the main dish and then other couple's bring either a soup/salad, appetizer or dessert. We had dessert this month so I decided to combine San Francisco's most famous chocolate Ghirardelli, with the timeliness of Girl Scout Cookies to come up with this incredible Peanut Butter Tarts.
Oh my; these were a hit. The recipe has quite a few steps, but all are easy to accomplish and well worth it.
I made the crust using thin chocolate wafers from Nabisco. These were not easy to find at my grocery because they were at the end of the ice cream aisle with the chocolate and caramel toppings. You could substitute any other chocolate cookie but these wafers are perfect for pie crusts.
The filling is simply peanut butter and confectioner's sugar.
For the topping I made a simple ganache using Ghirardelli semi-sweet chocolate and heavy cream.
Hey, I never said it was low-fat. Okay, so you could stop there and Peanut Butter Tarts would be a perfect dessert but why, when you can add white chocolate bark and peanut butter crumbles. What are peanut butter crumbles you ask? Well they are a perfect combination of peanut butter, confectioners' sugar, roasted peanuts and a little butter, mixed together and frozen. Think of it as the oat crumb topping you would put on a apple crisp, but in peanut butter form. I could have eaten a bowl of just the crumbles. I am sure I will think of many more uses for them.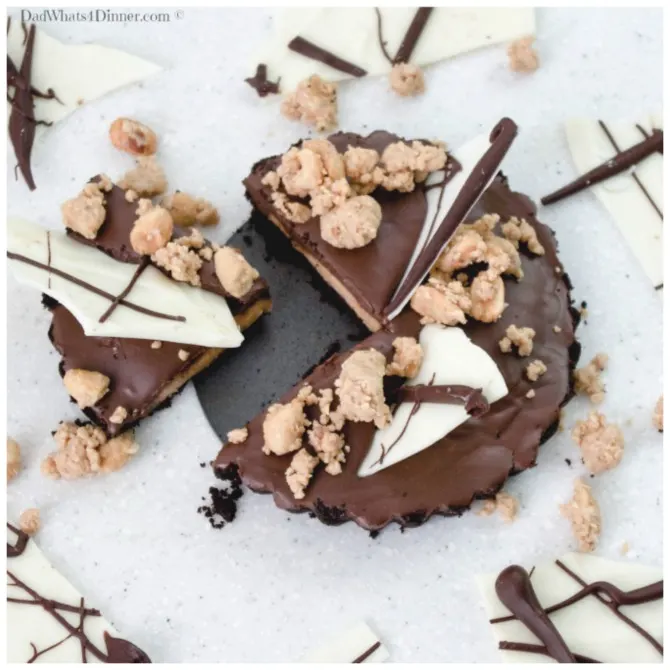 So if you want to satisfy your Tagalongs® Girl Scout cookie fix, you should definitely give my Peanut Butter Tarts a try.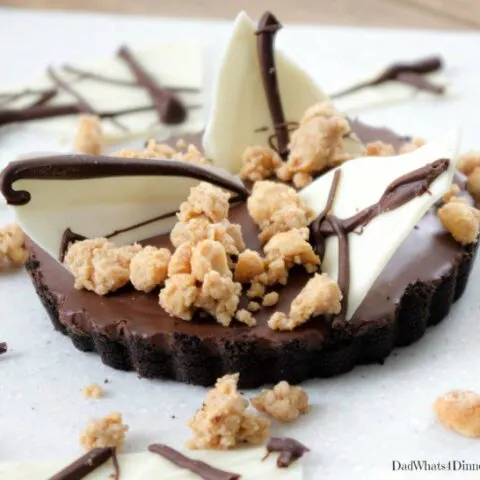 Peanut Butter Tarts
These Peanut Butter Tarts might just put some Girl Scouts out of business. Not really, but peanut butter, chocolate, and a chocolate wafer crust, can't be beat.
Ingredients
[b]Crust:[/b]
1 (9 oz.) package chocolate wafer cookies, about 40.
1/3 cup butter melted
[b]Peanut Butter Filling:[/b]
1 cup peanut butter
1 cup confectioners' sugar
[b]Chocolate Ganache:[/b]
12 oz bag semi-sweet chocolate chips
1 1/4 cups heavy cream
[b]Peanut Butter Crumbles:[/b]
3/4 cup confectioners' sugar
1/2 cup peanut butter
1/2 cup roasted peanuts
1 tbsp butter, melted
[b]White Chocolate Bark:[/b] (optional)
1 (12 oz) bag White Melting Wafers, or almond bark
3 oz semisweet chocolate, melted
Instructions
For crust:
Preheat oven to 325°F.
Lightly coat six, 4-inch-diameter tart pans with removable bottom, with cooking spray.
Place cookies in food processor and process until fine crumbs form.
Pour in butter and pulse until moist clumps form.
Press cookie mixture onto bottom and up sides of prepared tart pans.
Bake until set, about 7-10 minutes.
Cool completely.
Peanut Butter Filling:
In medium bowl mix together confectioners sugar and peanut butter with a mixer until it makes a thick paste. Roll into six individual balls. Chill until ready to assemble.
Chocolate Ganache:
Place chocolate in a large bowl
In a heavy bottom pot, bring the cream to just a simmer. DO NOT BOIL.
Pour cream over chocolate and allow to sit for 1 minute.
Whisk the cream and chocolate until smooth.
White Chocolate Bark: (optional)
Line a baking sheet with parchment paper.
Place Ghirardelli White Melting Wafers into microwave safe bowl. Microwave on 50% power for 1 minute. Stir and continue melting in 15 second increments until completely melted.
Spread in a thin layer on prepared baking sheet.
Melt semisweet chocolate in microwave for 1 minute until melted. Place in ziplock bag or pastry bag. Clip corner and swirl over white bark. Cool completely.
Peanut Butter Crumbles:
In bowl used to make peanut butter filling, mix together confectioners sugar, peanut butter, roasted peanuts and butter, until mixed and crumbly. Freeze for 30 minutes to set. Set aside.
To Assemble Tart:
Flattened 1 ball of peanut butter filling into a disk and place on cool tart crust.
Pour chocolate ganache over peanut butter filling disk. Repeat with remaining tarts.
Cool for 2 hours before serving.
When ready to serve top with a piece of chocolate bark and peanut butter crumbles.