Valentine's Day is a holiday of love! What better way to say "I Love You" than with a gift from the heart, created from precious memories?
These days, most of our cherished photos are tucked away on our computers. Because we don't often print our photos anymore, our kids see them sporadically at best. In Why Printed Photos Really Matter, Dr. Kenneth Condrell, a PhD and clinical psychologist specializing in families, children and teens, explains that displaying photos in our home where children can view them strengthens family bonds and is beneficial to children's self esteem. Share a link to photos from your child's soccer game and watch how excited your child (and their friends) are when they go through them! No doubt about it, kids love having photos of themselves, and photos displayed in the home make a child feel special! Here's a few easy ideas for photo gifts your kids will love!
Posters: Does your child play a sport or have a special hobby? Make them a poster! I've done this a number of times for sports teams. If you have design software, you can create a custom design…if not, there are companies that offer pre-designed templates or collages that you can simply drag and drop your photos into. I created this soccer poster as a gift for a niece using Creative Memories Storybook Creator software and printed it locally. If you print on heavy posterboard like I do, it can either sit on an easel or be framed.
Photo Statues: Photo Statues (also known as Photo Statuettes and Photo Cut Outs) are fun decorations to display on a shelf or desk in any child's room! Below is a picture of two acrylic cutouts I recently had made for a client who wanted Valentine's Day presents for his kids. You can order these online through a variety of sources, but you might also consider working with your local photo retailer.
Calendars: What kid wouldn't want a calendar featuring themselves?! I know my kids love them, as do their sports teams! Here's a page from my daughter's soccer team calendar that I made at the end of the fall season.
Journals: Journals are also great gifts for kids. For older kids, they make great diaries or fun notebooks to write ideas or thoughts in. I made this hardcover journal for my son through Paper Coterie, but you will also find these with other online photo printing retailers. Just pick a template and drag and drop your photos into it!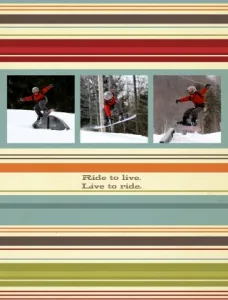 Memory Boxes: If your child has a hobby or was involved with a special event, you might consider a photo box to keep momentos in. When my daughter and I went to Europe for a soccer tournament two summers ago, we had all sorts of memorabilia from the trip that we wanted to keep. I created this Memory Keeper box with Paper Coterie to store our special momentos in.
Wall Decal: Home run? Winning soccer goal? Dance recital? Any triumphant moment can be turned into a wall decal with Shutterfly!
Check out my Pinterest board Photo Gifts for Kids for more great ideas! What are your favorite photo gifts that you've made for your children?