Pineapple Fried Rice is a fancy fried rice with pineapple, cashews, raisins, and a hint of curry. Skip the shrimp if you'd like and make it vegetarian. Serve it in a hollowed out pineapple to impress your guests!
A blog friend of mine, Abigail Sotto Raines, of Manila Spoon, recently asked me to review her new cookbook, Rice. Noodles. Yum. and make a recipe to share with you. Of course, I agreed immediately! My blogging has slowed down these days as I am spending a lot of time helping grow our newest business, a local gym, but I'm always happy to have the opportunity to do something like this for one of my favorite food bloggers!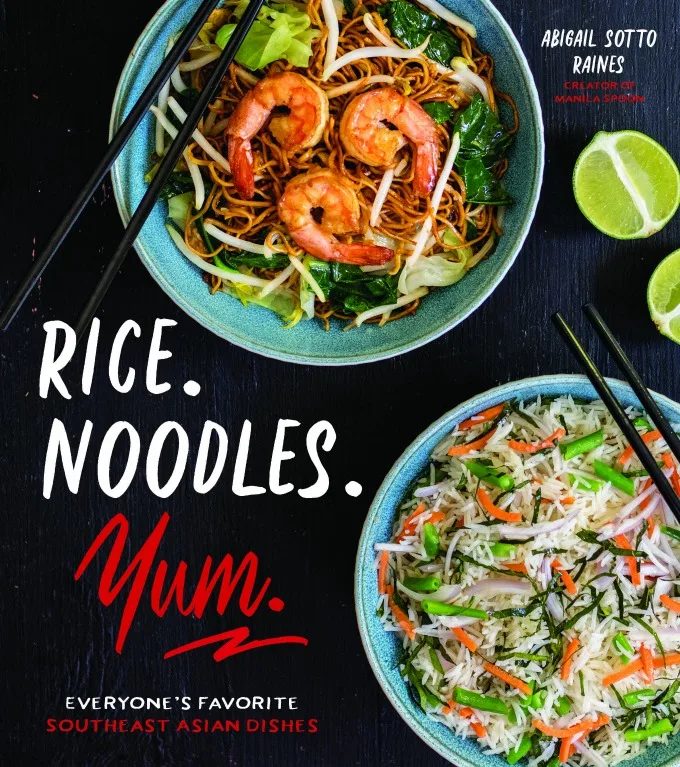 I've never met Abby in person, even though we only live about an hour away from each other. Hopefully, one of these days we will be able to coordinate our schedules!
Abby grew up in the Philippines, and many of her childhood memories revolve around cooking and food. When her family gets together, they talk about what they have eaten and what they are going to eat! We're the same here. Everyone in my husband's family enjoys cooking, but we all have our specialties. When we're together, we spend a good portion of the time planning out meals! We might be just a little food-obsessed here…
If you love Asian food, you're definitely going to want to check out Abby's cookbook! There are so many recipes I want to try. The Rice Soup with Seafood (or Chao Hai San) and the Indonesian Stir-Fried Noodles (or Easy Mie Goreng) are going to be next on my list! She has a quick guide to ingredients along with helpful tools for Asian cooking near the back of the cookbook, and she gives tons of great cooking tips throughout the cookbook as well!
I decided to make her Pineapple Fried Rice, Khao Pad Sapparot. I did a little teasing on Instagram, sharing the hollowed out pineapple and asking what you thought I made with it. While no one guessed correctly, I did get some delicious ideas I may try!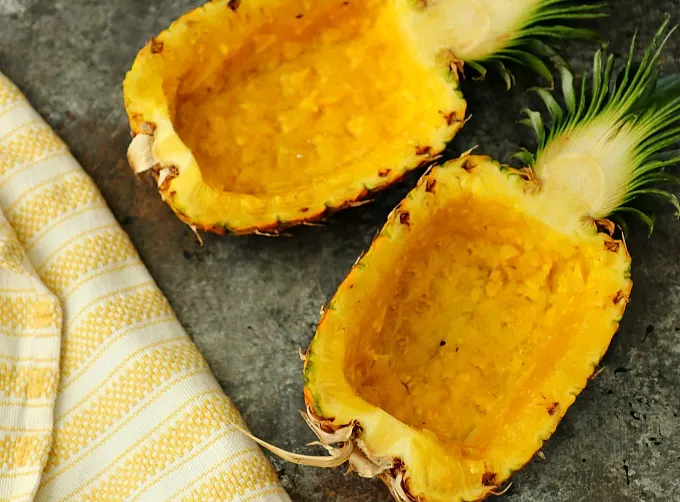 The final dish is quite impressive looking, especially if you do serve it in your hollowed out pineapple!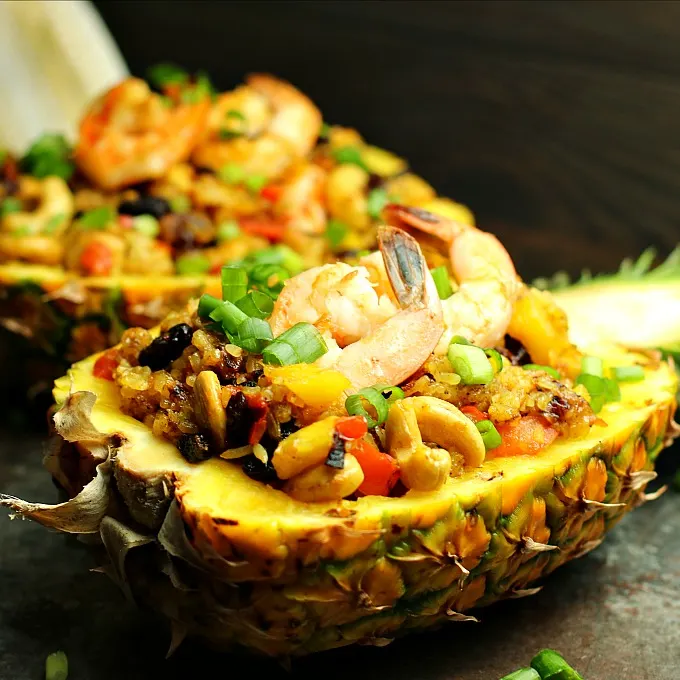 TIPS FOR MAKING PINEAPPLE FRIED RICE
If you have leftover rice, that's what you want to use. The rice you use for fried rice needs to be precooked and chilled, because freshly cooked rice will be too sticky. You might also might want to consider using the recipe for Perfect Rice for Fried Rice, which is the first recipe in Abby's cookbook.
If you are using freshly cooked rice, let it sit undisturbed for 10 minutes after cooking. After the rice has cooled a little, put it on a baking sheet, let it cool completely, then chill it in the refrigerator for 15 minutes. You need cold rice so it doesn't get mushy. Don't skip this step. It's important! Cold rice simulates day old rice. I got this advice directly from the cookbook author herself as we were messaging while I was making my Pineapple Fried Rice!
Another option is to buy precooked rice from a Chinese restaurant, which is what I ended up doing in the end. That rice will also be freshly cooked, so you should still spread the rice out on a baking pan, allow it to cool, and then chill it in the refrigerator before using it.
Remember that rice expands to about three times the size when cooking, so one cup of uncooked rice will make about three cups cooked rice.
This is what your rice should look like. Abby shared this picture with me, and I'm sharing it with you as a guideline. I'm not even going to show you what my rice looked like. My rice was way too sticky. Lucky for me there is a Chinese restaurant about 5 min away! What I should have done was made my rice a day ahead of time. I have a bad habit of not reading the entire recipe beforehand!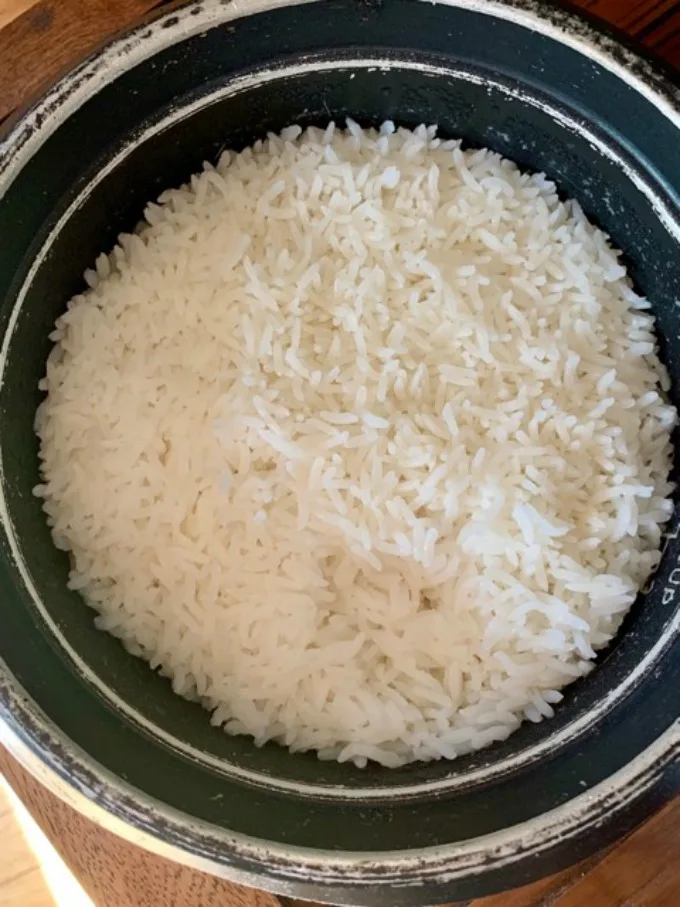 SHOULD YOU RINSE YOUR RICE BEFORE COOKING?
This is something I never used to do, but you actually should rinse your rice before cooking because it rinses away the surface starch and prevents clumping. The water will be cloudy at first, but once you rinse it a couple of times, it will clear up a little.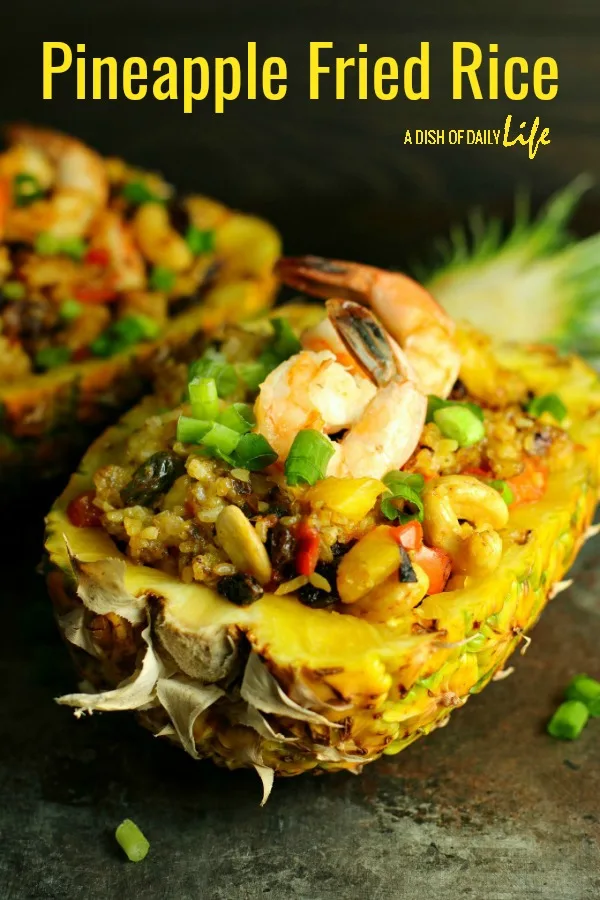 Be sure to check out Abby's cookbook…it's packed with great recipes you are going to want to try!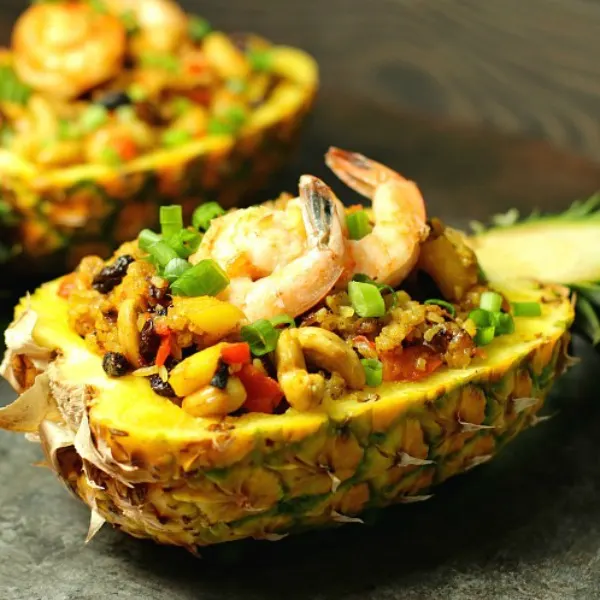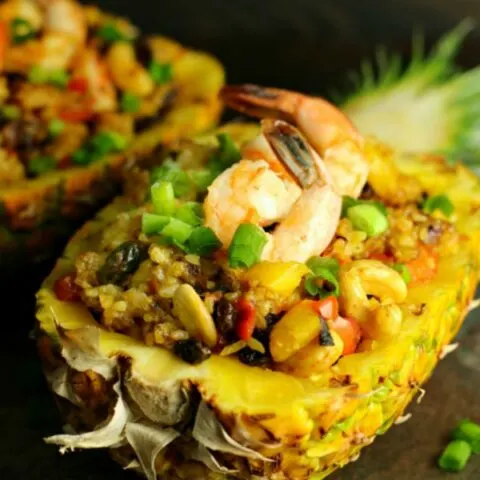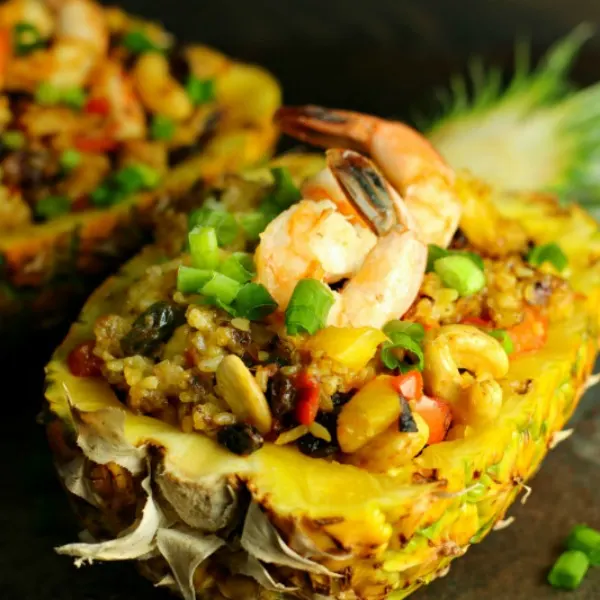 Pineapple Fried Rice
Ingredients
2 tbsp cooking oil of choice
12 oz prawns or shrimps, peeled and deveined but with tails intact
4 cloves garlic, minced
1 onions, finely chopped
1 tbsp curry powder, or more to taste
4 cups cooked long grain white rice like jasmine or basmati rice, cold or chilled
1 cup raisins
1 cup pineapple chunks
1/2 cup cashews
2 tomatoes, sliced and deseeded
2 tbsp fish sauce
1 tbsp oyster sauce
1/2 tbsp sugar
salt, to taste
3 stalks or about 2 tbsp green onions, thinly sliced
Whole pineapple, for serving (optimal)
Instructions
In a wok or large skillet, heat the oil over medium-heat. When the oil is hot, add the prawns and fry for 3 to 4 minutes or until fully coated. Prawns are done when their flesh is fully opaque and bright pink. Scoop out the prawns, transfer to a plate and set aside.
Adjust the heat to medium-low. Add the garlic and onion to the pan and cook for 1 minute or until aromatic. Add the curry powder and cook briefly, stirring constantly, until fragrant.
Add the cooked rice to the pan and increase the heat to medium high. Pat the rice grains down with the spatula, then fold the rice over. Do these two steps a few times until the rice grains have separated and the rice is fully coated with the curry powder. Add the raisins, pineapple, cashews and tomatoes and mix everything well. Return half of the cooked prawns to the wok. Season the mixture with fish sauce, oyster sauce, and sugar. Stir to mix well. Taste and adjust the seasoning with salt, if needed.
Transfer to a serving plate and garnish with the remaining prawns and green onions. You can also serve this inside a hollowed-out pineapple, if you like.
Notes
To serve this dish inside a pineapple, cut the pineapple in half lengthwise. Run a knife around the edges leaving at least 1/2 inch from the edge. Then, cut the pineapple flesh three to four times across and once down the center. Scoop out the pineapple chunks using a spoon and drain the remaining juice. Smooth out the bottom surface of the bowl. Cut the pineapple you sliced into chunks and use in making the fried rice. Place the fried rice inside the cut-up pineapple just before serving.
I didn't include the prep time on making the rice, because you really should use day old rice.
Nutrition Information:
Amount Per Serving:
Calories:

1072
Total Fat:

17g
Saturated Fat:

3g
Cholesterol:

107mg
Sodium:

1334mg
Fiber:

7g
Sugar:

32g
Protein:

31g