Hello, again! It's Bev from Linkouture, and today I'm here to share with you some of my top tips for creating pinnable images for Pinterest using your smartphone photos. If you are a blogger, you probably know what an amazing (and important!) tool Pinterest is for driving traffic to your blog. Unlike a Tweet or Facebook post, which both have a pretty short shelf life, a single Pin can continuously bring people to your blog, even years later. (Some of my top pins are from two years ago, and they aren't even very good!)
Part of using Pinterest for your blog is to ensure all of your posts have Pinnable images. While that may seem daunting, it can be surprisingly easy to create beautiful images for Pinterest using your smartphone photos and some free online editing tools regardless of your photography skills.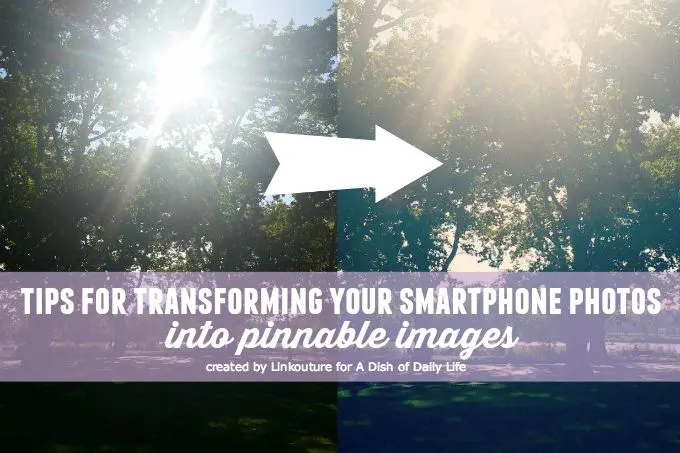 Create Pinnable Images for Pinterest with your Smartphone Photos
1. Take photos of objects & places that can be used as stock photography
Stock photography can be super pricey. Save yourself money by having photos of things like your computer, a stack of books, clouds, the beach, trees — things that are pretty generic and can make nice background images. Don't worry about them looking perfect — that's where editing, overlays, filters and text can make a mediocre photo really pop.
By the way, the new Google Photos app, which you can access on your computer and download on both Android & iOS devices, has a handy search function so you can later find those stock photos!
2. Have a white rectangle optimized for Pinterest sizing
As of this post being published, the optimal Pin size is 735 x 1,102 pixels. Take a photo of anything, crop it to this size, and using the Canvas Color feature on PicMonkey, create a white rectangle and save it on your computer so that it is easily accessible.
3. Insert a photo as an overlay or create a collage
While you always crop down a photo to the optimal pin size, you might find times where you have the perfect photo but it doesn't quite fit right, or you would like to use more than one image. Change the background color of your white rectangle to a color you like that coordinates with the colors of your blog or website.
Click on the butterfly icon on the left sidebar. Under the Overlays heading click on "Your Own" and add the photo you want to use as an overlay. Position the photo, and in the top navigation bar click the arrow pointing down (when you hover over it is says "Combine all image elements").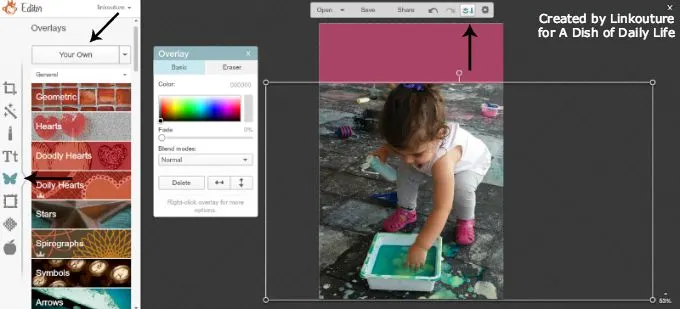 Use the remaining bar of color to add some text to explain your pin.
The collage feature is another feature on PicMonkey that allows you to easily create beautiful collages. The only downside is to add text and do overlays over the entire collage you have to save your collage and then reopen it with the photo editor function of PicMonkey.
4. Experiment with editing
Adjusting the brightness and highlights of your photo and adding a filter can make a huge difference. Many smartphones have these functions built this right into them, and there are tons of apps you can download for even more photo-editing options. Of course, you can also do this on your computer once you have uploaded your photo.
5. Create shape overlays for text
Sometimes images aren't that great or you want them more in the background and less of a focal point of your pin. A shape overlay can be a great way to highlight the text of your pin while still allowing you see the background image.
On PicMonkey, click on the butterfly icon and choose "Geometric Shape". Insert the shape you want, and then adjust the fade so that you can still see the image in the background. After you do that hit the arrow at the top to combine the elements so that you can easily add and edit text over the shape.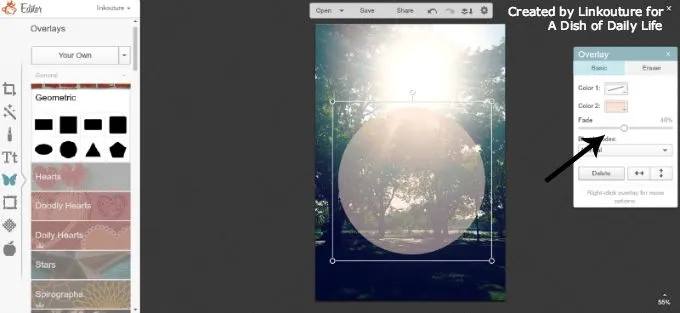 6. Use a template from Canva, inserting your own image
If design isn't your thing, consider using one of many free Pinterest-ready templates available on Canva. While they do have some free stock photos, many of them cost $1, which is quite cheap for stock photography. However, if you prefer to use your own photos, you can easily delete the photo from any of their templates and insert one of your own.
[Tweet "Turn your smartphone photos into beautiful pinnable images w these tips from @Linkouture! #blogtips"]
7. Stick to just a couple fonts
While I am not a design expert, I do know less is more. With all of the fun fonts it's easy to go nuts, but stick to about two that you really like and create a brand for your pins by using the same fonts across them.
8. Don't forget to watermark!
Finally, don't forget to add your logo somewhere into the pin. You can either type in your website using the text feature, or if you have a logo you can add that as an overlay.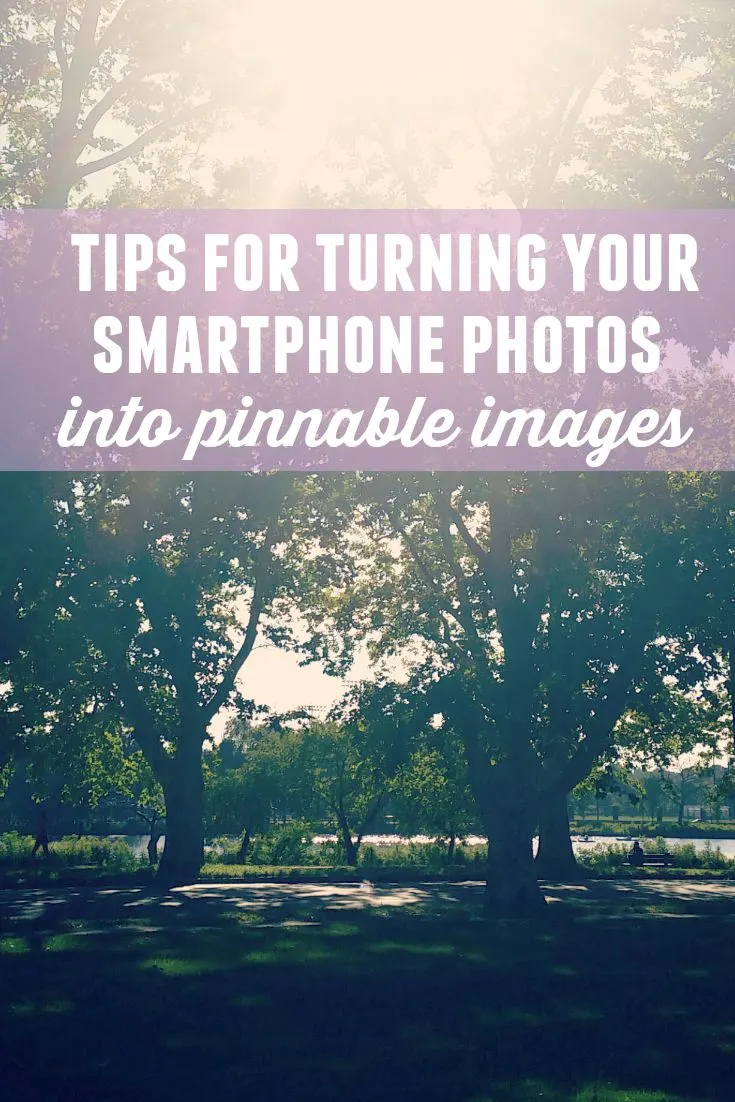 I'll be back again next month. In the meantime, you can read my tips for working from home when you have a small child and how to infuse creativity into your daily life.
Bev Feldman is a creative entrepreneur and a mom to adorable toddler. She makes handcrafted modern and elegant jewelry for women with a focus on chainmaille with a feminine twist and blogs about her adventures in running a small business while being a stay-at-home mom. With everything going on in her life, she has to stay organized, and she'll be sharing her organizing strategies here with us, as part of our Creative Team. Connect with Bev on Facebook, Twitter, Pinterest, or Instagram.