This Pizza Pasta Salad. with all your favorite pizza fixings, is the perfect easy side dish to bring to a cookout or barbeque!
Our son graduated this weekend from an all boys private school.
Our other two children go to public school, and neither my husband or I went to private school, so private school wasn't anything we ever thought about until he asked us if he could attend one. He prefers a smaller environment, so we agreed to it.
He started at one school and then after two years, asked to transfer. My husband and I weren't thrilled about that, given the fact that the first one was walking distance and the second one was a twenty minute drive. But he completed the application process by himself, and we decided to let him make the switch.
We saw an amazing transformation those last two years! It was definitely the right move for him, and I am so glad we let him do it.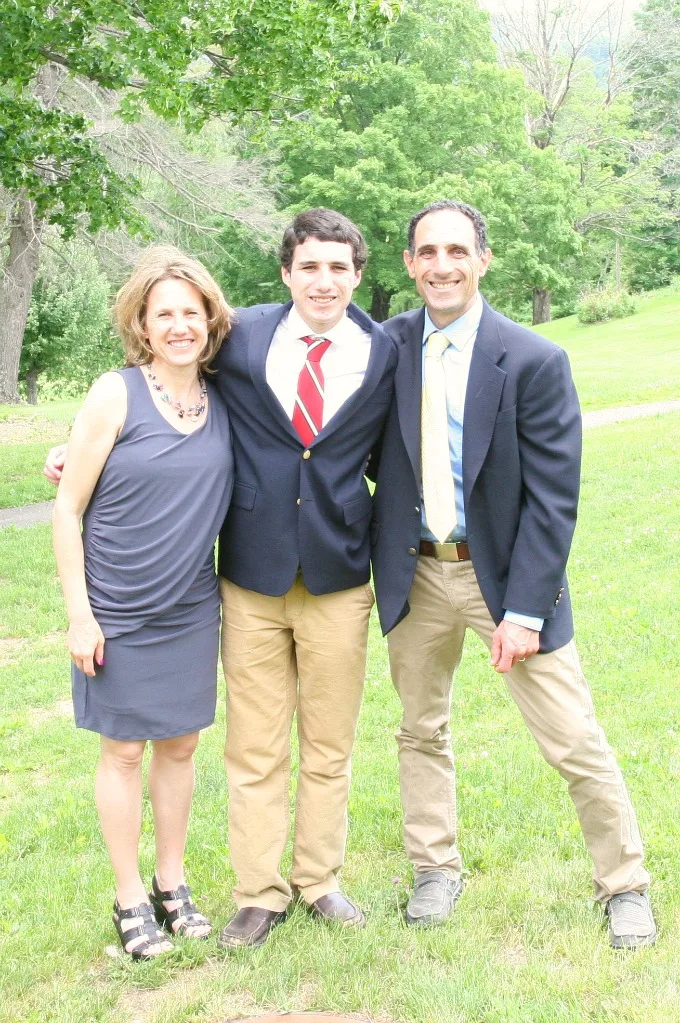 After graduation, we had a barbeque for a few family and friends. It was relatively low key…with the boys playing some sort of modified soccer-volleyball game in the pool, and a drawn out game of whiffleball.
My husband made his smoked ribs that are his specialty. For the rest of the menu, I went with easy side dishes.I tried to get most things ready the day before. Graduation was taking place first thing in the morning, and our party was starting soon afterwards.
Of course I was trying to do too many things at once though, and forgot about the pasta when I was cooking it. I overcooked it to complete mushiness, and had to start over. Not the first time my multi-tasking has turned into extra work for me, I will admit. You'd think I'd learn my lesson.
The second time was a charm, thankfully.
PEPPERONI PIZZA PASTA SALAD
This pizza pasta salad is really easy to put together (if you don't overlook your pasta). Basically you just add all your chopped ingredients to the pasta once it cools, and then add the dressing and mix thoroughly. It's hard to get much easier than that. I suppose you could use a pre-made dressing, but making your own dressing is easy.
For the dressing, I used a simple red wine vinaigrette. I always make my own salad dressing, but I seldom measure. Don't worry, I measured for you today!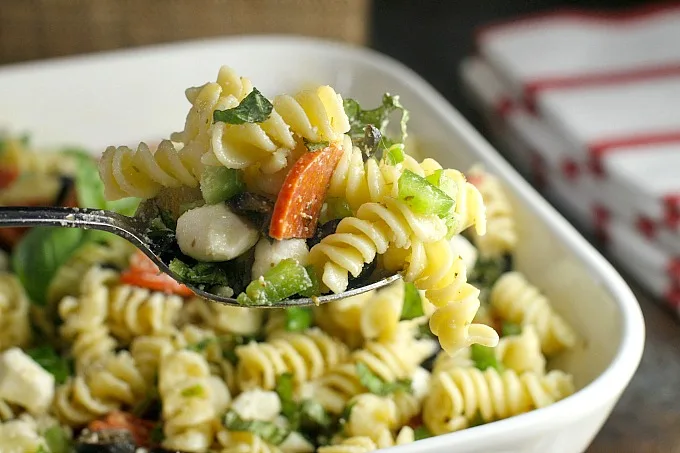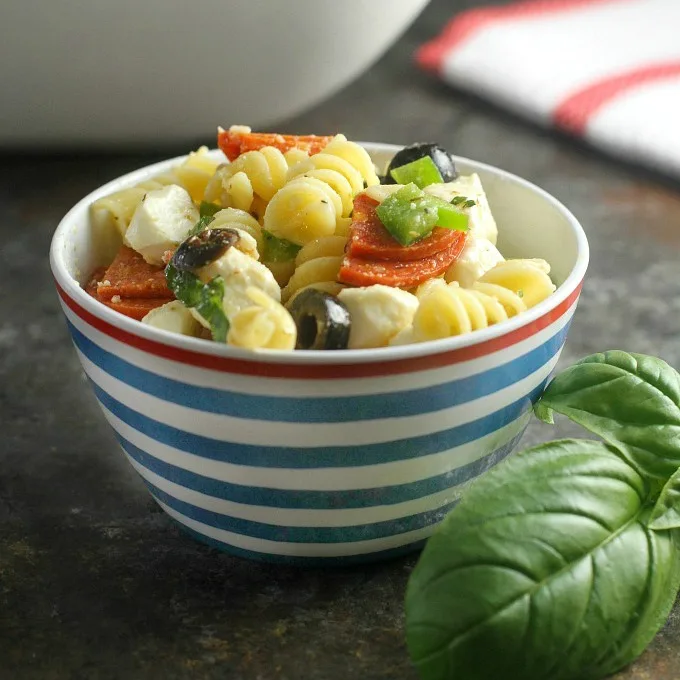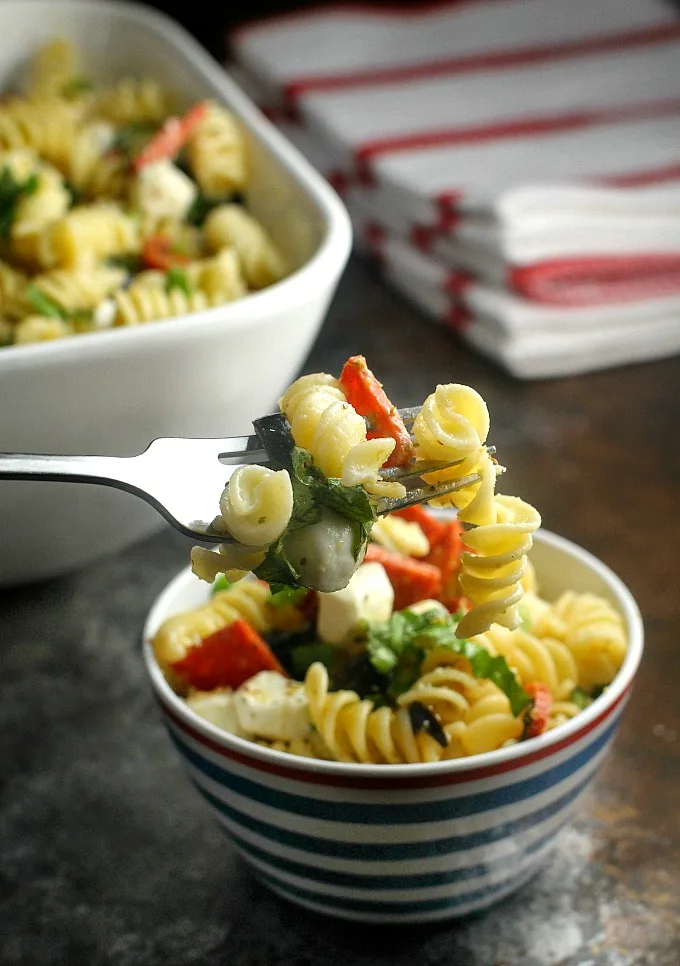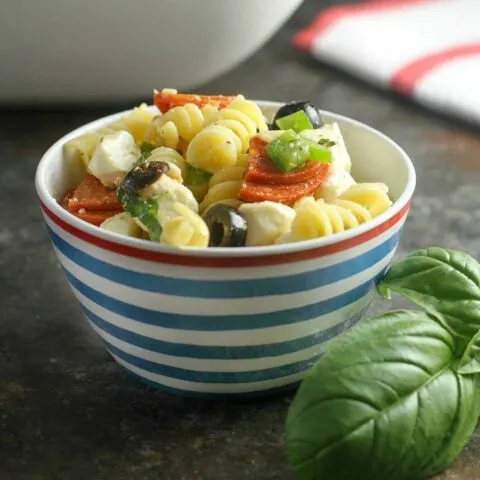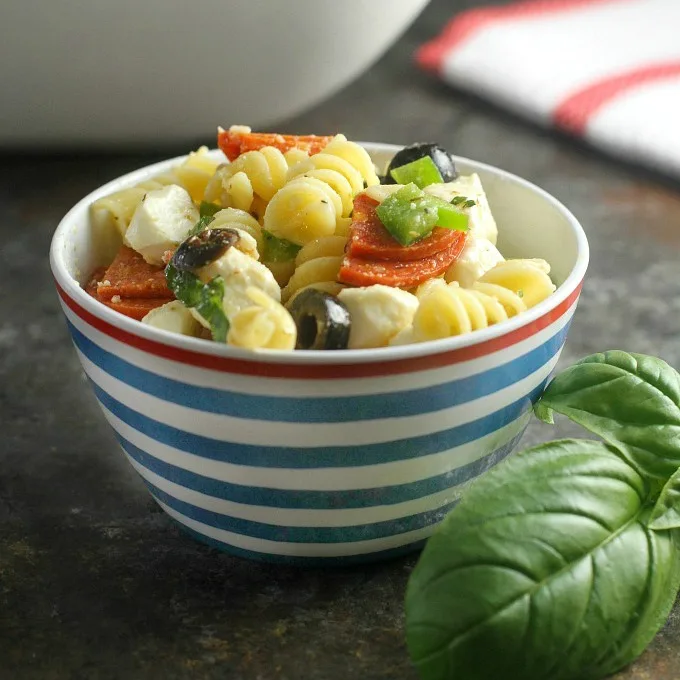 Pizza Pasta Salad
This pizza pasta salad with all your favorite pizza fixings is the perfect side dish to bring to a cookout or BBQ!
Ingredients
Pasta Salad
1 lb pasta, cooked according to package directions
1 green pepper, chopped
12 oz mozzarella ball pearls
12 oz pepperoni, chopped
2 6.5 oz cans of sliced black olives
1/4 cup basil, julienned
1/4 cup parmesan cheese, grated
Italian dressing
1/2 cup extra virgin olive oil
1/4 cup red wine vinegar
3 tablespoons Parmesan cheese, grated
1 teaspoon dried oregano
1/2 teaspoon garlic salt
pinch of red pepper flakes
liberal grinding of pepper
Instructions
Pizza Pasta Salad
Cook your pasta according to package directions, drain and allow to cool.
Add green pepper, mozzarella balls, pepperoni, and black olives to pasta.
Add dressing to pizza pasta salad; toss to combine.
Mix in julienned basil and grated Parmesan cheese.
Refrigerate until ready to serve.
Italian dressing
Whisk together olive oil, red wine vinegar, Parmesan cheese, oregano, garlic salt, red pepper flakes, and ground black pepper. Set aside until ready to use.
Nutrition Information:
Amount Per Serving:
Calories:

386
Total Fat:

31g
Carbohydrates:

6g
Protein:

19g
Enjoy! What is your favorite dish to bring to a cookout?
Updated recipe and photos on 5/31/17.