An easy family friendly meal, Chicken Parmesan Tenderloins served over Roasted Garlic Spaghetti features Bertolli Tomato and Basil sauce and delicious homemade taste!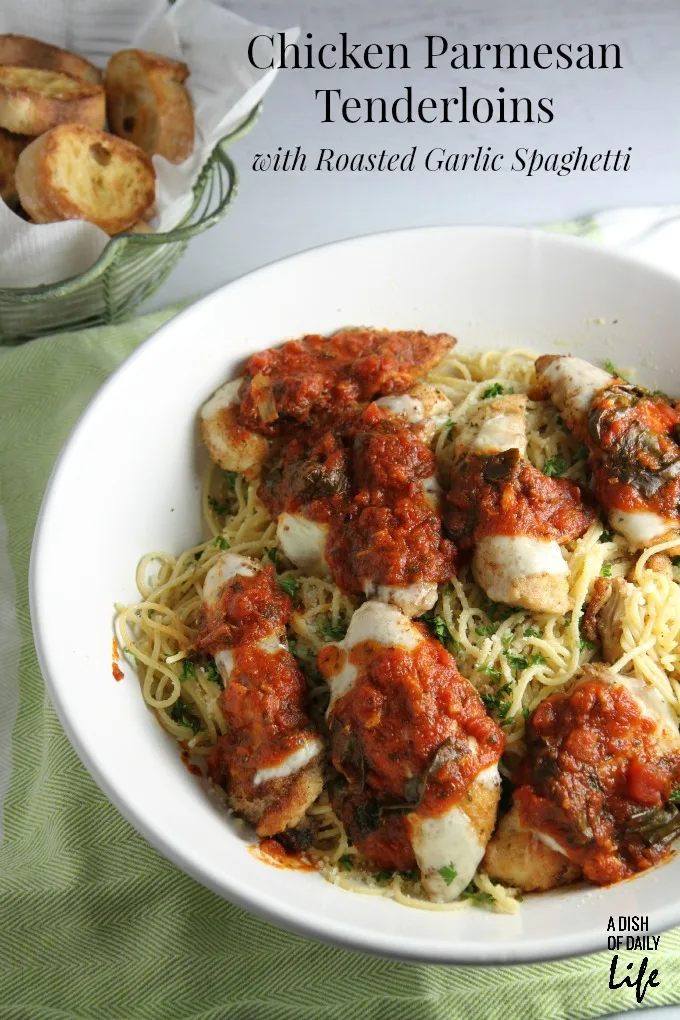 My husband is half Italian, and he comes from a family of big cooks.
Our family gatherings revolve around food. When we all get together (and there are a lot of us), we are constantly talking about what we're going to cook, and we spend a fair amount of time cooking, usually together. We like to eat, and we like good food!
Sometimes having a shortcut is nice though.
However, the one thing I won't sacrifice is taste.
This week has been a hectic week. We had my daughter's confirmation last weekend, and this weekend my son is graduating high school. My parents came in from out of town, and my sister in law is visiting my mother in law (who lives next door). My brother in law will be here in time for our son's graduation as well.
The other night I wanted to make a nice dinner for everyone, but I only had a limited amount of time.
Bertolli to the rescue!
With authentic taste and quality ingredients, Bertolli can bring homemade taste right to YOUR summer Tuscan table. Viva Bertolli!
Did you know Bertolli is celebrating 150 years of bringing Tuscany to your table? While you're enjoying time with family and friends this summer, take the opportunity to simplify your cooking routine without sacrificing taste. You can bring the things you love about Italy and Tuscany to your table with Bertolli!
This easy dinner comes together quickly, and no one will ever know that you didn't spend hours in the kitchen.
It got a thumbs up from my family, and I am quite sure it will get a thumbs up from yours as well!
Start by giving the chicken tenderloins a dusting of bread crumbs.
Pan fry them to get that crispy golden look. You can cook them all the way through in the pan, or if you'd like, you can finish cooking them in the oven. The internal temperature of chicken should register 165 degrees to be considered done.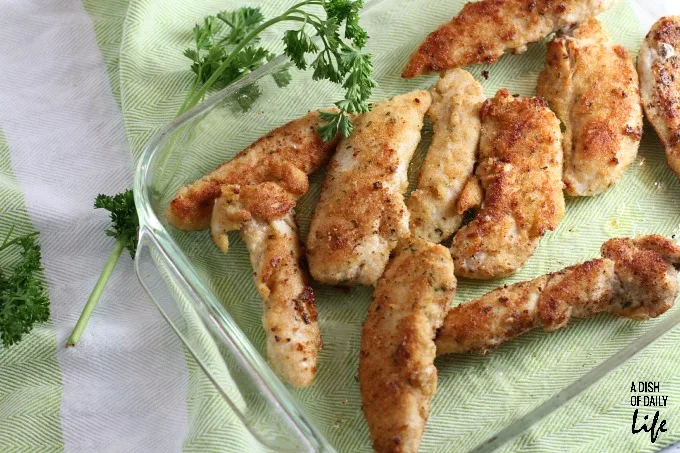 The roasted garlic pasta is so simple, but so good!
First you need to roast your garlic. I tend to keep roasted garlic on hand in my fridge, but if you're starting from scratch, here's what you do.
Cut the heads off the bulbs and place them in a square of tinfoil. Drizzle a little olive oil over the top, then wrap the tinfoil around each bulb so it is enclosed within the tinfoil. Place your garlic bulbs in a baking pan and roast them for about 45 minutes. Once they've cooled, you can squeeze the individual garlic cloves out. I store my extra garlic cloves in a jar covered with olive oil in the refrigerator. The olive oil you've stored them in is lovely to use as well, because it has that nice garlicky flavor!
Cook your pasta according to package directions, then toss with some roasted garlic cloves, some olive oil, chopped parsley and grated parmesan.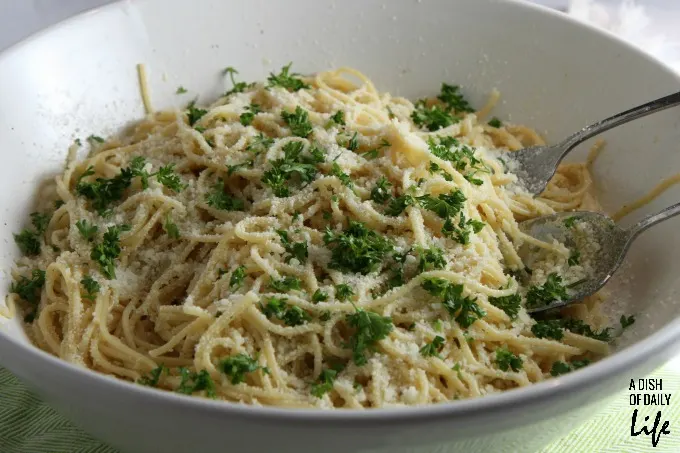 To finish off the chicken parmesan tenderloins, add some mozzarella cheese to the top of the tenderloins, warm them until the cheese melts, then spoon some delicious Bertolli Tomato and Basil sauce over the top.
I added a handful of fresh basil from the garden and four roasted garlic cloves to the sauce.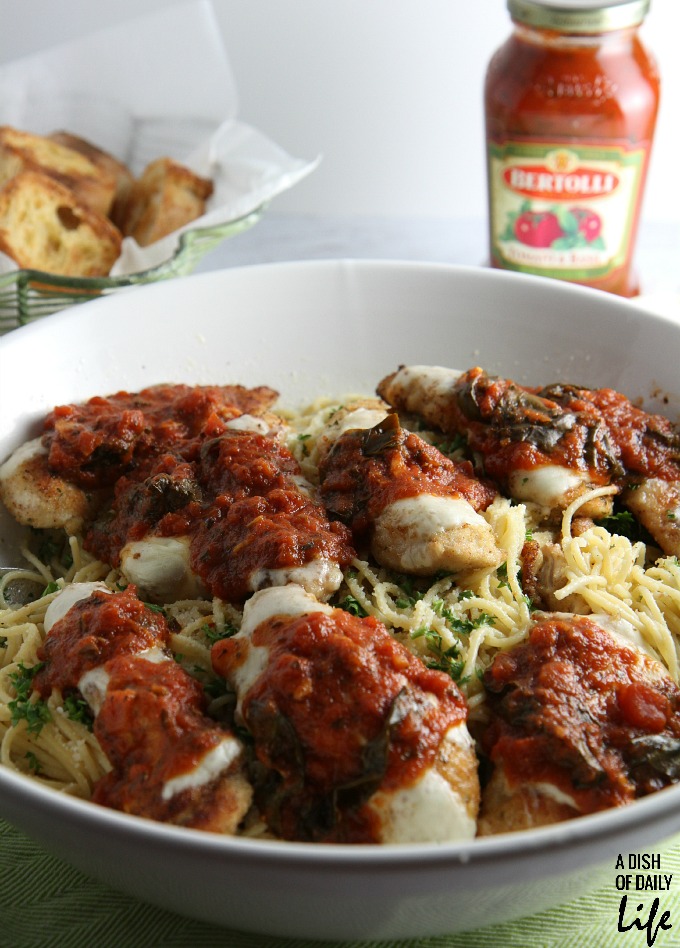 We also served some roasted garlic bread alongside of it. If you want to get even fancier, add my Four Cheese Roasted Garlic bread to the menu.
I'm quite addicted to roasted garlic, if you haven't already figured that out!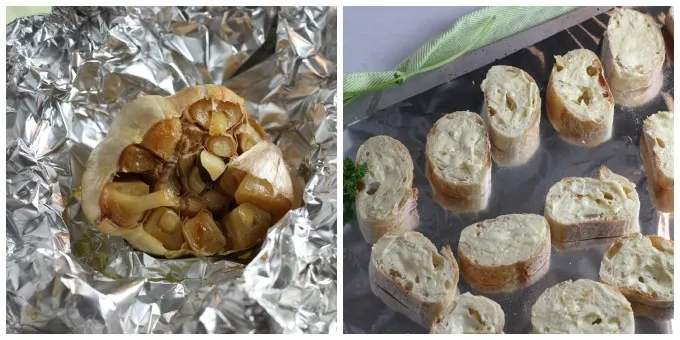 The table is set. We're ready to sit down outside to a delicious home cooked Italian meal!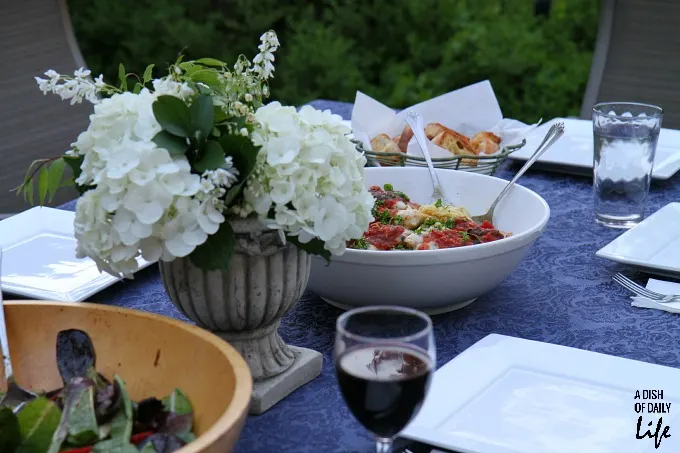 Ready for the recipe?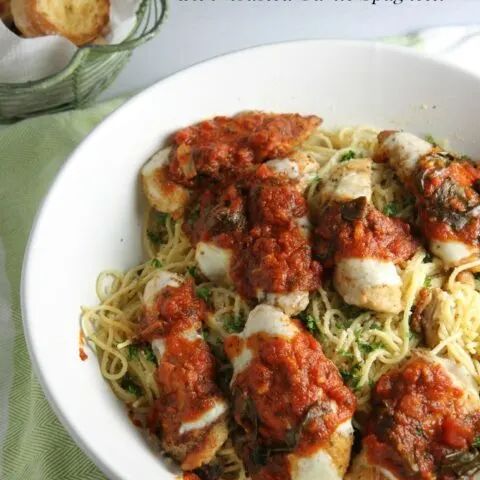 Chicken Parmesan Tenderloins over Roasted Garlic Spaghetti
This delicious family friendly meal is
Ingredients
Roasted Garlic Spaghetti
1 lb spaghetti
6 roasted garlic cloves
1/2 cup extra virgin olive oil (I used the olive oil that my roasted garlic cloves were sitting in)
1/4 cup parsley, chopped
1/4 cup Parmesan cheese
Salt and pepper to taste
Chicken Parmesan tenderloins
2 lbs of chicken tenderloins
1 cup Italian breadcrumbs
olive oil for frying
4-5 slices of deli mozzarella cheese
1 jar of Bertolli Tomato and Basil sauce
handful of basil, torn
4 roasted garlic cloves
Instructions
Roasted Garlic Spaghetti
Cook your pasta according to package directions.
Drain pasta.
Add roasted garlic cloves, extra virgin olive oil, chopped parsley, and Parmesan and toss until well mixed.
Add salt and pepper to taste.
Chicken Parmesan Tenderloins
Coat the chicken tenderloins with the bread crumbs.
Pan fry chicken.
Add to glass baking dish, and warm with mozzarella cheese over the top until melted.
In the meantime, heat Bertolli sauce. Once hot, add torn basil and roasted garlic cloves. Stir to mix.
Add chicken tenderloins to the pasta, and spoon sauce over the top.
If you enjoyed this recipe, please feel free to pin it for future reference!