Trying to eat healthier in the New Year? Add more colors to your diet with this Red Quinoa Salad with spinach and butternut squash! This delicious and nutritious winter salad is the perfect addition to your lunch or dinner menu.
Red Quinoa and Butternut Squash Salad
My daughter's favorite salad is a Lemony Kale Quinoa salad that I make just about every week. Sometimes it's nice to have a change of pace though, and I thought it might be fun to experiment with some new quinoa salad combinations. We haven't had kale at our farmer's market for about a month now, but we still have butternut squash and spinach.
I usually use golden quinoa when I make a quinoa salad but with all of the vibrant colors in this salad, I thought the red quinoa would make complement this particular salad nicely. The nutritional value of golden and red quinoa is the same…the only difference is in the color. I do find red quinoa to be slightly chewier and nuttier in flavor. It adds a wonderful texture to any dish!
If you're trying to eat healthier in the New Year, Village Harvest Rice and Grains are a wonderful addition to your diet. All of their products are natural and unprocessed, making it easy to stay on track with your New Year's resolutions. Plus their products are full of antioxidants, fiber and vitamins, which is important to me when making healthy meal choices for my family.
I started cooking with quinoa a few years ago. I've used it in dishes in the place of rice, and in soups as well, but today I am excited to share with you a colorful winter red quinoa salad recipe that includes spinach, roasted butternut squash, toasted pine nuts and feta, and is drizzled with a light orange vinaigrette.
Aren't the colors just beautiful?!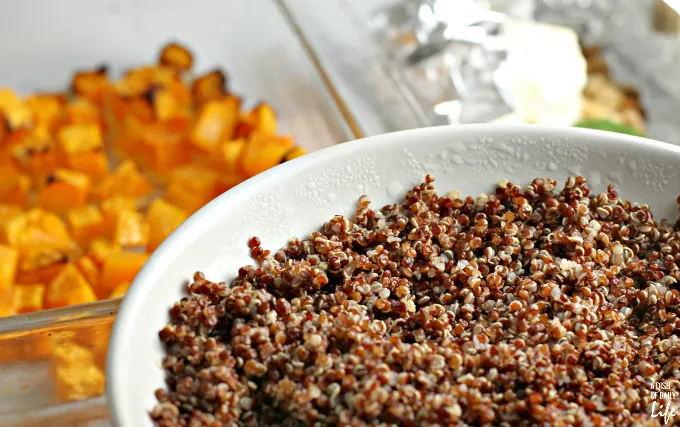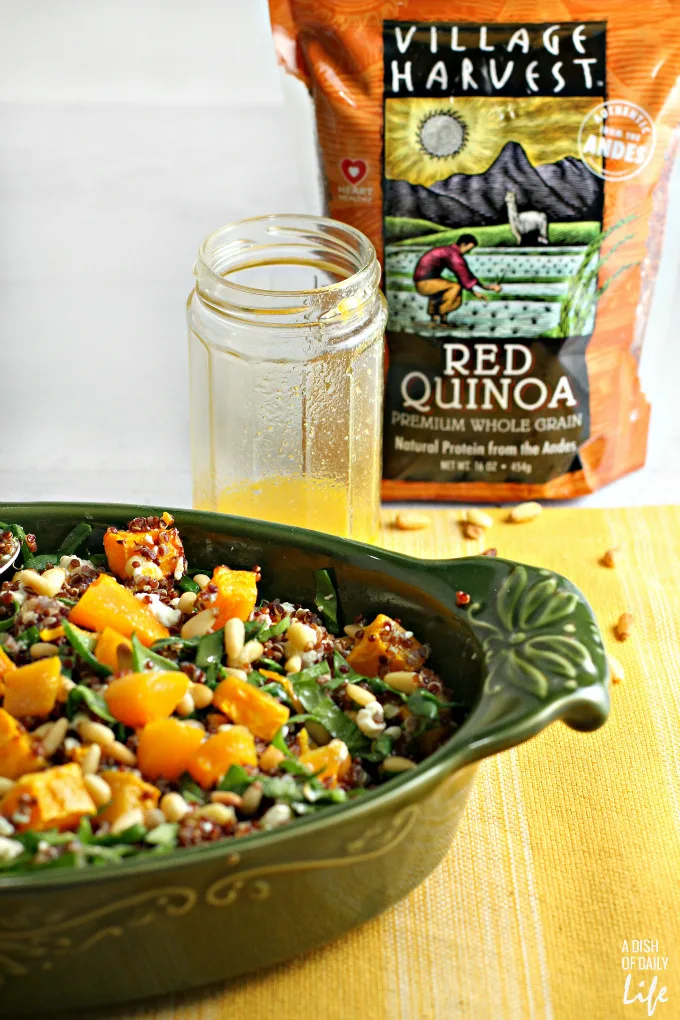 The salad itself was very simple to make. I cook my quinoa in a rice cooker. That way I don't have to worry if I get distracted…the rice cooker simply beeps when it is done, and keeps it warm. Allow your quinoa to cool though before you add it to your salad.
While your quinoa is cooking, you can start roasting your butternut squash. I peel mine, then cut it in half, scoop out the seeds, and cut into cubes. I drizzle the cubes with olive oil and bake them at 450 degrees for about a half hour or until fork tender, flipping the pieces about halfway through. You will also want to let the butternut squash cubes cool before adding them to the salad.
While the quinoa and squash are cooking, cut your spinach into ribbons and toast your pine nuts.
Once everything is cool, combine all of your ingredients and drizzle your orange vinaigrette over the top. Be gentle when tossing the salad because that butternut squash is tender, and you want it to maintain its shape.
The orange vinaigrette is simply a mixture of orange zest, honey, Dijon mustard, sea salt, orange juice and extra virgin olive oil.
My husband added beets to the salad after the fact, and really liked that as well. So if you'd like, add beets too! (You'll want to cook and cube those as well.)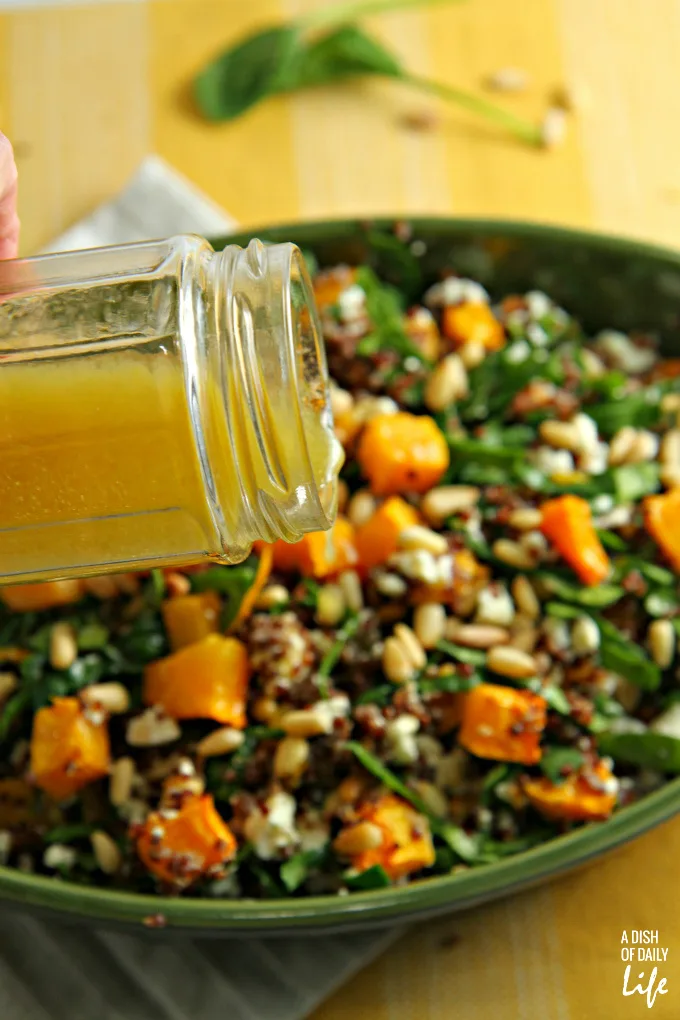 Yield: 4-6
Red Quinoa and Butternut Squash Salad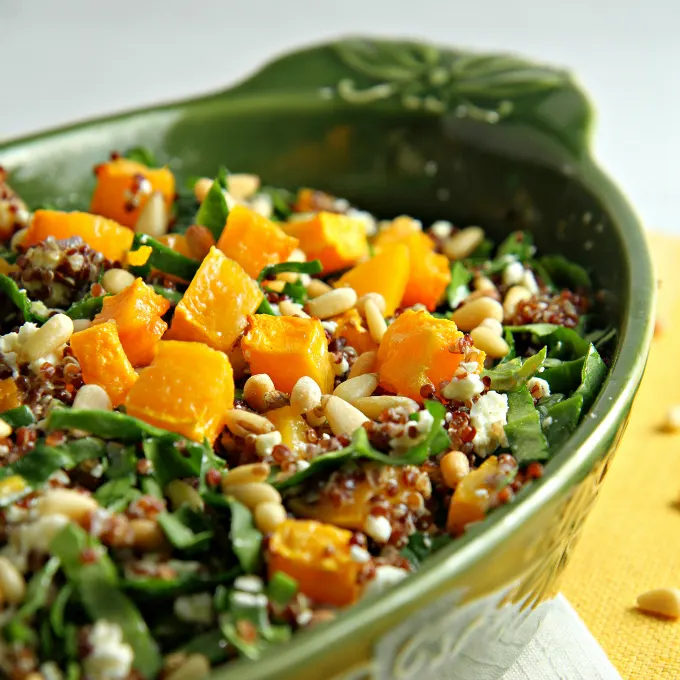 Trying to eat healthier in the New Year? Add more colors to your diet with this Red Quinoa Salad with spinach and butternut squash! This delicious and nutritious winter salad is the perfect addition to your lunch or dinner menu.
Ingredients
Salad
1 cup Village Harvest Red Quinoa, prepared according to package directions
1 heaping cup spinach, cut into ribbons
1 heaping cup roasted butternut squash
1 cup feta cheese, crumbled
1/2 cup pine nuts, toasted
Orange Vinaigrette
1 teaspoon orange zest
2 teaspoons honey
1 teaspoon dijon mustard
liberal grinding of sea salt
1/2 cup orange juice (freshly squeezed is best)
1/4 cup + 2 tablespoons of extra virgin olive oil
Instructions
Salad
Prepare red quinoa according to package directions.
Peel and cube a small butternut squash, toss with a couple tablespoons of olive oil, and roast for about a half hour until fork tender, at 450 degrees. (I did have extra butternut squash cubes, which I saved to use in another dish)
Cut spinach into ribbons.
Toast pine nuts.
Wait for quinoa and butternut squash to cool before assembling the salad.
Mix together quinoa, butternut squash, spinach, feta and pine nuts.
Toss with orange vinaigrette. Add slowly...you may have extra depending on how light or heavy you like your salad dressed.
Orange Vinaigrette
Whisk together the orange zest, honey, dijon mustard, salt.
Add the orange juice and whisk together again.
Continue to whisk, and add the olive oil slowly.
Be sure to check out the
store locator
on the Village Harvest website to learn if their rice and grain products are sold in a store near you! If you haven't yet tried red quinoa, add it to your grocery list.
I was selected for this opportunity as a member of Clever Girls and the content and opinions expressed here are all my own.
I hope you enjoyed this red quinoa salad recipe! Feel free to pin or share.