Roasted garlic gives an added dimension of flavor to this spinach and artichoke dip appetizer recipe!
The Food Blogger Central group, created by Nagi of RecipeTinEats, and of which I am a member, recently decided to do a Blog Hop. Each of us was assigned a blogger to get to know better, as well as creating a recipe from their blog.
The blog I was assigned was Kevin is Cooking. Kevin does have a culinary background, but he also states that he thinks that anyone can learn to cook and bake with practice. I truly believe that he is right. I feel like cooking is one of those things that you can continue to hone your skills over time, and improve.
Kevin calls his style of cooking International Modern Comfort Food. Sounds delicious to me! When you visit Kevin's website, you will be wowed by his beautiful pictures and fabulous recipes. I thought about making his Quinoa Chicken Stuffed Poblano Chiles with Green Chile Cream Sauce…you all know how much I love Mexican food! And then I considered making the Cherry Pie Fries with Sour Cream Glaze, because how amazing do those look?!
In the end though, I chose to make his Roasted Garlic, Spinach and Artichoke Dip, because I needed to make an appetizer for Easter dinner, and because I was intrigued by the addition of roasted garlic.
If you have never roasted garlic, you definitely need to try it. It is so easy to do, and when I do it, I always make extra because you can use it in so many other ways. In fact, coming up soon, you can expect to see a recipe for my Cheesy Roasted Garlic Bread.
But I never thought to use in spinach and artichoke dip. What a lovely addition!
I find it hard to keep artichoke hearts in house. My kids snack on the oddest things. If I buy artichoke hearts for a recipe, there is a good chance that they'll get eaten before I get a chance to use them. So for this recipe, I went shopping the day before, and I hid my artichoke hearts. Have you ever heard of anything so absurd? And yet it's true.
This was our first Easter of my married life without my father in law doing the cooking. He loved to cook. And it was always a meal to remember…he was an amazing cook. This year my husband's brother and his wife and family came for Easter, and between them, my mother in law, and us, we shared the cooking. We were in charge of the scalloped potatoes, the salad dressing and an appetizer.
I took the ham bone home afterwards and made this delicious Ham Bone Soup with Great Northern Beans and Kale for us all.
But back to the recipe at hand…
Roasted Garlic, Spinach and Artichoke Dip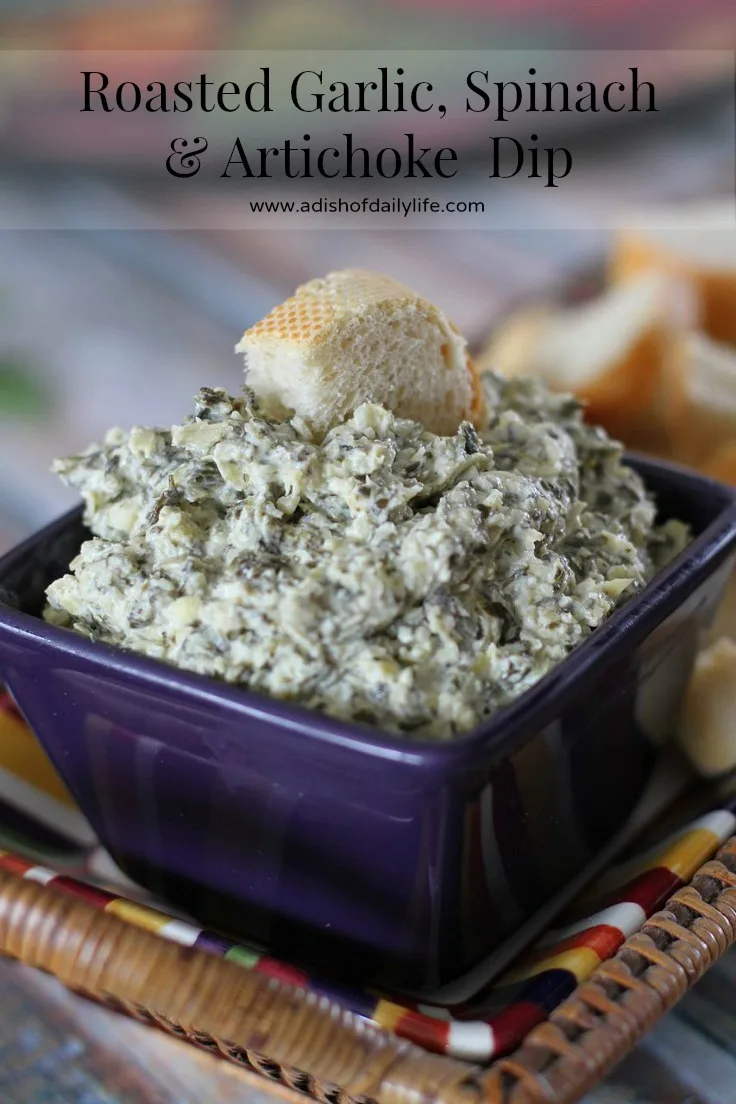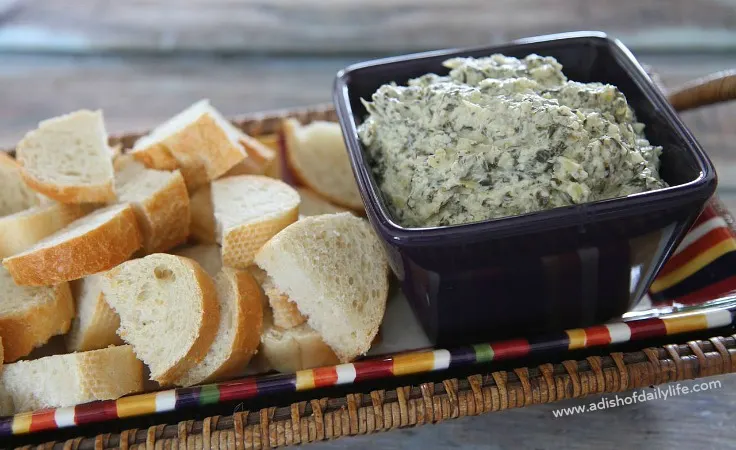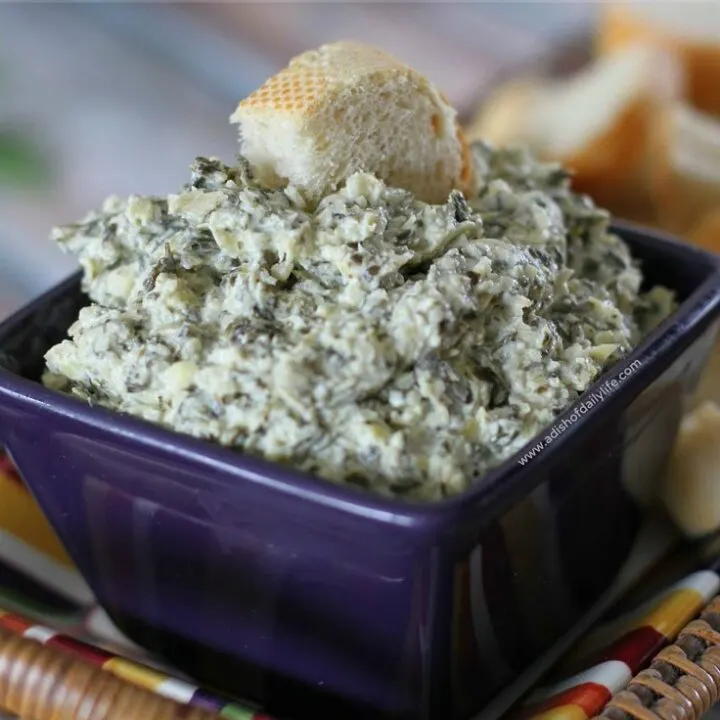 Roasted Garlic, Spinach, and Artichoke Dip
Cook Time:
1 hour
5 minutes
Total Time:
1 hour
15 minutes
Roasted garlic gives an added dimension of flavor to this spinach and artichoke dip appetizer!
Ingredients
8 cloves of roasted garlic
1 lb of fresh spinach, cooked
1 tablespoon olive oil
1 small shallot, chopped
8 oz cream cheese
8 oz sour cream
1/2 cup milk
1 tablespoon red wine vinegar
3 strips of zest from 1 lemon
3/4 cup grated parmesan cheese
32 oz artichoke hearts, drained and chopped
Instructions
Roast garlic
Preheat your oven to 350 degrees.
Slice the head off of your garlic bulb.
Put garlic bulb in a piece of foil and drizzle olive oil over the top.
Wrap foil around garlic bulb;
Place in aluminum pan and roast for 45 minutes.
Once cool, squeeze garlic cloves out.
Store extra garlic cloves in a jar, covered with olive oil. Refrigerate extra cloves for later.
Dip
In a skillet, saute spinach with a little olive oil until wilted. Drain excess moisture.
Using a vegetable peeler, peel three strips of lemon zest from lemon. Save lemon for another recipe.
In a food processor, combine shallot, cream cheese, sour cream, milk, red wine vinegar, parmesan cheese, and lemon zest. Pulse several times to roughly chop.
Add the artichoke hearts and process. You want your mixture relatively smooth but still with some chunkiness to it.
Add your cooked spinach and pulse several more times.
Pour your mixture into a greased 9 x 9 baking dish; bake for 20 minutes.
Remove from oven and spoon into a bowl. Serve with crusty bread or crackers.