Yesterday a high school cross country runner from my town was injured when she was hit by a car during a training run. She was running against traffic, when she was hit by the side view mirror of a truck. The driver of the truck was cited for not exercising proper care to avoid a pedestrian. As a parent, my heart just dropped when I heard the news. Thankfully the young woman is only injured and not worse, but her injuries are serious.
Earlier this month, a runner and cyclist were killed in two separate accidents in Oklahoma City. In June, two runners were injured when a man lost control of his car in North Carolina.
These types of accidents are all too frequent.
As a runner, this is something I worry about on a constant basis. I can't tell you how many times I have come close to being hit on the roads…just a couple days ago, in fact. I prefer to stay on the trails most of the time nowadays because there are too many drivers out there driving too fast, not paying attention. A lot of the roads near where I live don't have much of a shoulder, and there are plenty of blind corners as well. I run against traffic, but I do occasionally cross to the other side going with traffic when going around those blind corners, so I can at least be seen.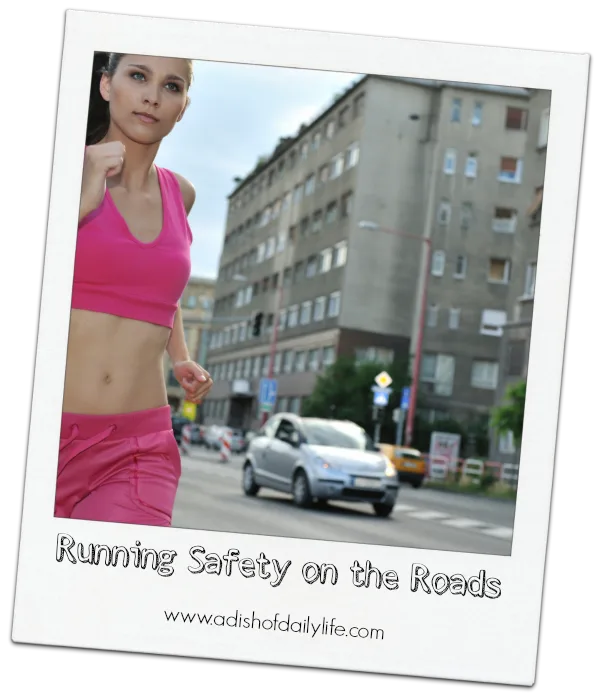 Nowadays there's a lot of distracted driving, so runners really have to be more aware than ever. I just wrote a post on runner's safety not too long ago because I got spooked in the woods by a feeling of being watched. (Update on this…I found out there is a big fox living right in that area, so that is probably what I was sensing! Mystery solved, and I feel so much better!)
But back to the discussion at hand…today I am going to update my list on running safety tips, adding to my own list, based on suggestions from my readers.
Be aware of your surroundings. Don't wear headphones that block out the noise around you.
Run with someone. Run with a friend or a dog. There is safety in numbers, and then you have someone who can go for help in an emergency. Ok, maybe your dog won't go for help, but I bet he will stay right by your side.
Bring a phone. If you are injured, you may be able to call for help. And if you get lost, you can look up directions home.
Bring an ID. If you are injured badly, it helps if there is a way to identify who you are. Check out RoadID.
Tell someone where you are going and when you'll be back. If you don't return within a reasonable amount of time, they'll know which route to take to look for you.
Run against traffic. This gives you more time to react (because you can see in front of you) to a fast moving car or a driver that is distracted.
Run single file when there is traffic. Sharing the roads is the polite (and safest) thing to do.
Wear reflective gear and bright clothing. Make yourself as visible as possible.
Be extra cautious. Sometimes drivers are tired and distracted. You need to be able to anticipate things that could happen, like a driver going through a stop sign.
Of course, sometimes you can follow all the running safety tips in the world, and it still doesn't matter. A car is going to win every single time.
As drivers, we can all try to be more conscious of the runners, cyclists, and walkers on the road.
We can stop driving tired or distracted.
We can slow down.
We need to do this. There are lives at stake here!