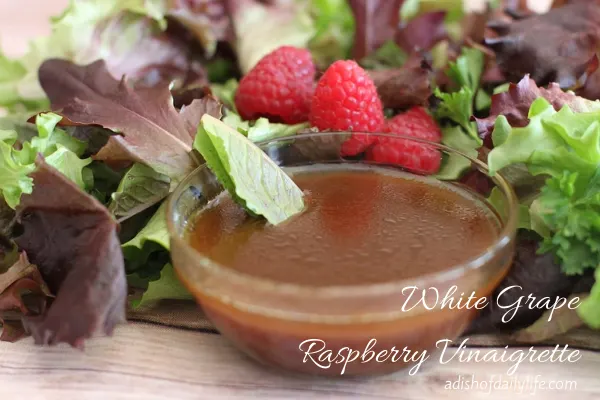 My husband and I usually make our own salad dressings. Homemade salad dressings are very easy to make, plus they don't have all the extra additives and preservatives that you often find with store bought dressings. All you need is extra virgin olive oil, a high quality vinegar, and then you can play around with the rest.
The other night I was in the mood for a sweet salad dressing. I usually use honey, but a few years back I had a salad dressing made with pink lemonade concentrate for the "sweet" and I loved it. Of course I don't have that recipe, nor did we have pink lemonade concentrate on hand, but we did have white grape juice concentrate, so I decided to wing it.
Taking a look through my oil and vinegar cabinet, I came up with a raspberry balsamic vinegar. I have a thing for vinegars…we have quite the stash. We have a local olive oil and vinegar shop which is quite convenient, but even before the Nutmeg Olive Oil Company came to town, I was buying my specialty vinegars and olive oils online. (If you don't have someplace local though, check out the Nutmeg Olive Oil Company…I have found their prices to be very reasonable, their quality wonderful, and they have a great variety. And they do ship! I will gladly share my favorites if you want to know.)
This simple fruity salad dressing recipe is great with a spring mix. I hope you enjoy it as much as my family did!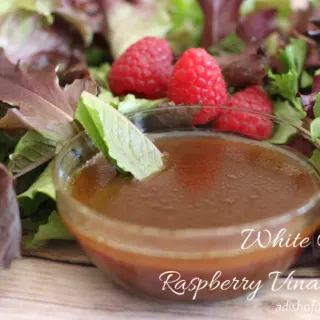 White Grape Raspberry Vinaigrette
Ingredients
1 teaspoon dijon mustard (I used Grey Poupon)
1 tablespoon white grape juice concentrate
1/2 cup extra virgin olive oil
1/4 cup raspberry balsamic vinegar
Instructions
Whisk together the dijon mustard and white grape juice concentrate for a starting base.
Add extra virgin olive oil and raspberry balsamic vinegar; whisk together.