Frustrated by the big drop in number of fans that Facebook is showing your posts to?
We've all gotten used to what amounts to free advertising on Facebook. However, Facebook is a business. It was only a matter of time before they started asking us to pay to get our blogs (and small businesses) in front of more people.
It's not a novel idea. Most businesses pay for advertising. If you're a small business, you may want to consider paying for some advertising on Facebook. In fact, I recommend that you do. But if you're a blogger, you probably don't have much (if any) of a marketing budget.
So I'd like to offer you another solution.
Using Facebook Interest Lists can benefit bloggers and small businesses
Setting up a Facebook Interest List of your favorite pages allows you to organize your feed to see the posts most important to you. But how does that get YOU more engagement?
Think in terms of networking…
When your network (think blogging tribe, business networking group) adds your page to their Interest lists, Facebook will show them the best posts from that list in their main feed.
Note that what Facebook deems the "best posts" may not be the ones you consider to be the "best posts." If you want to see all the posts from your Interest List, all you have to do is click on the Interest List itself.
If your network is now able to easily see all of your posts, it's much easier to like, comment, and share.
The more people that like, comment and share, the more important Facebook deems your post, and the more people Facebook will then show that particular post to.
When someone shares your post, they are sharing with their own community. Some of those new people may "Like" your page and join your community of followers as well.
See how nicely that works? And you didn't even have to pay to boost your post!
If you are part of a blogging tribe or business networking group, set up a Facebook Interest List that the entire group can follow, and ask everyone in the group to make using it (liking, commenting and sharing) part of their regular Facebook routine. You'll see the numbers of people who see your posts go up! This is an easy way to help every member of your group with their Facebook marketing, without breaking the bank.
[Tweet "Use Facebook Interest Lists to drive growth and engagement to your FB page…here's how! #bloggers"]
Ready to set up an Interest List?
When you Like a page, click the drop down menu, and click on Interest Lists.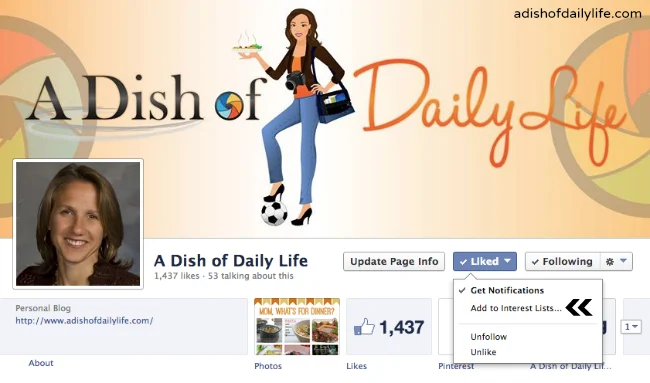 Click Add to Interest Lists
Pick New Lists.
Click Next and it will prompt you to name your list, and select the privacy level.
You can then add more Pages or People to your list.
Once the list is created, you can also add more Pages by clicking on the list itself and then clicking on Manage the List.
If you're using this with your blogging tribe or business networking group, simply use the Share button, so that they can follow it as well.
When you create or subscribe to a list, it will show up in the Interests section down at the bottom left hand side of your home page. However, you can add specific lists to your Favorites as well.
You could organize your Interest Lists in a variety of ways: business networking group, blog group, topic (ie: recipes, DIY), even your most important blog commenters.