This Crock Pot Sausage Cheese Dip is an easy-to-make crowd pleaser for game day! Cook it in your slow cooker for an hour, and serve with chips and veggies.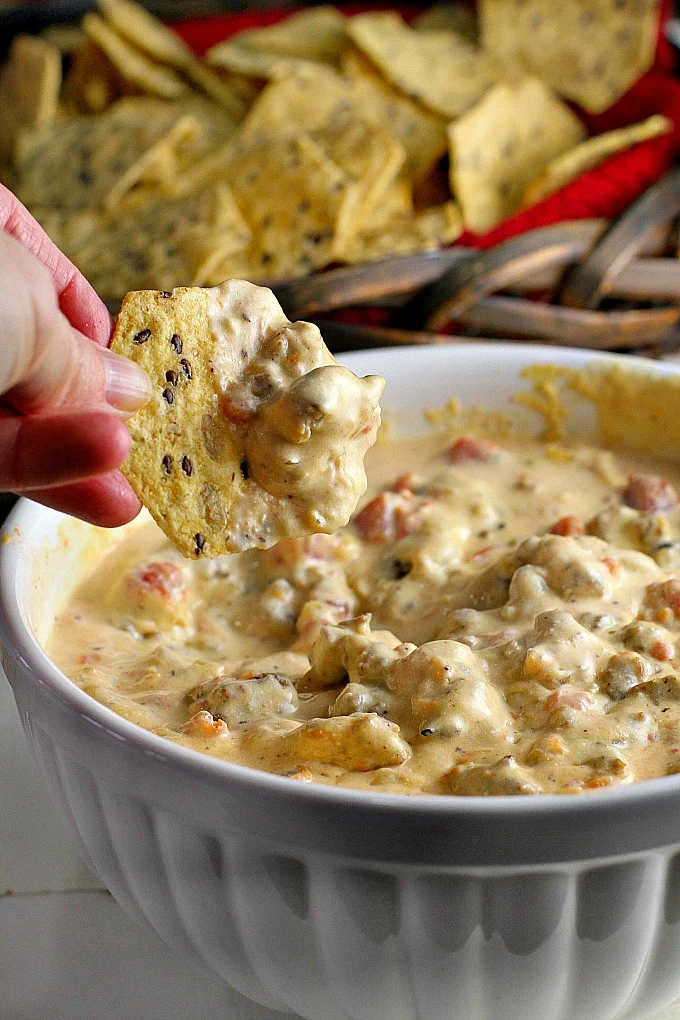 SAUSAGE CHEESE DIP
It's party time! Are you ready for the big game this weekend? I know I am!
My teams are out, but honestly, one of the best things about the big game is game day food! Don't you agree?
But creating a game day spread can take some time to put together. That's why I like to keep it simple. So I'm sharing a quick and easy Sausage Cheese Dip recipe with you today that is sure to be a big hit with your party guests!
There is so much flavor packed in the Johnsonville Brats that I used in this dip recipe that you won't need any extra spices. Seriously…you can just skip the spice section in the grocery store!
We cook with Johnsonville Sausage all the time here. Have you tried the Rigatoni Salsiccia e Rapini recipe I have on the blog? It is SO good! My family was raving about it. This is really good sausage, my friends!
But let's talk about game day recipes…specifically this yummy Sausage Cheese Dip.
My dip is really easy to make, and only takes a few minutes of prep work. You'll brown your sausage, and then make a quick roux with the butter, veggies and flour in the same pan. After that, you simply throw all your ingredients in the crockpot for an hour and you're done.
I just love easy dip recipes — don't you?! More time to spend with family and friends!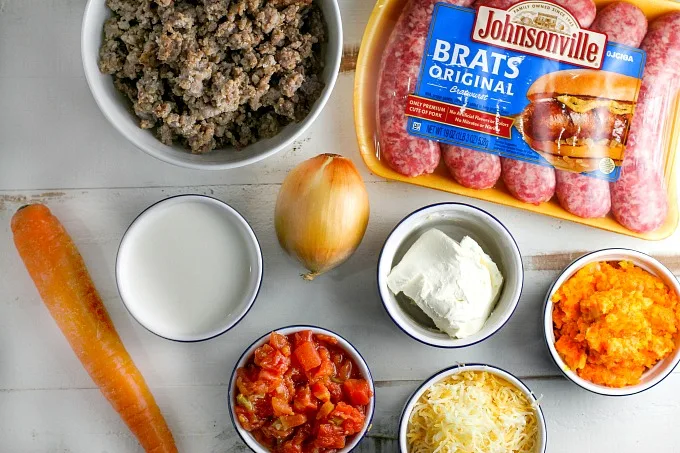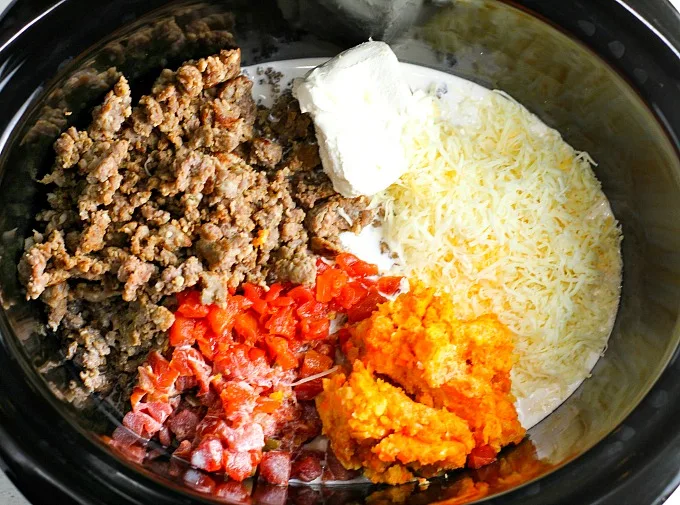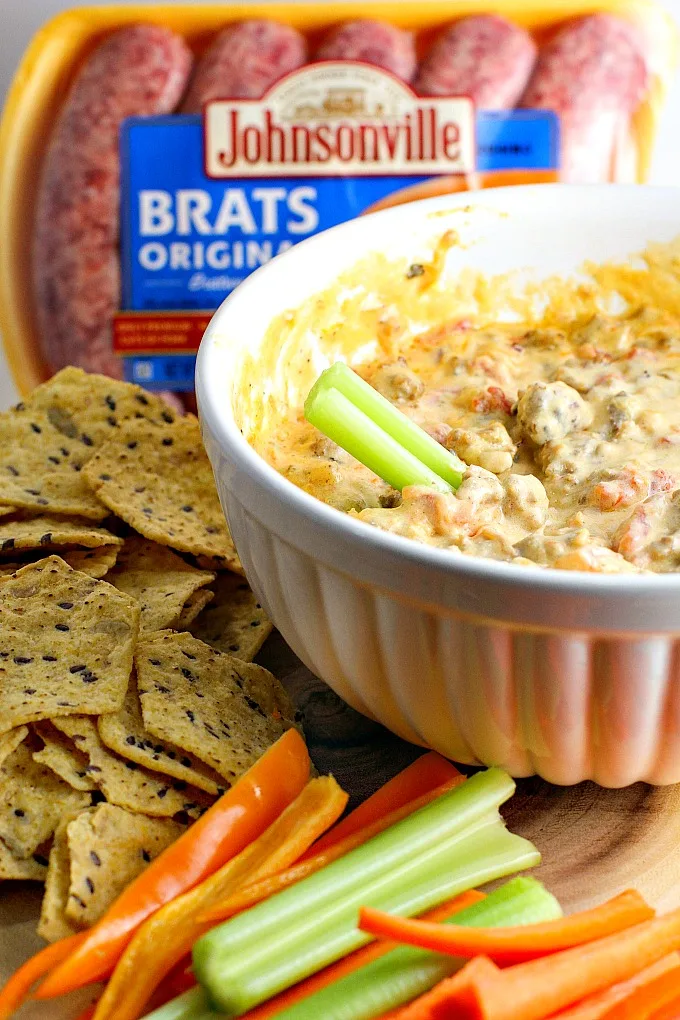 Feel free to play around with the recipe as well. You can skip the roux if you like, but I like the thickness it gives the dip as well as the flavor from the veggies. And it only takes a few minutes more after you brown the sausage. You can leave out the tomatoes if you like…I made it without them the other day, and the dip still tasted delicious.
This Sausage Cheese Dip is great with both chips and vegetables. I also stuffed mini peppers with the finished dip, and then baked them for a few minutes. Those were a big hit too. This is definitely a versatile dip recipe.
If you're trying to plan your Game Day spread, you're going to want to check out Johnsonville's new online reality show and cooking competition, The Sausage Dome. Social celebs and enthusiasts are sharing their best game day sausage recipes with six Johnsonville employees known as the "The Sausage Six," competing to have their recipe become one of Johnsonville's official Game Day recipes! Visit The Sausage Dome to see who has the winning recipe and to find great sausage recipes to help you plan your own game day party — besides this Sausage Cheese Dip I'm sharing with you today, of course!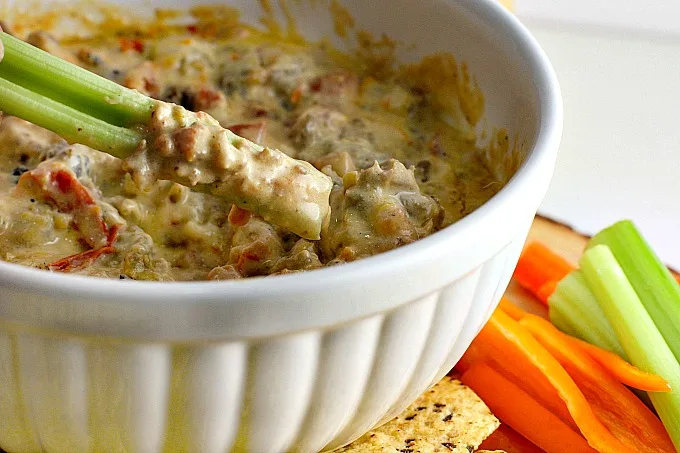 Ready to get cooking?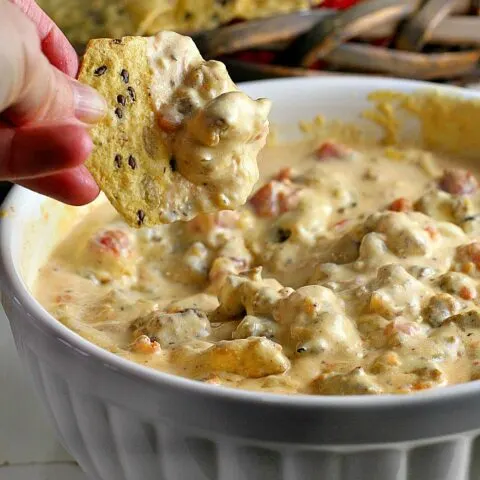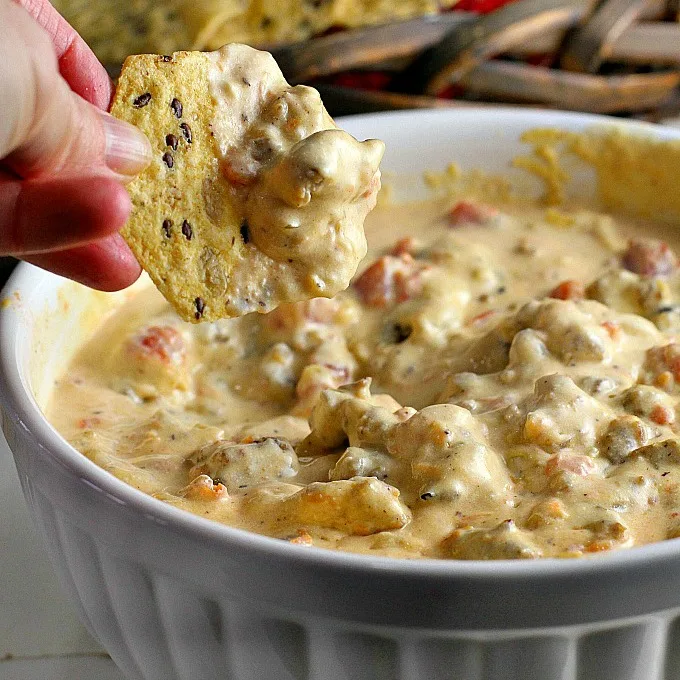 Sausage Cheese Dip
Total Time:
1 hour
15 minutes
This Crock Pot Sausage Cheese Dip is an easy-to-make crowd pleaser for game day! Cook it in your slow cooker for an hour, and serve with chips and veggies.
Ingredients
1 package Johnsonville Brats
4 tablespoons butter
1 carrot, chopped
1 small onion, chopped
1/4 cup flour
2 1/2 cups cheddar cheese, grated
4 oz cream cheese
1 10 oz can of RO*TEL diced tomatoes and green chilies
1 1/2 cups light cream
Instructions
Remove sausage from casings; brown sausage.
Blend your chopped vegetables in a food processor.
Melt the butter in a pan and add your vegetables, stirring frequently.
Add your flour slowly as to form a roux, stirring as you add it.
Add sausage, vegetables and roux, grated cheese, cream cheese, tomatoes, and light cream to crockpot and cook on high for 1 hour.
Nutrition Information:
Amount Per Serving:
Calories:

341
Total Fat:

26g
Carbohydrates:

10g
Protein:

18g