Welcome back to #FoodieFridays! We like to think this is one of the best places to share your favorite recipes, and find new ones to try!
I always love seeing what you all link up with us each week, and I try to share as much as possible on Twitter, Facebook, Pinterest, G+ and even StumbleUpon! Watch for the hashtag #FoodieFridays to see what I am sharing.
If you stop by my Facebook page and leave me link and # of a recipe you linked up, I'll be sure to give you a shout out on some sort of social media.
Of course, we also pin EVERY recipe that gets linked up to the Foodie Fridays board, and we pin our features to a very special board for Featured Recipes only! Feel free to share your favorite recipes (limit of 3) from your blog each week.
We'd really love it if you'd help us spread the word about our party! It has grown tremendously over the last few months and we know we have YOU to thank! Tweet us. Share another recipe from the link up and add the hashtag #FoodieFridays. Let's build a community here!
As we've been discussing, we are going to be starting a Facebook community as well, so if you are interested in joining us, please message me at [email protected]. I've started creating the page and I will be adding people soon.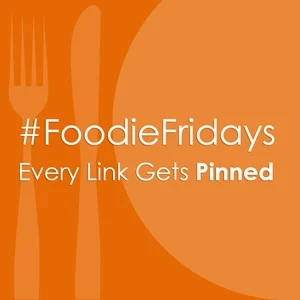 [Tweet "We love to SHARE and PIN your recipes at #FoodieFridays! #linkparty"]
Before we get started with the party, I have a favor to ask. The other day I shared a collection of soup recipes on BuzzFeed Community for National Soup Month. I would love for you to check it out and give us a heart if you like the collection. We would also greatly appreciate any comments or shares, if you can spare a minute to help us get the word out!
Now for my features!
"Shrimp is the fruit of the sea. You can barbeque it, boil it, broil it, bake it, sauté it. There's, um, shrimp kebabs, shrimp creole, shrimp gumbo, pan fried, deep fried, stir fried. There's pineapple shrimp and lemon shrimp, coconut shrimp, pepper shrimp, shrimp soup, shrimp stew, shrimp salad, shrimp and potatoes, shrimp burger, shrimp sandwich…That's, that's about it." ~ Bubba Blue (actor Mykelti Williamson)
I bet you can guess what I am featuring this week!
There were so many shrimp recipes that caught my eye this past week and given that shrimp is one of my favorites, I couldn't NOT share!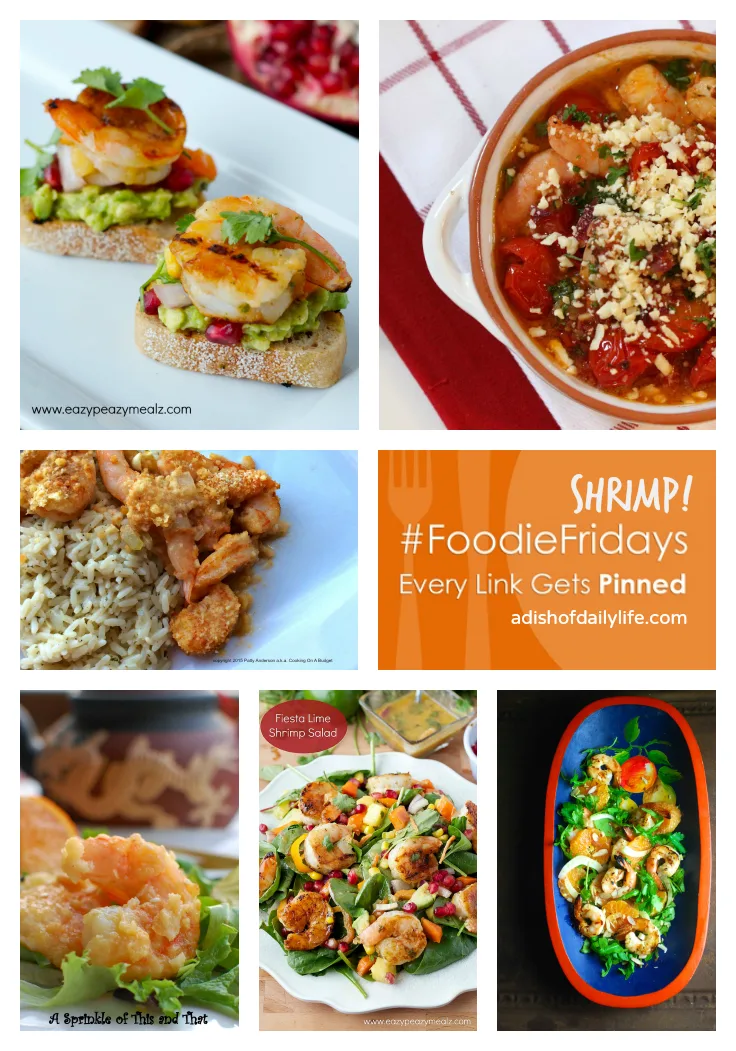 From top to bottom, left to right:
Grilled Shrimp Crostini from Eazy Peazy Mealz
Shrimp Saganaki from Simply Fresh Dinners
Baked Shrimp Casserole from Cooking on a Budget
Sesame Orange Shrimp from A Sprinkle of This and That
Fiesta Lime Shrimp Salad from Eazy Peazy Mealz at Love Bakes Good Cakes
Grilled Shrimp, Citrus and Fennel Salad from Three Beans on a String
As always, if you'd like to pin this holiday starter collection, feel free, but if you'd like to pin an individual recipe, please visit the blog where it lives and pin it from there!
[contextly_sidebar id="dB90dfSNnW66DACNWVB73TqVGMJhtd1K"]
We're not really a rules-type link party. But here's what we do ask.
1. Link up your favorite recipes from your own blog. We'd prefer that the recipe lives on the post that you share, but roundups are also fine as long as they include links to the recipes. Please DO NOT link a post without a recipe and we would appreciate you linking up different posts week to week …we reserve the right to delete these.
2. We'd be truly grateful if you recommended our party to other food blog friends so others can join in the fun!
3. It's not a requirement of course, but if you can, try to visit another link or two and leave a thoughtful comment. Give someone a shout out on social media. Use the hashtag #FoodieFridays…we're trying to grow a community for all of us, and it's always nice to make new friends.
4. If you'd like to include our button on your sidebar or your link party page, or even a link back on the individual post you linked up, we'd love it, but again, there is no requirement to do so.
5. We'd love to connect with you on Pinterest too! If you follow me, let me know, I will gladly follow back!
Follow A Dish of Daily Life / Michelle Nahom's board Foodie Fridays on Pinterest.
[inlinkz_linkup id=483106 mode=1]