This hearty Slow Cooker Spicy Pork Green Chile Stew is perfect for your game day party crowd or for a weeknight supper. Follow the recipe as is when making it for dinner, and you'll have enough to freeze for leftovers!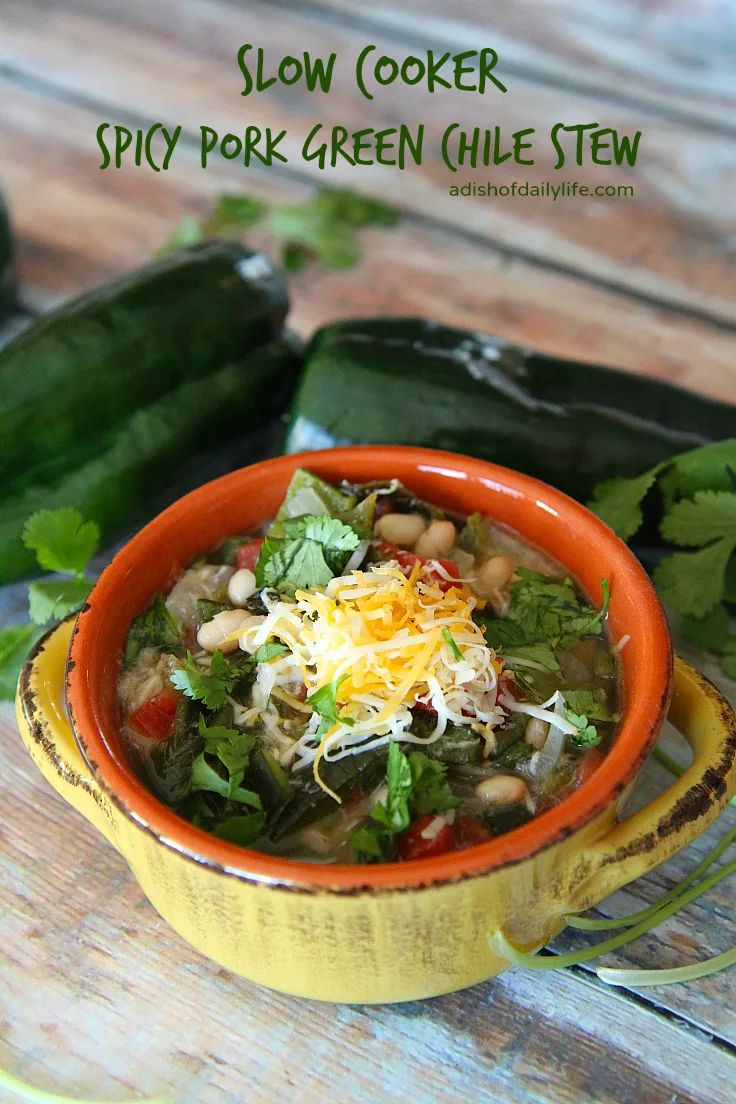 I've got something fun for you today…a tailgate party hop with 22 great party recipes, and a great meal that is perfect for game day parties and weeknight dinners.
First I want to talk about my green chile stew as a dinner. I'm really trying to be budget conscious and more efficient this year. One way I'm doing that is with my meal planning. I'm doubling recipes and freezing half for those nights when we're pressed for time, and I'm also choosing to make things that I can use for two different dishes.
This is one of those recipes that it's really easy to do either thing.
The last couple times I've made my Slow Cooker Spicy Pork Green Chile Stew,
Because I don't have a good lighting set-up for night, I put aside a bowl of the stew to photograph in the morning, and then one child, who shall go unnamed, ate it for a late night snack.
So I made it again last week and made sure I had enough daylight to photograph. This time I used all of the meat for the pork green chile stew, and we froze half of it for dinner another night.
And now I've got it coming up on the menu again! As I mentioned before, it really is the perfect game day recipe. You're cooking it in the slow cooker so it's easy to transport if you're headed to a friend's house, and if not, it just sits on your counter staying warm. It's not one of those recipes that requires much attention.
What it does require though is a lot of cooking time. Your pork is going to take 12-14 hours in the slow cooker. But all you are going to do is follow a couple minutes worth of instruction, and then leave it be.
Even the green chile stew part of it is mostly passive cooking time. Obviously you will need to roast your Poblano peppers. The link that I'm sharing here from This Gal Cooks is pretty much the same way we roast our peppers, although I've never used cooking spray…I wonder if brushing it with a light oil would help. Peeling the roasted peppers is the most work you are going to do. Other than that, you're just chopping an onion and some cilantro, mincing some garlic, and opening a few cans. Your prep time is very minimal. You'll have plenty of time to sit down and have a glass of wine.
Once you've got that pork cooked and shredded, just leave it in your slow cooker and add the other ingredients to it. Then you're going to let it cook some for a few more hours.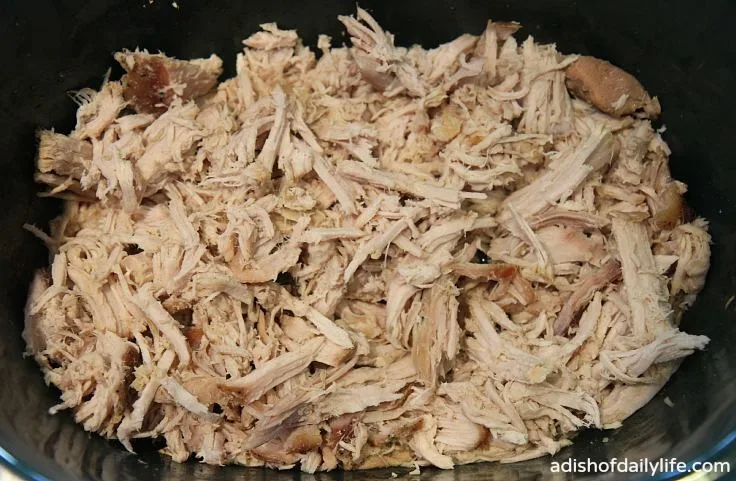 This is what it's going to look like.
And here's the finished dish!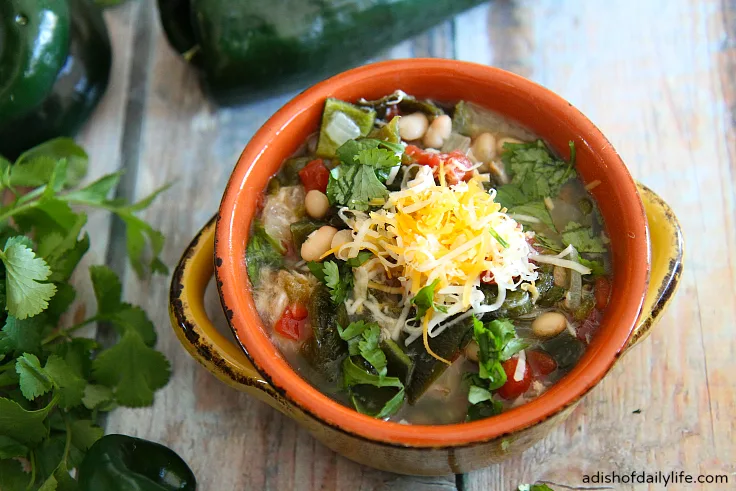 Doesn't that look good?!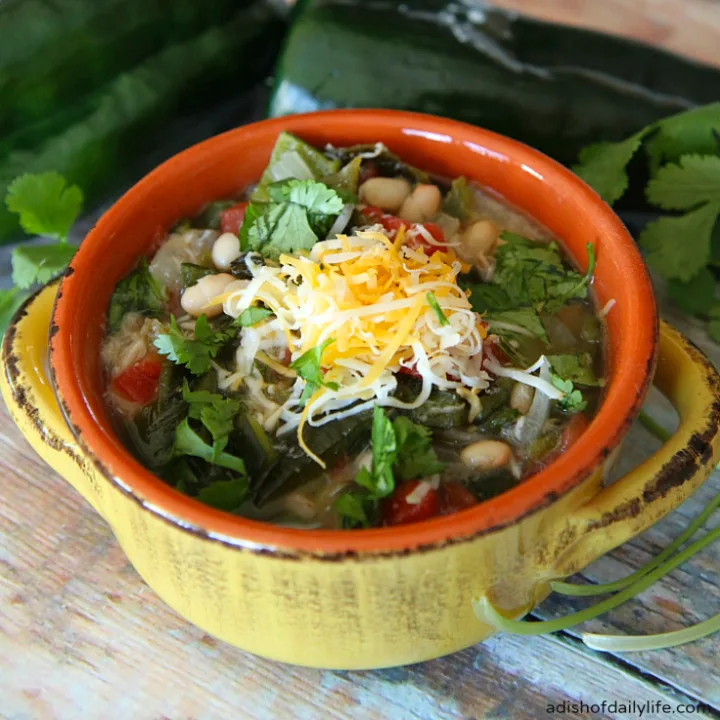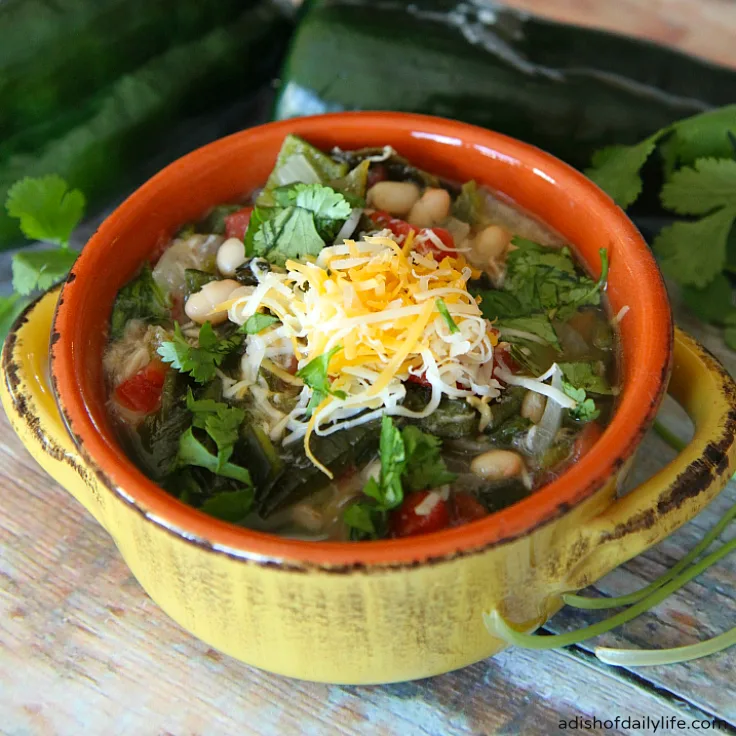 Slow Cooker Spicy Green Chile Stew
Total Time:
3 hours
10 minutes
Delicious comfort food meal with a little kick!
Ingredients
1 medium onion, chopped
1 garlic clove, minced
2.25 lbs of shredded roast pork
32 oz chicken broth
2 15.5 oz cans of Ro*Tel Tomatoes
2 lbs of roasted Poblano chiles, coarsely chopped
1 large can small white beans
1 tablespoon cumin
juice of one lime
1/2 cup cilantro (plus more for garnish)
grated cheddar cheese for garnish
sour cream for garnish if you like
lime quarters for garnish
salt and pepper to taste
Instructions
Saute the onion and garlic in a couple tablespoons of oil.
Add the onion and garlic, chicken broth, Rotel tomatoes, Anaheim chiles, small white beans, and cumin to the shredded pork already in slow cooker.
Cook for another 3 hours or so, on low, to let the flavors blend together.
Turn off slow cooker, stir in lime juice, and cilantro.
Season to taste with salt and pepper.
Garnish with extra lime quarters, grated cheese, cilantro, and sour cream if you'd like.
Notes
If serving for a party rather than dinner, your servings will go further, as it is only part of your meal.