A Sunrun solar lease will save you money on your current electric bill, and will allow you to lock in your rates for the future, protecting you from future rate increases.
One of the biggest challenges for our family has been the rising cost of electric bills. With college expenses looming, we're trying to save money any way we can!
My husband and I have considered solar power as a possible way to reduce our electric costs. We're also concerned about our own environmental footprint.
Sunrun offers both a cost savings through its solar leases, and a cleaner power choice.
Solar Energy: Your Questions Answered
Options Available
Did you know there are two options when it comes to solar energy? You can purchase a system or lease from a solar energy provider. There's a higher upfront cost when a homeowner purchases a system outright, as well as more maintenance. Sunrun, however, offers a solar lease option. With a solar lease, there is little to no upfront cost, and the provider installs, monitors and maintains the system. So if you're worried about upfront costs, a solar lease is a very viable option.
How much of an impact does solar energy make on the environment?
Sunrun's 60,000 plus customers have produced 344 Gigawatt hours of solar energy. To put that into perspective, that is the equivalent of 3201 tanker trucks of gasoline! You can see more comparisons on the Sunrun website.
Can I save money with a solar lease?
With a solar lease, your monthly utility bill can be a lot lower than what you are currently paying…how much lower depends on your usage, rates, and what your local utility charges. Historically, electric costs usually go up…they don't come down. With a Sunrun solar lease, you can lock in your rate for the next 20 years! So not only will you save on your current electric bill, your savings over time will be even greater because when the local rates in your area go up, your rates won't!
Where does the solar energy actually go?
You'll have a meter much like your current utility meter, which measures how much electricity the system produces. You generate energy "credits" when your solar panels produce more energy than you use. Whatever you don't use goes back into the grid, essentially giving you a "credit" for times when you aren't producing energy, like at night.
What are tiered rates, and how do they affect me?
This was eye opening to me. I wasn't aware that there were tiered rates for utilities. Here's what I learned. Everyone gets a certain amount of electricity in each tier. Once you use up the amount you're allotted in one tier, you go into the next one…at a higher rate! So the more electricity you use, the higher your rate goes. Sunrun can work with you to come up with a plan that will offset the more expensive tiers to maximize your savings.
Grid-tied solar? Off-the-grid solar? What do those terms mean?
Your local utility stores energy you generate through solar power on their power grid. If you purchase your panels outright rather than leasing them, which as I mentioned before has a big upfront cost, you would also need to utilize an expensive battery backup for your off-the-grid storage, and there are environmental issues involved as well, so grid-tiered is really the better option for most of us.
Do I get to decide where to put the panels?
You really need the highest amount of sun exposure…usually that's on the southern side of the house. However, your Sunrun representative will review this with you.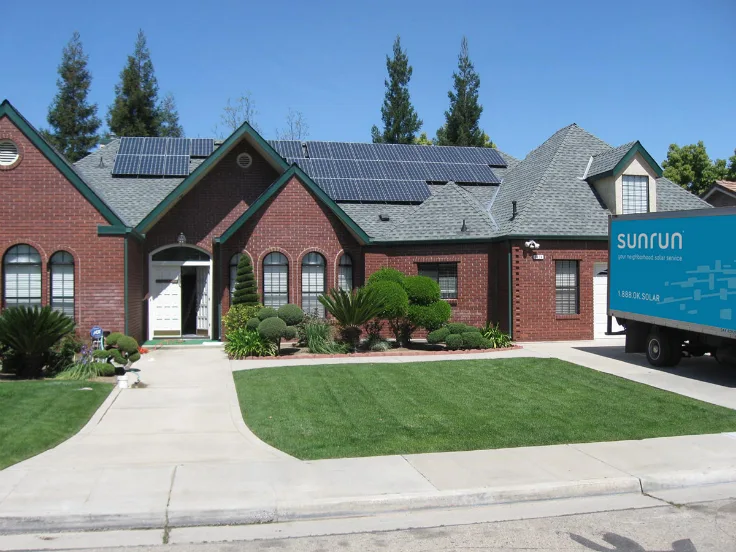 Sunrun has removed the barriers to solar energy. They'll install and monitor a system designed especially for your home, and help you lower your costs, while giving control over the rates you pay! A win for you, and a win for the environment!
We have a special offer for A Dish of Daily Life readers. If you go solar with Sunrun before Nov. 30, you'll get a $500 VISA® Prepaid Card. (Conditions apply). Get a free solar quote

here

.
Have you ever considered using solar energy to save on your electric bill? Had you heard of a solar lease before today?
I was selected for this opportunity as a member of Clever Girls Collective and the content and opinions expressed here are all my own.